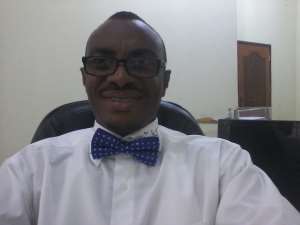 Jojo Quayson the author
"At his best man is the noblest of all animals; separated from law and justice he is the worst" -Aristotle
In his reaction to the gruesome murder of Captain Maxwell Adam Mahama, Dr Mensah Otabil, the General Overseer of the International Central Gospel Church, indicated that mob action was a reflection of Ghanaian culture, but some personalities including Nana Obiri Yeboah, a lecturer, and also Malik Kweku Baako Junior, the ace journalist, expressed their disagreements to such a thought.
But I am in sync with Dr Otabil's position. Mob action is a societal norm in Ghana and has become an acceptable practice. As a matter of fact, the lynching of Captain Mahama has attracted national interest because of his personality and position, otherwise it would have been a normal case. Just last week, a man was lynched because he was suspected to have stolen GHc1.50 and the picture of the deacesed and killers wielding weapons was splashed on social media, but nobody has raised a finger at it.
The word Culture means the ideas, customs, and social behaviour of a particular people or society. And no one can convince me that lynching or mob action has not been part of us. As a matter of fact, some particular areas in Accra and Kumasi have been noted for such atrocities. They do not spare a suspect when the term 'julo', meaning thief, is mentioned. Some areas are classified a no go area because they will pounce on you with the slightest of suspicion, sometimes even in the full glare of the police. It will be strange and hypocrisy for any Ghanaian to portray mob action as alien in our country. I can bet that if a census is conducted right now to ascertain how many Ghanaians have heard and witnessed mob action, hundred per cent of Ghanaians will attest to the fact that lynching has become a societal norm.
We all witnessed the video of how the innocent, noble and handsome gentleman, Captain Mahama was cruelly, calamitously and attrociously murdered and crucified, by the same people he had been assigned to protect.
It reminds me of the incident of Jesus Christ, who came to save mankind but rather, man turned against him and crucified Him.
Captain Mahama was harmless yet the multitude tore him to pieces; he had a gun to have gone down with one or two of the attackers but he chose to fall alone, and personally, I consider the Captain as a martyr who died to rescue people from mob action. His death therefore should be used as a platform to save numerous innocent people that suffer such inhuman acts.
The death of Captain Mahama is a very painful one that reveberates in the minds of every Ghanaian, but as far as I am concerned, it will be more painful if we do not use his death to correct the injustices. An Ethiopian proverb goes like this, "If the one who stabbed forgets, the one who got stabbed never forgets."
I want to opine that Captain Mahama cannot be compared to Jesus Christ the Saviour of the world, but we can draw some striking similarities. Jesus Christ came to save His own, but the same turned against Him. John 1:11. He came to His own,[c] and His own[d] did not receive Him.
The captain left his lovely family for national duty for the crusade against galamsey (illegal mining) to save the environment for the youth, because the future of the environment belongs to them. The ongoing galamsey is enriching a few but endangering the environment to the detriment of the youth.
Jesus Christ was hanged in between robbers even though He was righteous and sinless. Captain Mahama was pronounced an armed robber by the community without any justification.
He was labelled a thief, a robber, when he was, indeed, on a national assignment to protect our resources, our community, the people in the community, but the same youth who will be the beneficiaries of his effort perpetrated such heinous crime on him.
Jesus Christ did not touch or hit any of the attackers even though He had all the powers to prevent and over-power the crowd supernaturally. Peter attempted to fight on His behalf by slashing off the ear of one of the attackers but Jesus quickly intervened and stopped Peter and actually restored the severed ear to the soldier.
Luke 28:51: But Jesus answered and said, "Permit even this." And He touched his ear and healed him.
52 Then Jesus said to the chief priests, captains of the temple, and the elders who had come to Him, "Have you come out, as against a robber, with swords and clubs?
Captain Mahama had the mastery to, at least, go down with few of the attackers with his gun, but chose to die alone.
Captain Mahama chose to die alone without spilling a blood.
Jesus Christ tried to demonstrate to them who He was, the King of Kings, Captain of Isreal Host, but no one tried to decipher or figure out. It is still surprising that with all the miracles and great things Jesus did, none of the attackers really connected or realised that He was not an ordinary being. At a point, King Pilate attempted to enquire if he was the King of the Jews as proclaimed, and Jesus affirmed, "you have said so", yet they ignored and focused on killing him.
Captain Mahama was on his heels, fleeing from his attackers and yet trying to draw the attention of the attackers to who he was but they ignored his pleadings. I get the impression, he even tried to flash his ID card but the attackers ignored that too. He eventually surrendered but the attackers were poised to spill his blood.
His death should significantly be a sort of atonement to save innocent masses that are slaughtered in the name of 'instant justice'.
When I was thirteen years old, I used to travel on Saturdays from Teshie to Osu, to help my aunt sell her food stuff that she brings from the village. It was a routine exercise, as we leave early in the morning and return late in the evening.
During one of such trips, a cousin and I left my aunti's place at 5:00p.m. and came to the Anarhor Bus Stop, at Osu, in front of the erstwhile Kwabre Clinic, to wait for commercial vehicle ('trotro'). At the time, getting trotro from Osu to Teshie was very difficult, it sometimes took you 2 to 3 hours to land such buses, and when the trotro came to drop a passenger, the crowd waiting to board it would rush to the entrance of the vehicle to fill the space. Such moves created struggles and crashes.
On this occasion we waited for a while and a trotro arrived. As usual, we all rushed to the bus struggling to enter it. Then all of a sudden, I had a deafening slap, then a second slap from a strange man, who started shouting 'julo', pointing at me and explaining that I tried to pick his pocket. The crowd waiting for the bus started rushing to my direction, obviously to come and finish me, which was the norm at the time. I, as well as my cousin, was trying to explain myself, but our voices could not convince the cruciferous / vociferous crowd as the strange man held me firmly in his grips. I realised the danger because I have seen people brutalized in such situations but at the same moment, I saw a hefty woman come to the scene and forcifully challenge the man to prove the accusation. She was an orange seller at the bus stop who knew me because we usually bought from her and knows my auntie as well. I can still remember her strong voice "No, this boy is never a thief, I know him very well, he is a student, prove or leave the boy alone," she said and held the man and the crowd abandoned their bid. She shouted and called the sellers around in Ga language, thus "nye baa eee, atao ni ayi brofonyo bi le," meaning, 'neighbours, help, they want to beat the white lady's son". Immediately, the ladies around came around and I was freed. My aunt is light skinned so they call her 'brofonyo' which means white woman, and because she sold her stuff in the neighbourhood, they knew her.
Even though the event was over thirty two years ago, the thought keeps surfacing in my mind like a cork in water.
Now posthumously promoted major, Major Mahama is no more but we, as a nation, should not in any way allow his death to be just a part of the mortality statistics for 2017 or any other period but a constant reminder of the need to uproot the demon of instant justice from our great nation, and the canker of galamsey and its related evils of environmental degradation and destruction of our water bodies. I believe when we do that successfully, we would have helped Major Maxwell Adam Mahama to have accomplished the mission for which he was killed at Denkyira Obuasi with the serendipity of his death being the forceful call to attention the need for the State Ghana to deal ruthlessly with instant justice or mob action.
While at it, no Ghanaian must be deceived that lynching is alien to our country. Probably its original or actual meaning of hanging a suspect without giving him any hearing is what is confusing people. The truth is that long before the white man colonised us and introduced the expression 'instant justice or mob action to us as part of his language, suspects were suffering instant justice. In fact, it was worse in our case because we even did not highlight the fact that somebody should first be considered a suspect or innocent until proven guilty. For us everybody associated with a crime is guilty. Stories of 'thieves' and other offenders being beaten abounded in our communities before modern times. It is modernity that is criminalising it and so it appears to be new in Ghana Whatever the case may be, we should collectively fight it.
John 15:13 (AMP)
No one has greater love [nor stronger commitment] than to lay down his own life for his friends.
Jojo Quayson