2 January 2017
|
Feature Article
Which way for Yahya Jammeh and The Gambia: Carrot or Stick, Persuasion or Coercion?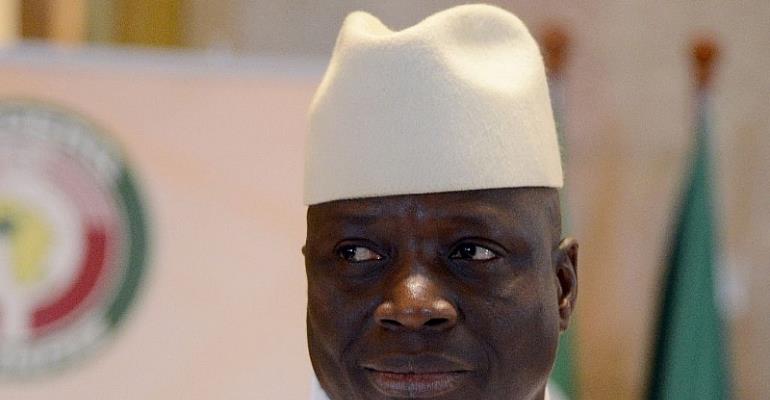 In 2004, a high-level panel instituted by Kofi Annan the then UN Secretary General formulated and championed the concept of the responsibility to protect. The panel argued that states have obligation to conduct their internal affairs in line with established international norms and practices and that in situations where a state fails to adhere to these accepted standards, other states have responsibility to intervene. This is the challenge facing ECOWAS in the ongoing crisis in The Gambia: to intervene or not to intervene.
After ruling the nearly 2 million inhabitants of The Gambia for more than two decades, the people of The Gambia said they have had enough of their president and so voted for the leader of the opposition.
President Jammeh's initial acceptance of the December 1, 2016 election results was welcome by everyone in Africa and beyond because it prevented the worst case scenario from happening. However, President Jammeh's subsequent backtracking and rejection of the poll's verdict a week later, has thrown the West African subregion into another unwanted, and unnecessary confusion.
But one thing is clear if Jammeh's wishes are made to stand and go unchallenged, it will undermine the democracy, security and economic dividend the region has chalked in the last few years. It will also embolden other leaders with undemocratic intentions to pursue a similar path. In fact, it will be a recognition of democratisation of impunity in the subregion.
However, President Jammeh's decision also presents a major challenge for the leadership in the subregion. It is a test not only to their leadership and diplomatic skills, but also their ability to present a common, unified response to the looming problem particularly for the four major economies and militarily strong countries i.e. Nigeria, Ghana, Senegal and Ivory Coast.
A key question is how to address the crisis in The Gambia. We strongly recommend that the leadership of ECOWAS approach The Gambia problem in three phases: diplomacy; sanctions; and resort to force.
The first phase should involve negotiation, diplomacy, persuasion and the use of carrot through dialogue. This first phase will require patience on the part of ECOWAS' leaders. The bloc's leadership must listen to any concerns that President Jammeh may have and address those concerns adequately and in timely manner. In this diplomatic effort, Jammeh and his military and security backers must be persuaded that their country is bigger than anyone and that the interest of the country must supersede all other interests. They must also be assured that they will be needed to contribute their wisdom, and knowledge to promote the orderly development of their country. If they think that by leaving power their life will be in danger, then they could have the option to live peacefully in any country of their choice in the subregion.
President Jammeh should be given assurance that he and his backers will not be prosecuted for crimes against the people and that if any prosecution will take place it will be within internationally recognised practices. These and other inducement should be presented in clear language to the Mr. Jammeh. Put differently, at the this initial stage of negotiations, ECOWAS should not rush into war but rather give diplomacy a chance.
President Jammeh's key security and military backers must be spoken to and be persuaded to influence him to step down. They should be made to understand that putting the interest of their country over and above the parochial interest of the President is something worth trying. They must be made to accept that The Gambia is bigger than one person. Again they should be persuaded to accept the truth that they stand to lose their economic power should the struggle turned bloody. Their businesses will be inflame should they resist the people's power. Additionally, they should be made to understand that they may jeopardise their own life as well as those of their families, friends and love ones.
What if Jammeh refuses to step down after diplomatic efforts are exhausted? If this happens then ECOWAS, AU and the international community must implement the second phase i.e. sanctions.
First, ECOWAS should work with the international community to freeze the assets of the The Gambian leadership that are held outside the country. This will make it difficult for them to use those assets to prosecute any eventual war with ECOWAS.
Second, ECOWAS should institute visa freeze and travel restrictions against the leadership, their families and close allies. Third, if the first two actions do not yield the desired objective, then ECOWAS and the African Union must implement direct economic blockage against the country. Senegal must be persuaded to close its borders with The Gambia. Gambia's narrow access to the Atlantic Ocean must be blockaded to prevent the government from resupplying itself.
Fourth, if the above measures do not get Jammeh and his backers to leave power, then Jammeh should be presented with the hard choices: accepting the will of his people or end up being hunted down just like those African tyrants such as Burkina Faso's Blaise Campore or Niger's Mamadou Tanja or Ivorian Laurent Gbabgo and Charles Taylor of Liberia. President Jammeh should be told in plain language that those who make peaceful and orderly transition or transfer of power impossible, make violent transfer of power possible.
If Jammeh rejects ECOWAS diplomatic efforts, then the bloc must implement the third phase i.e. declaration of war on Jammeh. In advocating for war as a last resort, I am aware of the short and long term impact it could have. War unlike elections, is a serious destructive force. While it is easy to start a war, it is not so easy to stop or end it. When it finally starts, (as we have seen in Libya, DRC and South Sudan, Somalia, Rwanda) the economic and human cost to the people, the country and region could be enormous. In deed the final outcome of a war is always uncertain. This is because of shifting priorities, goals, objectives; the enemy could adapt to the war environment, and change tactics and strategy.
Therefore, the war must have a clear objective. In Gambia's case the objective must be to install a democratically elected president into office; to ensure that the wishes of Gambians are respected; to promote political stability and constitutional rule; protect human rights, rule of law and respect for national institutions (example the Electoral Commission), regional conventions. There should also be detailed planning of the war and its aftermath to ensure that the objectives are achieved. We believe a declaration of war could get President Jammeh to rethink his decision not to leave power.
2/01/2017