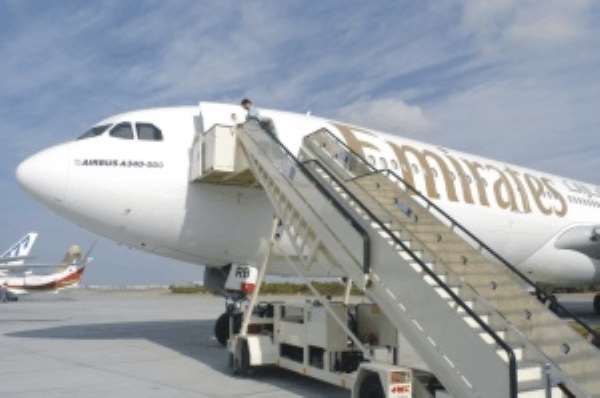 Emirates, the fast-growing Dubai-based international airline, today announced that it will boost services later this month to the West African city of Accra with two non-stop flights each week, in addition to the existing weekly four via Lagos. United Arab Emirates: 1 hour, 52 minutes ago The extra twice-weekly services between Dubai and the Ghanaian capital will start on 27th March and will be the first ever non-stop connection between the Gulf region and Accra. The additional flights will take 8hrs 30 min and result in increases of 59 per cent in passenger capacity and 33 per cent in cargo.
The new Emirates flight EK785 will take off from the ultra modern Dubai International Airport every Tuesday and Sunday morning at 07:30 and arrive in Accra at 12:00 noon. Return flight EK786 will depart Accra on the same days at 13:45 and arrive in Dubai at 02:00 the following morning.
The announcement was made yesterday during the inauguration of the Emirates new office in Accra, which also will serves as the airline's regional hub for West Africa. Nasser bin Kherbash, Emirates' Senior Vice President Commercial Operations Africa cut the ribbon to officially open the airline's two-storey premises at Meridian House.
Mr bin Kherbash said: "Ghana and Dubai enjoy strong trade relations, with the non-oil trade between the two amounting to nearly US $42 million in 2003. The increased frequency in our services is in response to the intense demand from the local business and trade community. These additional flights will enable us to better accommodate their requirements."
Until 30th September, Emirates will operate an Airbus A330-200 aircraft on the route with a two-class configuration of 27 seats in Business class and 251 in Economy, plus 13.6 tonnes of cargo capacity, while continuing to offer the current three-class configuration on the other four weekly flights via Lagos.
Effective 1st October, a First Class service and more Business Class seats will be introduced in the two non-stop services to Accra. All of the six-weekly flights then will offer the same three-class Airbus A330-200 service with 12, 42 and 183 seats in First, Business and Economy class, respectively.
Emirates started flying to Ghana on 2nd January, 2004 making Accra its 73rd destination worldwide and 10th in Africa. Since then Ghanaian travellers have taken advantage of Emirates' convenient connections to the Middle East and points beyond to the Indian sub-continent, Europe, Asia, Australasia and North America, via the airline's hub in Dubai. Last month (February 2005) the sale of Emirates' Dubai stopover packages from Ghana increased by 39 per cent compared to the same period last year.
Emirates SkyCargo in turn has facilitated the export of West African farmers' produce such as fruits, vegetables, handicrafts and local food items to Dubai, the Gulf Region and many points beyond.
Currently Emirates has offices in downtown Accra and at the airport, staffed by 16 Ghanaian nationals. At its headquarters in Dubai, Emirates also employs Ghanaians at its call centre, in airport services and as cabin crew.