May 10, 2016
|
Business & Finance
Dr. Nii Kotei Dzani Wins 2015 Banking And Finance Entrepreneur Of The Year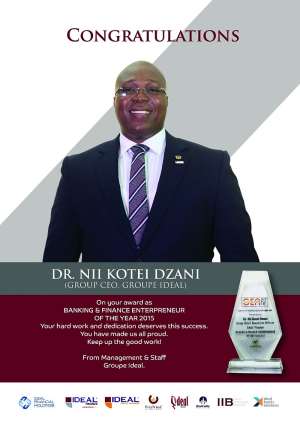 CEO of Groupe Ideal Dr. Nii Kotei Dzani has been awarded 2015 Banking and Finance Entrepreneur of the year.
He received the award on April 29 by Entrepreneurs Foundation of Ghana for the hard work and success the Groupe Idea has chalked.
From his days at Barclays through to Canal Capital, Dr. Dzani has acquired a rich and enviable experience in strategic innovation, business strategy and marketing; branding and human resource management. He has in depth expertise in SME advisory service, asset management, development and financing of projects. He has carried out extensive research on microfinance and commercial banking.
Dr. Dzani is an accomplished individual, a motivated self-starter and excellent negotiator with the credibility to engage and influence business at all levels. He holds a Bachelor of Arts degree in Economics from the University of Cape Coast, Ghana and an Honorary Doctorate from Oral Roberts University, Oklahoma, USA. He also holds an MBA in Corporate Governance & Finance from University of Hull, United Kingdom. He is currently undertaking a professional law degree.
Dr Dzani completed his university education with a desire to establish a finance company. After working a while with Barclays Bank and Canal Capital, He decided in 2009 to set up a consultancy firm to advise banks and other financial institutions on financial models and risk management. Ideal Finance was subsequently established in 2010 offering money lending services and has grown to become a finance house.
In 2014, under his able leadership Ideal Financial Holdings acquired a majority share ownership of Ezi Savings and loans, injected capital and rebranded it FirsTrust Savings and loans, saving the jobs of over 200 Ghanaians, their livelihood and also enhancing confidence in the financial sector.
With a startup capital of GHc27, 000 Dr. Dzani has successfully set up the underlisted eight (8) successful companies within 5 years.
i) IDEAL FINANCE, a finance house
ii) IDEAL CAPITAL PARTNERS, an Investment and Equity Firm
iii) FIRSTRUST SAVINGS & LOANS, a Savings and Loans company
iv) IDEAL TRADE, a Commodity and Trading firm
v) WESTFIELD OFFSHORE CONSULT, an offshore mining firm and consultancy services firm
vi) IDEAL ASSET SOLUTIONS, an asset management firm
vii) IDEAL INSURANCE BROKERS, an Insurance brokerage firm
viii) IDEAL FINANCIAL HOLDINGS, Management Consultancy Firm
ix) IDEAL PENSION TRUST, a pensions trust and advisory firm
Dr. Dzani, affectionately known as Tsatse, was voted Emerging Man of the year 2014 by VIASAT1 Television.
He has recently been voted the Banking & Finance Enterpreneur of the year 2015 by Enterpreneur Foundation of Ghana.
Dr. Dzani through his foundation, Tsatse Foundation has undertaken many social interventions and CSR activites including Educational scholarships for needy and brilliant students , support for Otumfuo Educational Foundation, Support for major health institutions in Ghana, support for strategic state institutions like Ghana Police Service, 37 Military hospital, sponsorship of corporate events and many more. The foundation regularly supports various orphanage homes across the country regularly during Christmas as well as Easter festivities.