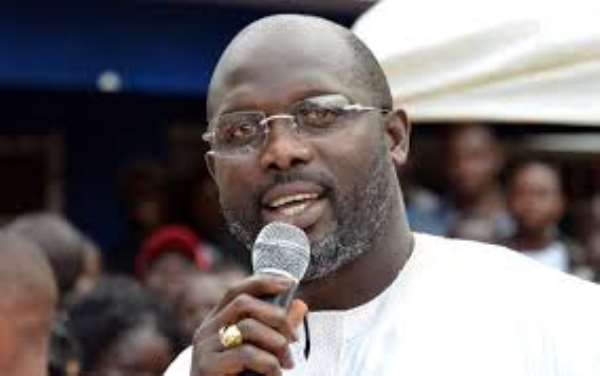 George Weah
The recent child support case involving Montserrado County (Liberia) Senator George Manneh Weah of the Congress for Democratic Change, and Ms. Meapeh Kou Gono, a Liberian lady residing in the state of Georgia, USA is regrettable and sad because the two individuals involved are seemingly good persons and parents who love their daughter.
So far, Senator Weah has and is not refuting claims that he fathered a child by Ms. Gono. Neither is Ms. Gono arguing that she is going after the senator because he is a bad parent who has willfully neglected his child's welfare. This is precisely why onlookers, gossipers and political rumor-mongers, instead of putting flames into it or rendering artificial and unwarranted judgments in the court of public opinions, need to view this child support case as a 'misunderstanding and miscommunication' issue.
Our advice to the senator and Ms. Gono is that they need to open a line of communication based on mutual respect for one another and for the love for their child by removing this calamity from the public discourse so that haters and political exploiters would not use it for their own gains. Two things need to be made clear here: Senator Weah is not a dead-beat dad and Ms. Gono is a good woman who and the senator simply seemed to have some very serious miscommunication regarding their loving daughter's wellbeing.
Looking at Senator Weah's record and charitable efforts for Liberia and children around the world during the 1990s and early 2000s, it seems grossly disputable that such a decent and generous man would knowingly abandon his biological daughter's needs, even though Ms. Gono may have every good reason to think otherwise considering the fact that there is some 5,000 plus miles between the senator and his daughter as a result of geographic location and domicile. It would seem typical that the senator, who is currently focused on Liberia's political evolution might, to some extent, assumes Ms. Gono was catering to their daughter's needs more adequately as he focuses on the political future of Liberia.
This happens to most men who tend to be engulfed in some commitment to service in a corrupt and messy nation like Liberia. Unarguably, this is no excuse for the senator, and by moral and legal obligations, he should prioritize his children's welfare above all else, but again, he is a human being and we all make small mistakes by overlooking things that we should not, even as we embrace bigger duties. If Ms. Gono thinks the senator was probably overwhelmed by his love for a better Liberia and that made have probably caused him to not reach out to his daughter's needs as he should, all she could have done differently was to remind him more amicably. One can politically disagree with the senator, but we all, as Liberians know that, after all, Weah loves his kids and the children of Liberia. Many of us know it and have seen it firsthand.
The child in question is not the senator's only offspring; he has other children to whom he has shown tremendous love as well as provided financial and emotional support. Besides, unlike some of our elected officials and bureaucrats as well as politicians, particularly most of the would-be presidential candidates who abandon Liberian needs during the time of national struggles, Senator Weah, instead of being selfish and aloof during the height of his celebrity status as a soccer star, gave away a vast portion of his income and wealth to support initiatives that supported Liberians across a broad spectrum of life during the days of upheavals in our nation's history.
He singlehandedly supported our collective national pride: The Lone Star soccer team for a while. In addition, he served as a goodwill ambassador for the United Nations' Children Fund (UNICEF), raising awareness and resources for this global entity to support children in need around the world. Weah also periodically visited several Liberian refugee camps where he addressed the critical financial and survival needs of many Liberian and Sierra Leonean refugees. Undoubtedly, Senator George Mannah Weah is a good and upright man, and supposedly, a good, loving and caring father, even if most Liberians tend to forget his good deeds years ago.
On the other hand, the case filed by Ms. Meapeh Kou Gono is historical because it addresses or exposes the curse experienced by many women around the world, particularly in Africa, and specifically in Liberia. A number of Liberian men are reckless when it comes to providing for their children during and after divorce, or when the children are born out of wedlock. Ms. Gono will go down in Liberian, if not, African history as the champion of child support rights and litigation in this part of our world. For this reason, she deserves maximum commendation. Moreover, her ability to stand up and defend herself against unruly and non-knowledgeable elements who attacked her reputation as a result of her pending law suit against the senator is commendable as well.
Every person is morally obligated to support his or her child or children as long as he or she is the biologically parent. In public policy and family law in developed nations, child support (or child maintenance) is an ongoing, periodic payment made by a parent for the financial benefit of a child following the end of a marriage or other relationship. Such child support payments are often made directly, or indirectly by an obligor to an obligee for the care and support of a child or children of a relationship that has been terminated, or in some cases never existed. In such situation, the obligor, which in this case would be Senator Weah, is often a non-custodial parent. The obligee, which in this case would be Ms. Gono, is typically a custodial parent.
Children, especially neglected kids in third world countries like Liberia, need to be supported somehow, whether one likes it or not. And we know that societies the world over could allocate the obligation to support them in different way, but that is not the case. In his thesis The Republic, Plato, for example, proposes that "the children of the philosophers should be raised in common". But in the normal functioning society, we have collectively decided, by choice and freedom, to allocate the obligation of support to parents, on the fairly sensible intuition that if parents don't want the obligation, they are free to avoid it by not producing children in the first place.
Senator Weah and Ms. Gono opted to produce a wonderful child and therefore they are obligated to support and nurture that child. Fussing about it in court and through the media is not the solution, mainly when there is no need to do so. As we have seen so far, the beneficiaries of this court wahala and media frenzy are not Senator Weah and Ms. Gono nor their daughter. Rather, the haters and political opponents of the senator and his CDC party are exploiting a serious family issue needlessly.
Not only is child support crucial for children as it provides necessities for a parent's child who cannot provide for them in person, but there are also many legal consequences that a parent will face if they refuse to pay. Senator Weah cannot mistakenly refused to honor this obligation. This is precisely why he should do whatever he can to address the situation. We also know that child support can be used as a weapon for other calculated reasons, particularly in situation where the custodial parent uses the child as a pawn to extract concession or other advantages.
Already, there are allegations that powerful political forces in Liberia are pushing Ms. Gono in this direction for political purposes to diminish the senator's standing for the Liberian presidency in 2017. Considering the kind of dirty politics and tricks in Liberia, no one would be surprised at this. However, that may not really be Ms. Gono's ideal reason and there is a need to give her the benefit of the doubt since indeed she comes across as a very decent and intelligent lady.
We therefore urge Ms. Gono and the senator to resolve these matters peacefully and out of court for the good of their child. We believe if the little girl grows up and gets to know about her father's contribution to Liberia and humanity she will forever be proud. Equally, she will also be proud that she has a mother who has unequivocally brought to the fore-front what has traditionally being a taboo and overlooked calamity facing single parents and children in Liberia, if not Africa.
About the Author:
Jones Nhinson Williams is a Catholic educated philosopher and an American trained public policy professional. He can be reached at [email protected]