Ghanaian Writers Pick Awards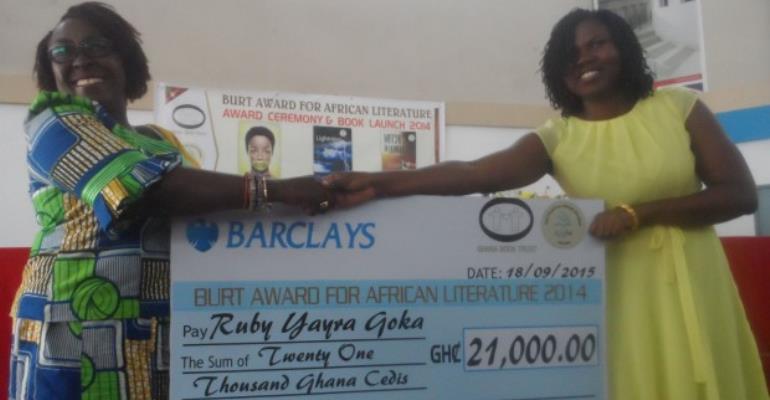 Minister Dzifa Abla Gomashie (left) presenting a cheque to  Ruby Yayra Goka
Three young Ghanaian writers have emerged winners of the 2014 edition of the Burt Award for African Literature.
They are, Ruby Yayra Goka, a professional dentist and David Kwaakye, a Columnist. The two tied as the second runners-up with each receiving a cash prize of GH¢ 21,000 respectively for their books: Plain Yellow, and Lightning.
Asare Adei, the third runner-up, received GH¢15, 000 for his novel: Witches Of Honour.
The award is an annual literary award and readership initiative that recognizes excellence in young adult literature and provides young readers with engaging books to read.
Sponsored by CODE, a Canadian non-governmental organization in partnership with the Ghana Book Trust (GBT) and made possible by the generosity of William Burt, a Canadian philanthropist, and the Literary Prizes Foundation, the award aims at addressing an ongoing shortage of relevant quality books for young people.
It also seeks to promote a culture of reading and learning at the middle and secondary school levels
The Burt Award consists of three cash prizes totaling CAD$ 21,000 for the authors and a publishing contract for the publishers.
It is currently believed to be the largest literary prize award in Ghana.
First offered in Tanzania in 2008, the Burt Award is now offered in Ethiopia, Kenya, Canada, the Caribbean and Ghana and has reportedly resulted in the publication of over 150,000 copies of 24 new titles on the African soil alone.
Speaking at the award ceremony and the launch of the three award-winning books at the British Council on Friday in Accra, Ghana's Deputy Minister of Tourism, Culture and Creative Arts, Dzifa Abla Gomashie, indicated that the bright side of Africa remained untold to the outside world due to the inability of African writers to use their literary prowess to sell the unique culture of the continent.
'The contents found in our books, are they portraying our stories? She quizzed.
According to her, even though African writers have the potential to make the continent visible to the rest of the world through their literary pieces, the 'dark' side of the continent continued to be told by western media and writers.
She bemoaned the low level of reading among young adults in the country and appealed to parents to encourage their children to embrace reading.
The Executive Director of GBT, Genevieve Eba-Polley appealed to all writers interested in taking part in the competition, to try as much as possible to pay attention to the quality of their write-ups.
According to her, the quality of most manuscripts being submitted for the awards scheme which is in its fifth year, remains poor.
BY Melvin Tarlue & Fatahia Alhassan