Pay Us Our Arrears, Mr. President!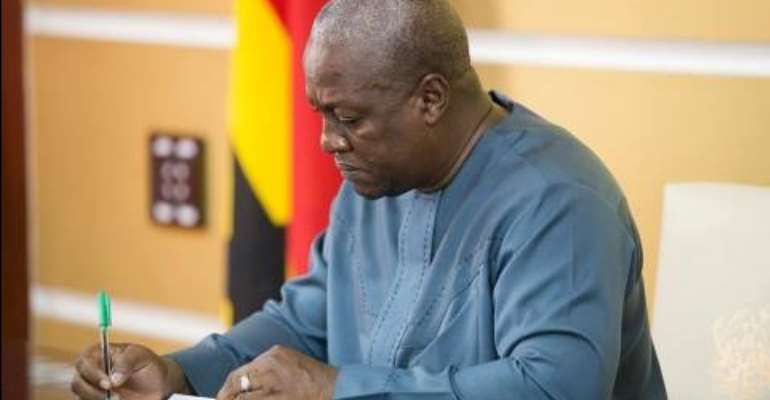 Mr. President, I must confess that I admire your humility and selflessness and because I trust that you have a listening ear, I have decided to draw your attention to a few points especially when I believe that these points will be of much concern to you.
I write this article with a heavy heart on behalf of the 2013 year badge of trained teachers. We had our appointment officially and with immediate effect from 1st September, 2013 from the Ghana Education Service with a promise to work hard to move education to the upper echelons.
The appointment letter stressed that all our entitlements would taken care of. We have worked so tirelessly for one to two years before been put on the proper salary scale. Then came the issue of payment of arrears which you and your government decided to pay ONLY three months of with the rest of nine months to two years arrears being nibbed in the bud.
Mr. President, when you and your government directed that only three months' arrears be paid, after which the rest would be paid after filling of validation forms, we thought it was something that would come to pass according to your word. Most of us took you for your words until now when you are unfortunately betraying our trust for you.
The verification forms were filled for almost a year now but till now, no payment has been made. How long must feverish birds tremble in silence before their keeper? The conclusion I and my colleagues are drawing is that you have intentionally turned deaf ears to our long pleas and have decided not to mind. The only excuse you gave was that there was no money to pay. But just last week, trainee nurses were paid their lump some arrears with a student receiving at least Ghc7000 to Ghc15000.
The questions arising are;
Who paid the trainee nurses?
Where did the money used to pay them come from?
Are you proving that nurses are more important than teachers in our country and therefore deserve special treatment than teachers?
Is it due to the fact that you easily convince the teacher unions to accept your proposals in the face of any labour unrest?
Are you in bed with the teacher unions because of which they are afraid to voice the grievances of their members?
These are the many issues bordering our minds as the 2013 badges of trained teachers.
Mr. President, honestly, we are aggrieved at this high level of insensitivity you and your government are demonstrating towards us. About eight months ago, the Minister of Finance, Mr. Seth Terkper came out to point that the rest of the arrears would be paid as soon as verification is done. For close to a year now, his assurance has been proven to be a dust in our eyes.
Mr. President, for how long are we going to wait for your promises to come true? Have you started showing the dead-goat syndrome in this situation? It is a fact that you are pretending not to care but I bet you have to pay.
We are the recipients of this grave wickedness and so cannot forget it even if you seem to forget. Mr. President, you have almost betrayed our trust for you. Can we trust you with anything of ours? Can we trust the nation's affairs into your hands? Can we trust you any longer? What a grave disappointment on the part of your government to us?
As I said early on, I write this article with a heavy heart and so Mr. President, if there is any harshness in my piece, just forgive me, forget and pay us. People are wailing and their hearts are heavy. They believe that you are unfaithful, insensitive and untrustworthy. I urge you to prove them wrong by acting now to save the situation.
Lest I forget, Mr. President, you have promised to exhibit the dead-goat syndrome, thus not to listen to any pressures for the fear of loosing elections. Well said, we have taken note of that. But l can assure you, before you think of becoming deaf to our plights, we shall also reject you at the polls
Once again, our hearts are heavy, so forgive us if there is any harshness. But you must pay us now!
I wish you all the best at the Flagstaff House.