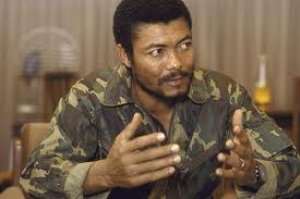 Ghana former president, Flight Jerry John Rawlings, is an enigma wrapped in paradoxes. With the exception of the towering Kwame Nkrumah, no other Ghanaian ever bestride the Ghanaian political landscape like the former Air force officer who shot his way into power in an [yes] abortive coup on 15 May 1979.

Rawlings debut attempt at coup failed, but on July 4 a group of sympathetic officers sprung from him from his execution jail and installed him Ghana's head of state. And apart from the brief interregnum of President Hilla Limann (24 September 1979 to 31 December 1981), JJ (as he better known) was to rule Ghana for nineteen years. It is a record.
JJ began life as a fire breathing revolutionary, a strict ultra-disciplinarian who instilled martial discipline into Ghanaian life. He ended his political career as a convert to the neo-liberal policies propounded by Western institutions like the World Bank and the IMF. From a dark-goggled military dictator, Rawlings successfully transmuted into a democratically-elected civilian president complete with the Saville Row suits.
In order to understand the Rawlings phenomena, it is necessary to dive into a bit of history.
The first time I heard the word Ghana was when one evening I was introduced to uncles, aunties, nieces and cousins whom I have never met. I was told they have been thrown out of their country of abode and birth called Ghana. We called them 'Abode Ghana,' meaning 'Ghana Returnees.' The intricacies of what led to their deportation were too complex for my young mind to grasp. It was later on in life that I learned that in order to spite Kwame Nkrumah's Pan-Africa's dreams, the rulers of Ghana who overthrew him decided to expel Africans using the infamous Aliens Compliance Order of 1969.
I didn't hear anything about Ghana again until years later when in Lagos I saw many Ghanaians doing all sorts of menial jobs. There were many of them teaching at the schools the then Action Governor of Lagos, Lateef Jakande, established in pursuant of his free education policy, but most of the Ghanaians were doing the oddest and the hardest jobs. What baffled most then was that we saw them buying stuffs like soap, plastic slippers, canned fish and other basics to send to families back home in Ghana. We didn't understand that a country could be lacking in provisions that were available in the remotest parts of Nigeria. We later learned that the economy of Ghana had collapsed, leading to empty shops and millions of Ghanaians voting with their feet. Many of them sought refuge in Nigeria.
Ghana's woes was to be compounded in 1983 when the government of Shehu Shagari expelled over a million of them in his infamous Expulsion Order dubbed 'Ghana must go!" There were whispers that the action was partly informed by a desire to punish the imprudent junior officers who had organized a bloody coup in Ghana, that saw the execution of former heads of state and other high-ranking officers
I later read about the heroic actions of the government of Fl. Lt Jerry Rawlings took to cope with the sudden influx amidst crunching economic crises.
Ghana coped so well that by 1992 when this writer traveled around West Africa with a team of Dutch friends, we came back rating Ghana the best in the whole region.
From a lofty perch as the first Black African country to regain her independence from colonial rule, to becoming the pre-eminent Pan-African nation and a Mecca to all Africa's liberation movements, Ghana's lot went downhill after the 1967 coup that overthrew the government of Kwame Nkrumah. From being a shining black star, Ghana's fortune dimmed so much so that it became the butt of cruel jokes and a good example of a failed state.
Succession of inept rulers – civilian and military ran the country aground to the extent that Ghanaians break rib and bones to obtain balls of their staple, Kenkey – cassava and maize meal.
Corruption was rife and merchants became hoarders (Kalabules in local parlance) out to squeeze the last penny from their unfortunate compatriots. There was much agony in the land and lots of teeth-gashing. The country was restless and it tethered on edge. Something was bound to happen.
It happened spectacularly on 15 May 1979 when junior military officers led by a dashing Air force Flight Lieutenant, Jerry John Rawlings, attempted to seize power.
The coup failed and Rawlings was captured, tortured and sentenced to death. For reasons best known to them, the military authorities afforded Rawlings a public hearing which he turned to his advantage. Using the platform like a practiced politician, Rawlings turned the table on his captors. He harangued the senior officers, catalogued the many woes in the land and bravely asked that his neck be chopped off, but that his men be spared. It was a masterful act of bravado which won him hearts and minds. Ghanaians were solidly on his side.
On June 4, 1979, sympathetic junior officer sprung Rawlings from jail and made head of state in the Armed Forces Revolutionary Council (AFRC).
Ghanaians bayed: "Let the blood flow," and Rawlings obliged them. A house-cleaning exercise saw the execution of many corrupt people and the public humiliation of several powerful Kalabules. A few months later, Rawlings organized elections and handed power over to a civilian government. On 31 December 1981, less than two years later Rawlings was back in power after he successfully organized another coup to topple the government he had helped installed. Rawlings then installed the Provisional National Defence Council (PNDC) with himself as the Chairman. He was to rule uninterrupted for the next nineteen years
Despite enormous challenges exacerbated by external pressures, Rawlings and his men managed to turn the country around. Corruption was curbed and a new sense of civic responsibility and patriotism was instilled in Ghanaians. The PNDC launched several programmes to make Ghanaians take charge of their own affairs, and the Chairman was to be seen leading workers brigade to ferry cocoa, clean gutters and lay railway gauges.
However, despite the brave efforts of the revolutionaries, the economy collapsed and Rawlings and his revolutionaries were left with little choice but to practice realpolitik. Rawlings and his PNDC embraced the IMF and the World Bank, and accepted punishing austerity measures that led, among other things, to the divestiture of hundreds of State Owned Enterprises (SOES). This profoundly dislocated the economy, but it won Ghana's Western plaudits, and the country became the star pupil of the Bretton Wood Institutions.
With economic reforms came pressures from the West which led to the establishment of multi-party democracy, with Rawlings shedding his uniform to contest elections. His PNDC was transformed into the National Democratic Congress (NDC) and he won the next two elections and served as civilian president from January 7, 1993 – January 7, 2001
Pervasive is the only word to describe Rawlings influence on contemporary Ghana's history. Almost every facets of modern Ghana and almost all the institutions were his creations and they still bear his imprints. The party he founded, the National Democratic Congress (NDC) has won four of Ghana's six elections in the fourth republic. The current president was a Minister in his government, as are some of the current ministers.
So profound is Rawlings influence that thirteen years after he left office, he still exercises great influence in the life of the country and its people. Every one of his pronouncements, dubbed 'Boom,' by the local press is headline news and is discussed endlessly by Ghanaians. No other Ghanaian commands the same attention.
Jerry John Rawlings was born in Accra, on 22 June 1947, to a Ghanaian mother, Victoria Agbotui and a Scottish father, James Ramsey John. He attended the prestigious Achimota School and went on to study for a pilot officer course at the Air force training center in Sekondi-Takoradi. He graduated in January 1969, and was commissioned a pilot officer in the Ghana Air Force. He was adjudged the best cadet in flying and airmanship and won the coveted "Speed Bird Trophy". He earned the rank of Flight Lieutenant in April 1978. It was a rank he kept throughout his long career in the military and as head of state. Even as head of state, Rawlings continue to dazzle Ghanaians with his flying stunts. He also dazzled celebrities like Steve Wonder.
Rawlings is among the few leaders in Africa that did not allow the pomp and the trappings of office to dent their populist enthusiasm. He is also among the few ex rulers in Africa who can walk the streets and receive spontaneous, enthusiastic accolades. He is genuinely a man of the masses, who adore him all over the continent. He is one leader that is not afraid to mix it up with the common man. He eats their food, speaks their street slang and often jettison protocol to interact with the common man on the streets. He is not a man to be found wanting and he freely expresses his opinion on local and international affairs. Rawlings is one of the two African leaders (the other is President Mugabe) who is not afraid to criticise the West as he did during the NATO assault on Libya.
The enigma of Rawlings continue with his wife. Seen by many as a strong Machoman, Rawlings remain surprisingly close to his wife, Nana Konadu Agyeman - a formidable woman in her own rights. They have three daughters and one son.
In 1993 then President Rawlings used the US$50,000 cash prize he won from the Hunger Project as seed money to sponsor the establishment of the University of Developmental Studies at Tamale in Northern Ghana. It was the first the first university in Northern Ghana. The grateful university awarded him an Honorary Ph.D. in 2011.
Like Nkrumah before him, Rawlings is better appreciated outside the land of his birth. Many Nigerians swear that the only thing their nation need right now is a JJ Rawlings.
Plug for Femi Akomolafe
Femi Akomolafe is a Freelance writer, Film & Video Documentary Producer, IT Consultant and Web-Designer.
His highly-acclaimed books (Africa: Destroyed by the gods," and "Africa: It shall be well," are now available for sales at the following bookshops/offices:
1. Freedom Bookshop, near Apollo Theatre, Accra.
2. The Daily Dispatch Office, Labone - Accra
3. WEB Dubois Pan-African Centre, Accra
4. Ghana Writers Association office, PAWA House, Roman Ridge, Accra.
They are also available on the internet. Here are useful links:
1. Africa: it shall be well: http://alaye.biz/africa-it-shall-be-well-introduction-in-pdf/
Africa: it shall be well is available for sale on Kindle books at this link: https://www.createspace.com/4820404
A FREE Chapter of 'Africa: It shall be well' could be downloaded here: http://alaye.biz/africa-it-shall-be-well-a-free-chapter/
2. Africa: Destroyed by the gods (How religiosity destroyed Africa) http://alaye.biz/africa-destroyed-by-the-gods-introduction/
Africa: Destroyed by the gods is available for sale on Kindle books at this link: https://www.createspace.com/4811974
A FREE Chapter of 'Africa: Destroyed by the gods' could be downloaded here: http://alaye.biz/africa-destroyed-by-the-gods-free-chapter/
Read a review here
Femi maintains a blog @: www.alaye.biz/category/blog
Twitter: www.twitter.com/ekitiparapo
Gmail+: www.google.com/ +Femi Akomolafe; LinkedIn: www.linkedin.com/ Femi Akomolafe
Facebook: www.facebook.com/ alayeclearsound dotbiz
Email: [email protected]; Website: www.alaye.biz; BB PIN: 2383199B