Rejoinder: Nana Addo Is Too 'Weak' To Lead The NPP And Ghana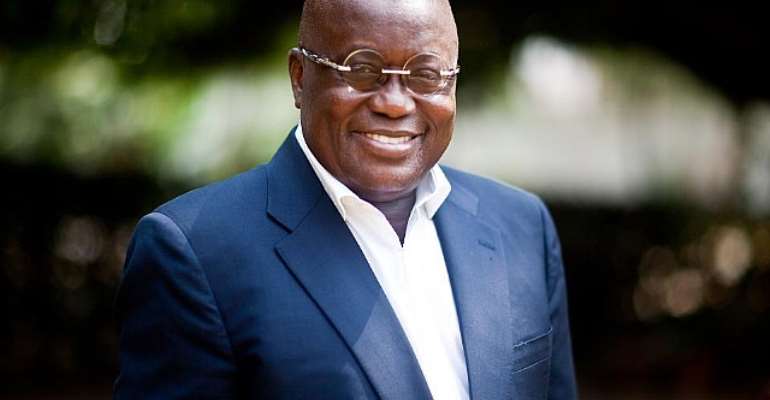 I have always resisted the temptation to respond in like manner to the publications of Mr. Kyeremanten's backed group, Get Alan Kyeremanten Elected (GAKE). These publications by a certain Katakyie Kwame Opoku Agyemang not only lack logic, but are also detrimental to party unity that genuine patriots are yearning for.
I have decided to respond to this article quoted above because I have now realized that GAKE and Katakyie do not believe that their candidate will win but are out to spill the milk in the calabash if they cannot have it.
I'm trying as much as possible to dissociate Mr. Alan from the vitriolic and damning attacks of GAKE on the person of Hon. Nana Akufo Addo. However, going by the logic of Katakyie, if I, a (DIE-HARD) supporter of Nana Addo in far away Nalerigu-Gambaga constituency should make a statement or act in a way that is against any other person in, or outside the party, then Nana Addo should be blamed for my conduct.
I dare suggest therefore that since he and GAKE are campaigning feverishly not only to get Alan elected but to also destroy the hard won reputation of the distinguished Nana Addo, then Mr Kyeremanten cannot absolve himself of any blame from the group's diabolical activities.
Back to the substantive thrust of this article, I find it rather strange that someone who according to rumuors has been promised the Education Ministry as minister in the event of Mr. Kyeremanten's presidency do not know that the work of the president is not physique-inclined but knowledge inclined. Therefore, the so-called weakness of Nana Addo just because he is older than Mr. Alan and President Mahama is dead before arrival.
Again, I wonder what kind of action the likes of Mr. Katakyie would want Nana Addo to take for them to know that he is a unifier since they are out to destroy and not to build. Nana Addo on several platforms has admonished NPP members to be circumspect with their utterances since such can jeopardize party unity.
For example, refer to his speech announcing his intent to contest for the flagbearership of NPP shortly after his return from holidays in London. I'm not surprised that to Katakyie, Mr. Alan is the unifier because he has given them the leverage, the wherewithal and support from behind the scenes to make mockery of the party's leadership and thereby making NPP unattractive for floating voters who were all washed into the deep ocean by the recent floods in Accra.
The arguments of GAKE have always been two-fold. That Mr. Alan is attractive to floating voters and that he is more handsome, younger and taller than Nana Addo. By all standards, it is demeaning to suggest that the presidency has gotten rid of its shine that only models can now occupy it. If that was the case even a contest of modeling between exopa model Alan Kyeremanten and the incumbent president will be a walkover for the latter.
It cannot be said that among party delegates there aren't floating voters. Mr. Alan has failed twice to woo the floating voters among the NPP delegates and on his last attempt in 2012, the defeat was humiliating. Yet such a candidate have people like Katakyie and GAKE shouting for a change of candidate only because Nana Addo's percentage points dropped by two in 2012 amidst the general consensus that the elections were marred with irregularities.
The definition of a floating voter is not static and several hitherto floating voters may change their stance depending on the socio-economic conditions prevailing at a time. The floating voters of Ghana cannot be said to be more than 3% of the electorate. Therefore, granted that Mr. Alan met the floating voters somewhere in dreamland and was promised of their support, is he going to exchange the almost 50% of core NPP supporter for these mirage of floating voters?
Will that give him the seat of the president? I ask these questions because most of us NPP members at the grassroots do not easily recall the contributions of Alan to the party especially in the last elections. He cannot resurface all of a sudden wanting to lead a party he so much loves to abandon for his parochial interests. I understand why Katakyie and GAKE have suddenly become vociferous. However, no machinations whatsoever from whoever can scuttle the general aspirations of majority of Ghanaians especially now, for Nana Addo/Dr Bawumia to lead us out of this current mess of an economy.
Members of GAKE should know that;
1. If truly they want to get Alan elected then they should not make Nana Addo their point of focus because despite the numerous ills they associate with Nana Addo, he has twice given Alan a beating of his life at primaries that he can hardly forget. That doesn't make Alan a good candidate but a worse one.
2. It is God that raises leaders from among the people and they should never pitch themselves against God's anointed ones.
3. Leadership is not beauty contest. Ghanaians have had more handsome and younger presidents in JJ and JM and the results of their leadership are the hardships we face today. A short and old visionary leader is far better than a tall, young, clueless, opportunistic and corrupt one. Besides, height and age are gifts from God, preferably what sociologists call ascribed status. Height isn't an achieved one for people to suggest that one's inability to be tall should necessarily be a reason to be denied the presidency of any country.
4. The milk in the calabash cannot be spilled because it is anchored with God's name and blessings.
5. In the event that a miracle happens and Alan becomes NPP's flagbearer they will have a lot of work to do to convince allies of Nana Addo like myself to join hands with them to defeat the NDC.
6. It doesn't harm if they spare some of their time to also criticize the incumbent government since the one they are so fascinated about is not the president but also a presidential aspirant. Criticizing the NDC will not make them go hungry, will it?
7. Lies are like a calabash, it will always float no matter how deep you submerge it. They have been exposed on the $5million and forty pick-ups allegedly given in support of Nana Addo's 2012 campaign. Peddling lies do not help. Facts do.
8. True party members do not wait to be given roles before they can join the campaign. A 'nobody' like me in the party did all I could including touring all villages in my constituency and even beyond with no official role or recognition. If he could excuse himself from the party's campaign in 2012 to concentrate on the WTO job which he lost out even before the vetting stage, he should not turn around to blame others like Lord Commey or Mr. Boakye Agyarko for not allowing him join the campaign.
9. They should not misconstrue Mr. Afoko and Mr. Agyepong's victories to mean victory for Alan Kyeremanten. No amount of their underground scheming can uproot Nana Addo.
10. Nana Addo welcomes competition provided it is clean. He has been elected MP on three different occasions and contested NPP presidential primaries on three other occasions losing once and winning twice. He narrowly lost to Prof. Atta Mills and was cheated in broad daylight for President John Mahama. In all the occasions of his defeat, he took it calmly without qualms even when it was clear he was robbed. Mr. Alan should not be bitter about his defeats at the hands of Nana Addo and rather join hands with him as a 'true' party member to ensure our victory in 2016 should he lose to Nana Addo in the primaries.
11. It is not name-calling and vitriol that convinces delegates but one's commitment to the party. They should entreat Mr. Alan to seek for the mandate of NPP delegates first before seeking to woo non-existing floating voters. It appears the so-called floating voters are more important to GAKE and Alan than the NPP delegates.
12. Any further attacks on Nana Addo will not go without a counter attack from me and other admirers of Nana Addo. When that should happen, they should not cowardly accuse Nana Addo of unleashing his attack dogs at them. We are for unity but not at the expense of Nana's reputation.
13. It is not Nana Addo's fault that Alan's political career seems to be grinding to a halt. You join us if you cannot beat us.
14. The One-Man Apostle of Nana Addo (OMANA) has been duly launched.
LONG LIVE NANA ADDO, LONG LIVE THE NPP.
Suayam Simon, One-Man Apostle of Nana Addo (OMANA)
Mobile: 0207854685