Mountcrest University Goes International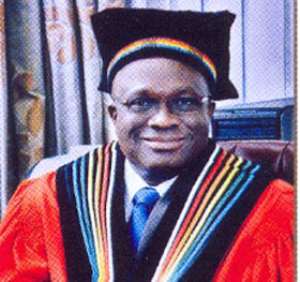 Prof Joseph Atsu Ayee
The Mountcrest University College has internationalized their operations by collaborating with tertiary institutions in other parts of the world and admitting foreign students for their programmes.
Delivering an address during the 3 rd matriculation activity of the University College held for the first time outside Accra in Larteh in the Eastern Region, the Rector, Prof Joseph Atsu Ayee said that the school has academic links with Fordham University Law School, New York and University of Manitoba, Canada, among others.
Such collaboration he noted adds to the image of an academic institution such as Mountcrest University College.
As part of the internationalization of the Mountcrest, he disclosed that 40 foreign students had been admitted to pursue various academic programmes.
Four hundred students, the largest since the school started operations, matriculated during last Saturday's ceremony which was graced by a colourful array of traditional rulers and important dignitaries including the Eastern Regional Minister, a representative of the Chief Justice and the Director General of the GBC, among others.
The Rector said the current student population of over 1000 would in the next five years witness an increase of 700 percent.
http://www.dailyguideghana.com/wp-content/uploads/2013/10/Kwaku_ansa_Asare.jpg
Kwaku Ansa-Asare
Mountcrest is awaiting an official nod to commence programmes in Medicine, Allied Health Sciences and Ghanaian Languages, he announced.
Prof Ayee appealed to President John Mahama to support Mountcrest's ongoing permanent site project at Larteh.
Mountcrest, the only private university offering an LLM programme is in discussion with Fordham University, New York for the commencement of a PHD programme in Law. He added that the school had also established a number of chairs to facilitate their research activities.
Some of the chairs are the John Evans Atta Mills Chair in Taxation and Company Law, VCRAC Crabbe Chair on Legislative Practice, Ekow Daniels Chair on Public Law, Mensah Sarbah Chair on Customary Law, Adu Boahene Chair on History and Ansah Asare Chair on Innovation.
He acknowledged the contributions of the private universities in the development of the nation despite the challenges that they are being confronted with. Another challenge he talked about was what he referred to as 'the long and laborious procedures in obtaining presidential charter.'
He praised the matriculants for making the right choice in coming to Mountcrest because, 'we will teach you how to learn and acquire the ability to critically analyse issues.'
'Public universities are given presidential charter at birth but private universities have operated for ten years and have still not been given the charter. This is inconsistent with the 1992 Constitution and undermines the Public, Private Partnership,' he said and called for dialogue to address the challenge.
Deputy Minister for Information, Murtala Mohammed, a student of Mountcrest Universtiy College who responded on behalf of his colleague matriculants stated their commitment and willingness to apply the knowledge they would acquire to the benefits of the entire nation and as he put it 'become symbols of Ghana and entire continent.'
 By A.R. Gomda