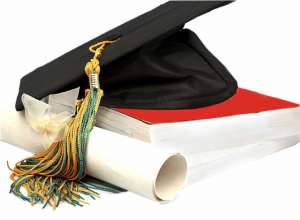 Nigerians and Nigeria must urgently act to correct the current epileptic or uncertain higher education calendar and schedules, in order to attain Nigeria's desire for critical national development, progress and advancement as a nation.
It is sadly, and regrettably the case, that the preceding 30 years in Nigeria has witnessed regressions, particularly in the higher education sector, this is primarily due to strikes or industrial actions by academic and non-academic employees in Nigeria's higher education sector.
Salaries, compensation packages and general under-funding have been adduced and attributed as reasons, and arguments by sundry employees of higher education in Nigeria on the one hand, and unreasonable demands wrapped with intransigence, have been attributed as reasons why the Federal Government of Nigeria has been unable, or unwilling to meet the various demands by these aforementioned employees of Nigeria's higher education sector.
All told, and, in the final analyses, Nigerians and Nigeria suffer from these deadlocks and impasses between employees in the Nigeria higher education and the Federal Government of Nigeria.
In my view therefore, it is almost irrelevant, as to whose doorsteps lies the persisting problem of irregular, epileptic and uncertain calendar for higher education in Nigeria. The only important thing is to have the unsavory situation rectified promptly! Nigeria's progress is for the most part dependent on how we manage our education sector and as a consequence, Nigeria's development and advancement, is equally dependent on how we manage our education sector.
Thus far, the management of Nigeria higher education is appalling, particularly so, given the fact that universities close arbitrarily and often, and students, parents and our nation are left in limbo.
These avoidable interruptions leave students, parents, employees etc with physical and psychological scars, which are jarring and marring in the long-term.
These scars are the frequent aftermaths of indefinite closures of schools, which have become so rampant in Nigeria
Calendar for universities have become so unpredictably-unreliable, students enrolled in four-year courses now graduate in twice or multiple number required years, and some in Nigeria still think this acceptable or normal?
It is the case that rice generally cooks in approximately 20 minutes, analogously, education has set timetable worldwide, a gestation period which is certain and predictable and as such, known to all.
But some in Nigeria, have made higher education timetable unknowable, and graduations uncertain and as a consequence, too many lives are interrupted, rice in Nigeria must cook intermittently, for hours as some now insists!
A Nigerian student with excellent grades can no longer predict or forecast graduation date and National Youths Service Corps deployment. A Nigerian law graduate can no longer predict when there will admission to Law School, as Law Schools are full. A Nigerian graduate medicine and surgery can no longer predict when (housemanship) internship will be undertake, as strike lingers.
As a matter of fact, absence of vision and foresight led medical students in Ambrose Alli University Ekpoma in Edo State, as well as, medical student in Niger Delta University at Amassoma to spend 13 years instead of the normal 6 to 7 years to earn medical degrees! Both medical schools lacked accreditation for quite a long time!
One can only imagine the costs, financial, psychological and deprivation of professional growth and development for the individuals and for our nation! These were certainly avoidable, accreditation should have been contemplated before and during the first five years of those medical schools! Poor or lack of planning is responsible for all these, same reasons why some of Nigeria's medical schools graduates are being shunned by some nations.
As a result of these lackadaisical administration and management of higher education in Nigeria these days, a young man or woman with hard work and excellent academic record can no longer plot career his or her trajectory, due to no personal fault of the student with excellent grades, but merely because higher education calendar in Nigeria is now fitful and uncertain.
In effect therefore, being a great student with excellent grades in does not guarantee or ensure that a student enrolled in a Nigerian University graduates on schedule as it should be.
These are harrowing experiences for the individuals students-victims, their parents, family particularly, these are also national tragedies.
The woeful failure of Nigeria in the arena of higher planning, has now led a situation in which, Ghana, Kenya, other African nations and in fact, America and Europe are the destinations for Nigerians who can afford foreign higher education in nations where higher education calendars are predictable, foreseeable and reliable!
In these contexts, or circumstances, (and all things being equal), Nigeria ought, and should be playing the role for Ghana, Kenya, South Africa, but sadly, these nations are now playing or serving Nigerians who can afford the financial burden of higher education abroad!
Clearly, there is a major crisis in our higher education, (there are crises) including inadequate funding, inadequate commitment and inadequate research and inadequate impact (translation) of classroom knowledge for bettering human condition in Nigeria.
It is a shame that some Nigerians have managed to inflict these setbacks upon millions of fellow Nigerians and Nigeria. Some have cynically suggested that, the notable nonchalance by some in leadership, is due to the fact that their children and relatives are overseas attending schools in nations with stable school calendars.
Similar cynical arguments have been made regarding the parlous state of Nigeria's healthcare system; as leaders able to fly overseas to treat headaches, malaria or just "go-and-rest-abroad" why worry or bother with fixing the problems in the public health sector?
How many other nations allow her higher sector to grind to a halt? How many other nations permits entire health care system wanton neglect? I know of a Federal Medical Center (FMC) which never has electricity!
How does anyone connected to these higher education crises sleep at night? How can this be happening to Nigeria? How can we be fiddling as our house burn? Why has Nigeria regressed or degenerated in so many ways?
Some sectors of Nigerian national life is so decayed, that any nation or entity, acting as an external enemy to Nigeria, which is sworn to harm Nigeria and or is hostile to Nigeria's national interests, could not have done worse!
On the matter of higher education crises, it is unacceptable and plainly intolerable that, any well-meaning Nigerian person(s) at helms, have ignored and neglected to act, despite the inordinate and ceaseless closures of our universities for several months!
The most unfortunate thing of it all is that, this interruption is not the first in recent national memory and judging by how the abnormal is normal in Nigeria, this current interruption may not be the last! This is extremely abnormal, and it quite a shock that tongues not wagging over this national emergency.
Nigerians should, and must, ask the crucial question, who does epileptic and uncertain higher education calendar in Nigeria serve? I make bold to assert the fact that, it does not serve Nigerians and Nigeria!
The arbitrary interruptions of school calendars, or the closure of schools, high rate of unemployment etc are national emergencies which should shock the conscience of all reasonable persons (with conscience of course)!
I often feel a personal affront and insult, when anyone refers to Nigeria as the sleeping giant, but, the uncertain calendar for higher education in Nigeria gives ample ammunitions and fodder to would-be critics and detractors of Nigeria
Many have expected Nigeria, and particularly, the higher education sector to have fared better, given the fact that Nigeria in past four years, has had the quadruple-fortunes of four prominent public servants, whose primary background, pedigree or predicate is, in academia, in the persons of the Late former President Yar'Adua, and now, our current President Goodluck Jonathan, also quite interestingly, Professor Raquatu El-Rufai as Minister of Education, and then, the veteran of higher education, Professor Julius Okojie of National Universities Commission, NUC!
Where in all these, did Nigeria go wrong? How could Nigeria go wrong in matters of higher education, with all these fine academicians at the helms? It is surely stranger than fiction! This cannot be said to be beguiling or be Nigeria's best moment.
As a matter of urgency, a national emergency as well, President Goodluck Jonathan should add Nigeria's education sector to his portfolio, because education has that critical-crucial-importance similar to Defense and Energy, which some presidents frequently add to their commander-in-chief titles. President Obasanjo chose to add Petroleum Resources administration-management, to his presidential duties in this manner, and functioned as such.
Should it not be assumed, that Mr. YarAdua, Mr. Jonathan, Mrs. El-Rufai, and Mr. Okojie, all, perfectly understand and eloquently speak the language of higher education? And as such, they know and understand ASUU and sundry?Where indeed, did Nigeria go wrong on matter critical national development, particularly, in the higher education sector? At whose doorsteps shall lay all these?
But the urgent mission here, is not about blames or who is wrong or right, it is all about prompt, immediate and urgent end or solution to this impasse or deadlock! The parties, Federal Government and ASUU must shield-sheath their swords, contain and restrain contempt or disdain, but hold their noses and negotiate a immediate solution, to this national hemorrhage.
Frequent interruptions of Nigeria's higher education calendar is stunting, stifling and strangulating of education, and naturally, Nigeria's aspiration for national development, progress, advancement and greatness of nation. Epileptic or Uncertain Education Calendar; A Drag On National Development.