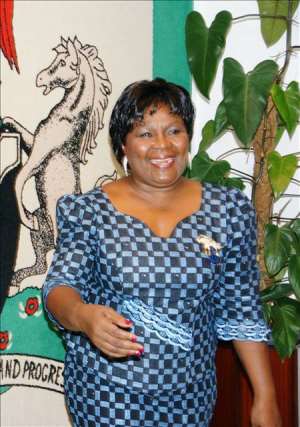 Nigerian Ambassador To Austria, Maria Oyeyinka Laose
December last year, I wrote an article titled "Nigerians In Austria Cry To President Jonathan: Ambassador Gbenga Take note" that was based on interviews some of the executive members of NANCA had granted to me expressing their anger and frustration on how the ambassador had unbelievably handled Nigerians in Vienna without regard and respect.
Since then, the executive members of NANCA have been under immense pressure from Her Excellency and her agents to subvert the truth and to deny their interviews and tarnish my reputation. Thus, the Nigerian embassy Vienna has never been the same again and Her Excellency has been very restless, desperate, and uncomfortable with the exposure of the hard truth as her actions have proved.
Fellow Nigerians, records available to me say that when my article was published in December 2012 the ambassador was in Nigeria for a Christmas holiday. But from there she bombarded some of the executive members of NANCA with telephone calls to help her get out of the consequences of the exposure of the true situation of her relationship with Nigerians in Austria under any condition that should include approaching me to indirectly retract my publication. If this could be achieved, amongst other things, she promised to officially see Nigerian communities in Vienna after returning to Austria.
Fellow Nigerians, a few days after the publication, Jesse Ojobor, the NANCA PRO, called me and claimed that the president of NANCA Engr. Yemi Ogundele had asked him to call me. He pressurised me to write a rejoinder on the same article I had written which I queried him why when there was no reason for me to do that.
He tried to convince me with flimsy excuses that included saving the image of the embassy and the ambassador and that things had changed since that interview. And I told him that it was nice to hear that things had changed but that if it was true that things had actually changed NANCA was supposed to write such a rejoinder and not me.
Desperate to have his way by getting me to write the rejoinder, he did not want to give up as he tried to influence my conscience when he changed his tone and direction of approach in our discussion that lasted some reasonable minutes.
He asked me, "What will be your condition to write a rejoinder?" I became at this point really infuriated having guessed right where he was coming from and his mission, however, I was now more calm but resolute in ending the discussion quickly. And I answered him that I did not know him and had not had any interview with him and did not have any condition except that the ambassador should have a meeting with Nigerian communities and settle their differences for the good of all Nigerians.
At this juncture, I guessed that he sensed the harsh tone of my voice that I was no longer friendly. With the voice of a man who knows that he has been defeated but does not want to accept failure, he said, "If I come and tell you that we have had a meeting with the ambassador will you believe me?"
And I made it clear to him that him telling me at any point that NANCA members had had a meeting with the ambassador would not be enough for me to believe as I would still go back to the people I had interviewed before and get their positions, and would also contact the embassy after which I would write a rejoinder without waiting for anybody to tell me.
A few days later I got a message from Engr. Ogundele saying that I had been credited in my Vanguard interview to have spoken on behalf of NANCA and that I was not a member of NANCA but that the much he knew me that he had guessed that I had been misquoted. And I confirmed to him that I had never been a member of NANCA, never had claimed to be one, and could not have spoken on behalf of NANCA. I also wrote to the secretariat of NANCA and some of the executive members explaining the same thing.
Surprisingly, I got an email again after a few days from Engr. Ogundele saying that I should see a press release they had written and go through it and let him know what I thought because they would not like to have any problem with me. After going through the letter, I called and told him that the rejoinder sounded too vicious and also pointed out a few things to him that would mean that they would be denying the interview they had had with me if they should go ahead and publish the press release as it was on their website and that if that should happen that I would also go on press.
He agreed and told me that he did not think of it in that direction and that he was on his way to where an executive meeting had been convened because of the press release and that he would make sure that everything about the press release would be forgotten as that might not be necessary again but that it was not a decision he would take alone. He promised to get back to me immediately after the meeting, which he never did.
According to the executive members the meeting was full of commotion and brouhaha after members felt insulted when they learnt that the same press release that had made them fix an emergency executive meeting had already been given to the Nigerian embassy Vienna by Engr. Ogundele without their consent.
Executive members suspecting that Jesse Ojobor has special interest in the issue having written the first press release they condemned because for no just reason he castigated and rubbished my name, collectively decided that the press release (which is on the Nigerian website now) did not represent the opinion of the majority and would not be published anywhere. They equally agreed that there was no reason even for any press release on this issue. But Engr. Ogundele and Jesse Ojobor had sensed that that would be the decision of the house and decided to play a fast one by giving out the letter to the ambassador through one Sunny Akpan before their executive meeting.
I guess that Engr. Ogundele having done the damage by giving the press release to the embassy which had been his primary target felt that everybody could be fooled if he supports the idea that there will not be any press release by NANCA, or if I should use his words, "we will stop further dissemination of this press release" as if it was ever agreed by the members to send out any press release. But by now, I guess he must have realised that everybody cannot be fooled at the same time.
When I contacted Engr. Ogundele on why he had not called me days after their meeting, he made a very important confession and I quote, "The pressure of that press release was too much for me." Why was he under pressure? Who was putting him under pressure?
These were the few lines of one of the mails I sent to him, "… However, dear Engr. Ogundele, what you, this so called Jesse Ojobor and maybe other people behind shadow could not achieve through my rejoinder, you all want to achieve that now through the back door as you see the tag "spoke person of NANCA" accredited to me by Vanguard which I have explained to be a mistake as an opportunity to achieve whatever aims you have through your press release.
The venom in the content of this your press release, the way you tried to attack my integrity and puncture my reputation does not show that your objective was only to make it clear to the public that I am not the spokesperson of NANCA as you tended to craftily claim.
Your action on this issue especially with your intended press release speaks volume of your person and your intent and also betrayed all what you had told me on phone. But I want to remind you that you were on tape during the interview. …" The full part of this letter and other correspondence I have had with Engr. Ogundele and other NANCA executives regarding this issue, I will make public if necessary.
Please click here (THE INTERVIEW) to listen to parts of the interview with Engr. Ogundele that has impregnated Nigerian community in Vienna.
Uzoma Ahamefule, a concerned patriotic citizen writes from Vienna, Austria.
[email protected]
+436604659620