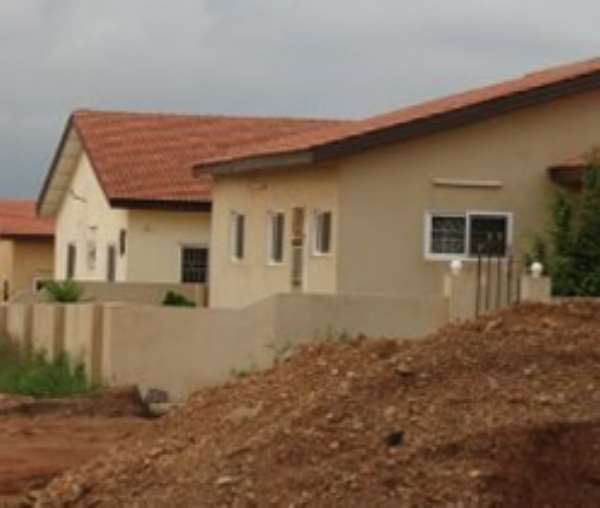 That Ghana has become an attractive investment destination for foreign investors seeking fertile grounds for a healthy return on their investments is no longer in doubt.
Just pay a visit to Airport City, the latest enclave at the Kotoka International Airport (KIA) for luxury hotels, office complexes, a mall and mixed-use developments, and see for yourself the amount of construction going on. Or pay a visit to the popular hotels in Accra - the Golden Tulip near the 37 Military Hospital, The Holiday Inn at Airport City, The Best Western Premier at the Airport Residential Area, The Movenpick Ambassador and the Novotel both in downtown Accra, the Labadi Beach and the La Palm Royal Beach hotels both in Labadi – and see for yourself the hordes of foreigners crowded at the pool area, sipping martinis and munching on delicious kebabs, while listening to soothing Ghanaian and foreign music provided by a live-band in the background.
If you are still in doubt, please pay a visit to the Ghana Investment Promotion Center (GIPC) and request for their database of foreign investors trooping into Ghana, looking for those sectors of the Ghanaian economy they could channel their investment resources into. It is an incredible and welcome development for our country and, if we can keep up the pace, Ghanaians coming back home from abroad will not recognize their country of origin anymore.
From their comfort zones in London, Paris, Tokyo, Shanghai, Rio de Janeiro, Mumbai, Dubai or Los Angeles, the typical foreign investor trooping into Ghana spends the first one or two months in any of the hotels mentioned above - and that's a $300 to $400 hotel bill per night, a whopping $12,000 per month just for accommodation!
Compare that to the $3000 to $4000 per month they would spend on a luxury apartment in Cantonments or the Airport Residential area in Accra and it all starts looking like a bargain! No wonder these foreigners couldn't wait to sneak out of their hotels into town to scramble for luxury apartments in prime areas of Accra.
And so from their hotel rooms in the nation's capital, the typical foreigner coming to do business in Ghana looks for a safe and secure environment to perch both their business and residential accommodation.
And they are looking for the fastest exit to the Kotoka International Airport where they can catch the next flight as quickly as possible should there be any trouble in Ghana. No wonder areas within a one mile radius of the KIA have become the hub of intense residential and commercial real estate activity over the last few years.
So next time you see those long lines of red-plated "CD" cars and SUVs meandering out of Cantonments and the Airport Residential Area, I hope this piece helps you understand what is really going on here.
All of this has resulted in a scramble for prime real estate in the nation's capital, Accra. Suburbs like the Airport Residential Area, Airport City, Cantonments, Labone, Ridge, East Airport and East Legon – all within a one-mile radius of the KIA – have now become the center of gravity for this scramble for prime real estate in Accra.
Not to be outdone, Oxford Street in Osu, the Ghanaian version of New York City's Time Square, is making a name for itself as the next destination for retail and mixed-use residential and commercial real estate development. Property owners in this area are being stampeded by foreign investors into giving up their old dilapidated family homes for lucrative joint venture partnerships for these real estate projects.
In the midst of this melee, something definitely has to give. Ghanaians will be shocked to learn that a 100ft x 80ft plot of land in Cantonments or Airport Residential Area is currently selling for as high as $600,000. Yes, over half a million US dollars for a plot of land in Accra, Ghana! It is simply a demand and supply issue.
Indeed, if God was making land anymore, I am sure landowners in these areas might be salivating and pleading with God to make more lands in these areas! Families who own land in these areas have become the beneficiaries of this windfall profit.
Surprisingly, a good number of these family lands are under litigation for one reason or the other, as every member of these families wants a piece of what grandpa and grandma left them, thereby exacerbating the shortage of land in these very prime areas.
Truly, the demand for luxury real estate in these areas has become insatiable because these are the areas where most foreigners want to live. Chief executives of foreign firms and heads of diplomatic missions in Ghana all want to live in these areas, so do their senior personnel and closest friends.
Chief Executive Officers of the most successful Ghanaian companies and their counterparts from Abuja and Lagos all want to live in these areas too. All the embassies in Ghana will shop for offices and residences in these areas first before considering anywhere else.
In this whole scramble for prime real estate in Accra, it is obvious demand significantly outstrips supply; no wonder rents in these areas are sky-high and prices for land in these areas have become equally sky-high. This, indeed, is what is fuelling the demand for luxury real estate in Ghana today.
If you buy one acre of land in the Airport Residential Area for $2.5 million, how can you recoup your investment capital and also make a healthy return on your investment? The answer is you pack a good number of apartments into a high rise building, throw in a pool, a tennis court, a gym and lots of security and, voila!, you have a beehive for foreigners and the Ghanaian bourgeoisie seeking a comfortable residential accommodation.
Then turn around and sell them from $400,000 to $600,000 as long as the demand is there and you are assured of a healthy return on your investment! This is precisely what is happening now in these prime areas of Accra.
Trasacco's Villagio Vista at Tetteh Quarshie Circle, Meridian Apartments, Primrose Place, Casa Bella and Astoria Palms, all at the Airport Residential Area, have figured out this formula for success and have become extremely good at building luxury apartments in these areas.
A 2-bedroom apartment for rent in these areas goes for $2000 to $3000 per month and a 3-bedroom for $3000 to $4000 per month. Office space in these areas is anything from $30 to $40 per square meter.
If you own a business in Ghana and your company is here to stay, why spend nearly $50,000 per year on rent when you can buy that same luxury apartment for $400,000 and it is completely paid for in 8 years?
And your company will own that property pretty much forever and house your executive staff for as long as you want! Why not? So it is not surprising the moment the developers start digging the ground for those high-rise apartments, companies are now rushing to buy these units to house their senior staff.
As the economy of Ghana continues to grow, this trend is very likely to continue and Ghanaians should brace themselves for some of these astronomical prices in the real estate marketplace. As stated earlier, it is simply a demand and supply issue, and there is absolutely nothing the government can do to control these prices.
Indeed, what is happening in Ghana today is a microcosm of the general scramble for foreign investment in the emerging economies of the African continent and that trend is simply going to continue, considering the very strong democratic credentials our country has chalked so far.
For me as a Ghanaian, as long as all these developments bring lots and lots of jobs to my fellow Ghanaians, I am all for it. Let's pray our country continues to enjoy the peace we are enjoying today and we are likely to see more glory days ahead.
Peter Atsu Tsikata
CEO, Millennium Properties Ltd
A full-service real estate and property management company.
Tel: 026-655-7066