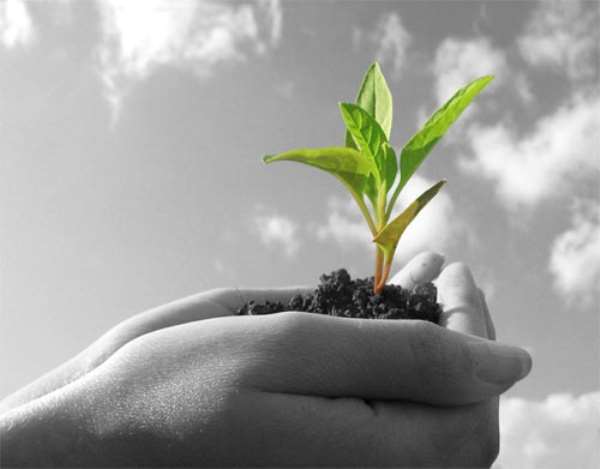 A lot has been said about Ghana's economy and the need to boost agricultural production to feed the nation, provide jobs for our people, stem rural-urban migration, reduce poverty and enhance the nutritional needs of our people. Sadly enough, little concerted effort has been made by governments and stakeholders over the years to significantly develop the nation's agricultural industry.
Ghana has more arable land than most Western European countries yet we import agricultural products from these countries. Ghana is a net importer of almost every agricultural products ranging from rice, wheat, soya bean, corn, poultry products (turkey tail, chicken, etc), fish and fish products, beef, pork, pig feet, cow feet etc. The country cannot continue to apply piece meal approaches to solving this very essential food importation problem. Over the years governments have been in a hurry to implement various intervention programs different from those implemented by predecessor governments. Interestingly all the intervention programs are either short termed or not sustained long enough to ensure that results are achieved.
Ghanaians and our Governments have a 'beggar attitude' (BA-the belief that we need to beg foreigners, foreign governments and institutions for assistance to solve our problems) which has not served us well in the past and will never serve us well. I the earlier we realized that the better it will be for our country. We are quick to go begging any foreigner or foreign institution to help us solve our problems; we do this as individuals and as governments. Successive governments have always looked up to the World Bank and its sister institution, the IMF for help and approval of programs we intend to implement. We refuse to take our rightful position to be counted among the League of Nations. We are always under the illusion that the solutions to our problems lie in the generosity of some foreigner or foreign institution somewhere across the Atlantic Ocean.
I must commend the government of Ghana for instituting the fertilizer subsidy program for our famers though it is very limited. I must also commend the National Service Scheme for introducing the Youth in Agriculture project. While commending our governments for trying to solve the agriculture problem, I must say that the seemingly uncoordinated nature of these programs and the limited reach is very worrying. It appears that over the years, governments introduce these types of programs just to score political point rather than really solving permanently our problems. Sometimes one is tempted to believe that either our leaders do not believe the problem can be solved or they are protecting some business interests. I do not believe it is the situation that our leaders do not know what to do to solve the problem.
In 2005, Malawi had an acute food shortage due to bad harvest and over 38% of its population had to live on food aid from the World Food Program and other donor agencies. By 2007, 2 years after the food shortage, Malawi was exporting hundreds of thousands of tons of food to its Southern African neighbors and selling food to the World Food Program. It took the commitment of Malawi's late president Bingu wa Mutharika to make it happen. His commitment to solve the problem was summed up in a statement he made "As long as I'm president, I don't want to be going to other capitals begging for food". He emphatically denounced the BA. Malawi is a landlocked country with depleted soil but that did not deter President Mutharika. He exhibited a profound knowledge of the problem when he told his advisers "Our people are poor because they lack the resources to use the soil and the water we have". I wonder if any of our candidates for president of the Republic of Ghana can show President Mutharika's level of understanding of the problems that confronts the agric sector in Ghana and the determination to solve them.
President Mutharika's solution to the food problem was simple; he subsidized fertilizers significantly, and other agricultural items to all farmers. Ironically Britain and the United States, two countries that heavily subsidize and provide a minimum purchase prices for their farmers were very skeptical of President Mutharika's plan. The World Bank (US) and IMF (EU) have stood firmly against African countries subsidizing their farmer for several decades. These institutions have not been able to stop the US and the EU, countries that have been subsidizing their farmers since the 1920s and 1960 respectively. Malawi's success story provides a very good recipe to other African countries such as Ghana to emulate.
The European Union (EU) under its Common Agricultural Policy (CAP) program spends over 40% of its budget to subsidize European farmers. According to EUR-Lex (http://eur-lex.europa.eu), the EU in 2010 spent EUR 57 billion or USD 72.6 billion (more than twice Ghana's GDP in 2010 of USD 32.2 billion) of its general budget on subsidies to its farmers. EUR 39 billion of the amount was spent as direct subsidies (cash payment) to the farmers and EUR 18 billion on indirect subsidies. The BBC reports that in 2009 the amount spent on CAP was EUR 59.8 billion or USD 79.9 billion. According to the EU the aim of the CAP is to provide its farmers with a reasonable standard of living, provide consumers with quality food at fair prices and to preserve rural heritage. If EU farmers' earnings are not comparable to that of the average worker in the locality in which they live, the farms are considered not viable and the farmers are paid special amounts to make up for the difference in earnings.
On its part, the US pays its farmers over $20 billion in direct subsidies and several more billions of dollars in indirect subsidies at both the federal and state government levels. The US government pays farmers directly and also guarantees them a minimum price for their products. In some cases the subsidies are targeted at certain groups of farmers to encourage more production and or to shield them from international competition. For instance the US spends over $7 billion to subsidize corn ethanol in order to shield them from competition from cheaper sugarcane ethanol from Brazil.
The US government has several indirect ways of subsidizing farmers and reducing their risk. Whereas in Ghana and many developing countries there are no insurance products for farmers, in the US, German and other Western countries there are few private insurance products that help mitigate the risk of farmers. In the US the government insures almost all the risks faced by farmers in an insurance product called the multi-peril crop insurance (MPCI) through a government insurer. In addition to being the insurer (taking up the risk) the government also subsidizes the premiums for the farmers. I believe this type of program is meant to circumvent World Trade Organization's free trade concerns. The cost of this crop insurance program to the US government was about $9 billion in 2011.
In 2009 Japan spent USD 46.5 billion in subsidies to its farmers. This amount is far greater than the GDP of Ghana in the same year.
I am making all these references not to condemn subsidies to farmers but rather to point to the fact that subsidies have served other countries well and that our governments need to wake up and learn to say NO to the double standards of our so called development partners. Our governments should start thinking of subsidies and other interventions such as special tariffs, guaranteed minimum prices to farmers to enable us compete. Ghana should be able to produce enough to feed itself and also export to other neighboring African countries if we invest in agric (food production). We can learn to implement some of the mechanisms implemented by the EU under its CAP program.
CAP is carefully crafted to ensure that agricultural products/commodities stay within a certain range within the EU. Some of the mechanisms put in place under the CAP program include:
Import levies are applied to specified goods imported into the EU. These are set at a level to raise the World market price up to the EU target price. The target price is chosen as the maximum desirable price for those goods within the EU.
Import quotas are used as a means of restricting the amount of food being imported into the EU. Some non member countries have negotiated quotas which allow them to sell particular goods within the EU without tariffs. This notably applies to countries which had a traditional trade link with a member country.
An internal intervention price is set. If the internal market price falls below the intervention level then the EU will buy up goods to raise the price to the intervention level. The intervention price is set lower than the target price. The internal market price can only vary in the range between the intervention price and target price.
Direct subsidies are paid to farmers. This was originally intended to encourage farmers to choose to grow those crops attracting subsidies and maintain home-grown supplies. Subsidies were generally paid on the area of land growing a particular crop, rather than on the total amount of crop produced. Reforms implemented from 2005 are phasing out specific subsidies in favor of flat-rate payments based only on the area of land in cultivation, and for adopting environmentally beneficial farming methods. The change is intended to give farmers more freedom to choose for themselves those crops most in demand and reduce the economic incentive to overproduce.
Production quotas and 'set-aside' payments (payments to farmers for not cultivating their lands) were introduced in an effort to prevent overproduction of some foods (for example, milk, grain, wine) that attracted subsidies well in excess of market prices. The need to store and dispose of excess produce was wasteful of resources and brought the CAP into disrepute. A secondary market evolved, especially in the sale of milk quotas, whilst some farmers made imaginative use of 'set-aside', for example, setting aside land which was difficult to farm. Currently set-aside has been suspended, subject to further decision about its future, following rising prices for some commodities and increasing interest in growing biofuels.
The effects of investing consciously in agriculture will have an enormous multiplier effect on Ghana's economy. It will spur growth in the services sector, industry as well as the manufacturing sector. It will provide jobs for thousands of people and ensure food security, additionally investing in agriculture will bring in foreign exchange when we export the surplus of what we produce.
Our thinking, actions and politics have been permeated by the BA to the point that our national policies are BA based. For instance why should we focus on investing huge sums of money in making Senior High School (SHS) free or starting a onetime National Health Insurance (NHI) premium whereas we can invest those resources in agriculture development, empower the poor farmers and rural folks so that they are able to pay for their health insurance premiums and the school fees of their wards. Implementing free SHS and onetime NHI will only continue to make beggars of our farmers, rural folks and people at the bottom of the economic ladder.
I am of the strong opinion that just as the EU implemented various mechanisms under the CAP to protect its agriculture sector; Ghana should implement the following measures to wean us off the dependency on imported agricultural commodities:
Government should step up the program to subsidize fertilizers to farmers across the nation. The subsidized fertilizers should be extensively available to all farmers who need them and can afford them.
The program to provide agricultural equipment to farmers should be stepped up and extended to all parts of the country well beyond the scope of the Savannah Accelerated Development Authority (SADA).
Government should recruit more agric extension officers who will serve in the farming communities to advice and guide our farmers with best farming practices.
MASLOC should have a special portfolio targeted at farmers across the nation. These facilities will enable our farmers buy the subsidized seeds, fingerlings, feed, chemicals and fertilizers and rent equipment from government to work on their farms. Loans will instill in these farmers the sense of responsibility and wean them off the BA mentality.
The capacity of buffer stock warehouses should be increased to handle the glut that will occur during harvest seasons.
Government should guarantee minimum purchase prices for various products to the farmers. This will ensure that when prices fall below the government proposed prices farmers will have the option of either selling in the open market or selling to government. Also government should offer a three month and a six month options to these farmers. For instance if the minimum price for a 50Kg bag of corn as offered by the government is GH₵ 50, a three month option for same could be GH₵ 45 and a six month option GH₵ 37. In other words government will buy the corn from the farmers at GH₵ 45 and GH₵ 37 with three and six months options respectively. With these options, the farmers can repurchase the quantity of produce sold to government within three months or six months at the government mandated price of GH₵ 50. The idea here is that prices are usually low during harvest and farmers should be given the right to make more profit three or six months after harvest when the demand and supply dynamics would have changed.
Just as in the case of the US government, the Ghanaian government should consider providing at least a 30% insurance coverage to our farmers. Unlike as in the case of the US government, this coverage should not cover all perils; government must not subsidize the premium for the farmers. Farmers and Ghanaians for that matter must start learning to take responsibility and eliminate the BA.
Ghana as a matter of urgency must apply special tariffs on all agricultural products imported into the country particularly those that are subsidized by any foreign government. The tariffs should be such that imported agric products (e.g. Frozen chicken) must not sell cheaper than the amount it costs to produce the same products in Ghana.
In addition to the tariffs government must assign quotas to importers of such products and these quotas must progressively reduce over a period of four year by which time local farmers would have built the capacity to supply the country adequately with the product.
Knowing how corrupt many Ghanaians are, measures should be put in place to ensure that people do not take undue advantage of the various interventions suggested above to make money for themselves while the nation suffers.
To conclude, I want to say that if agric subsidies are good for farmers in the USA, Japan and EU countries then they should be equally good for Ghanaian farmers. It has been shown to work in Malawi (Africa) by the late president Mutharika. Our leaders therefore should wake up and say a BIG NO to the so called development partners when they are advised not to subsidize our farmers. The World Trade Organization (WTO) CANNOT and WILL NOT stop the US or EU from subsidizing their farmers. Since 2001 the Doha Round of talks have been a failure simply because the USA, Japan and EU have refused to remove agriculture subsidies when asked to do so by developing countries represented by Brazil, China, Indian, South Korea and South Africa. I wonder if we will ever have the likes of the late president of Malawi Bingu wa Mutharika in Ghana.
By Prosper Kwesi Acquah
Business & Financial Analyst,
Member of Volta Advocacy Forum
Contact: [email protected]