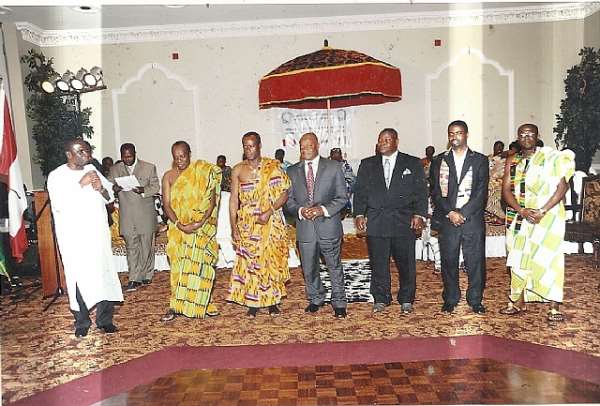 Saturday, September 1, 2012 is the day! History will be made again as the Council of Brong Ahafo Associations of North America (COBAANA) meets in Columbus, Ohio (USA). It will be the third annual conference since COBAANA was formed and inaugurated in Toronto, Canada, in May 2010.
COBAANA comprises all the local Brong Ahafo Associations in several cities in the USA and Canada. It was formed to coordinate, among other things, the socio-economic efforts and the general progress of member associations.
The theme for the Labor Day Weekend Conference is "Way Back Home: Our Children's Health is Our Region's Wealth." The Convention will take place at the Aladdin Shrine Center, 3850 Stelzer Rd, Columbus, OH 43219, from 9:00 p.m. to 4:00 a.m. Dinner starts at 10:00 p.m., and proceeds will go to benefit the construction of the first Children's Hospital at Sunyani, Brong Ahafo, Ghana. An entry donation of $50 is being asked from each attendee. Good food, music and lots of dance will be showcased to the satisfaction of all. Sunday, September 2 will see the entire people thronging to the Lewis Center Beach for a super-gargantuan picnic.
COBAANA-2012 is expected to attract over eight hundred participants from several cities in the United States and Canada. Observers from Ghana and as far away as Norway, France and Germany would also be in attendance. "All Ghanaians and others who are sympathetic to our noble objectives," according to Daniel Kofi Asante, "are welcome." Mr. Asante is the Chairman of the Brong Ahafo Association of Columbus, Ohio. "But citizens from the Brong Ahafo Region must feel obliged to attend, and lead the way," added Nana Odeneho Osei Kwabena, Chairman of the Conference's Planning Committee.
For more information you may please contact Nana Odeneho at (614) 260-6687 or Daniel Asante at (215) 990-2791 or email him at [email protected]