Vice President advice Muslims against spending lavishly on ceremonies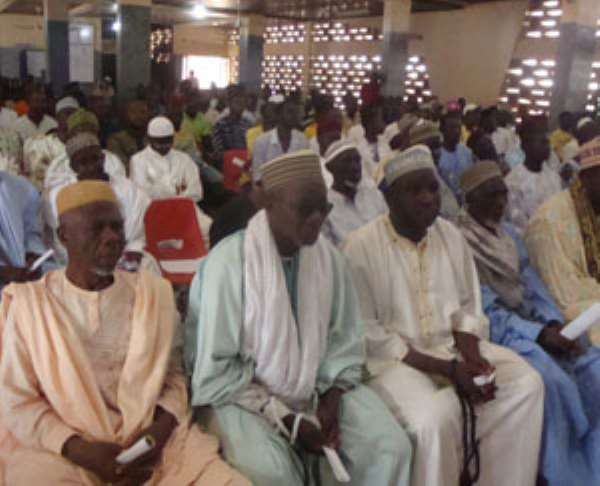 Accra, June 16, GNA - Vice President John Dramani Mahama on Saturday advised Muslims to desist from spending lavishly on weddings and funerals to the neglect of the formal education of their children.
He also asked them to give equal opportunities to both boys and girls in school to enable them to harness their potentials to become doctors, engineers, lawyers and other high level professionals in the country.
Vice President Mahama made the call when he addressed the first annual congress of National Council of Zongo Chiefs on the theme: "Uniting Zongo chiefs for peace and socio-economic Development," in Accra.
The congress would among other things, review and adopt a constitution that would guide the activities of the chiefs, form a peace committee to mediate on conflicts among Muslims, attracted delegates from all the 10 regions of the country.
Vice President Mahama said it was of no use expending a chunk of their income on weddings and funerals, thereby sacrificing the education of their children for things that could not enhance development.
He said Muslims were not born poor, but some of their practices, including the refusal to send their girls to school was one of the major issues that retarded their progress, and asked them to change their attitude for the betterment of society.
The Vice President advised Muslims to resist attempts by politicians to use their youth to achieve political gains, by questioning the rationale behind the use of Muslim youth as "machomen" to fight their political opponents.
He called on traditional rulers to incorporate all settler communities in their areas, to avoid the perennial violent conflicts that the country had experienced in recent times.
Former Vice President Aliu Mahama denounced lawlessness and indiscipline that had over the years embarrassed the Zongo communities throughout the country.
He said there was a yawning gap between the Muslims and other religious groups in terms of education and added that it was only rich Muslims who could help ameliorate the situation.
The former Vice President also condemned Muslim youth for their indecent dressings to mosques and public places, which he said negate the true ethics and tenets of Islam.
Professor John Nabila, President of the National House of Chiefs, called on Muslim communities to harmonise their activities with other groups, to disabuse the impression that Muslims were aliens from other countries.
GNA