Government is initiating measures to address child labour - Deputy Minister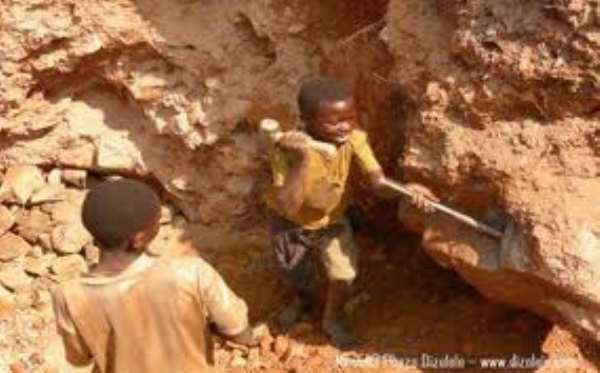 Accra, June 12, GNA – Government had taken a sector-wide approach to address the challenges of child labour in Ghana, particularly the underpinning causes of the phenomenon, Mr Antwi-Boasiako Sekyere, Deputy Minister of Employment and Social Welfare said on Tuesday.
He said most of the issues to be addressed were enshrined in the national development blue-print, the Ghana Shared Growth and Development Agenda (GSGDA 2010-2013).
Mr Sekyere announced this on the floor of Parliament when he read a statement to mark World Day Against Child Labour on the theme, "Human Rights and Social Justice-Let's End Child Labour."
The Day which falls on June 12, would be celebrated with a national forum on child labour and other activities throughout the country.
He said recent policies and programmes such as the capitation grant, school feeding programme, national health insurance scheme, and livelihoods empowerment against poverty programme would contribute substantially to the fight against child labour.
Mr Sekyere said government was committed to strengthening institutions whose obligatory functions were on law enforcement to protect children, adding that as a first entry point the Ministry had put in place a Ghana child labour monitoring system to track the incidence of child labour at all levels for appropriate policy interventions.
The 2008 International Labour Organisation (ILO) Child Labour Global report recorded 215 million children working illegally and showed a decline of three per cent between 2004 and 2008.
However, he said the involvement of children in unacceptable economic activities in Sub-Saharan Africa rather increased from 49.3 million in 2004 to 58 million in 2008 with the incidence rate increasing from 26.4 per cent to 28.4 per cent.
Mr Sekyere said in 2008 cocoa scale-up survey in Ghana, revealed that 23.3 per cent of the total number of children who worked in the cocoa sector were engaged in at least one hazardous activity.
Some of these children were trafficked and exploited under dangerous conditions, contrary to the Human Trafficking Act passed by Parliament in 2005(Act 694).
Mr Sekyere said in Ghana poverty had been identified as one of the main causes of child labour, however there was no excuse to exploit children economically because of the poverty situation of a household as it had unpardonable negative implications for the future growth and development of the child and the nation at large.
He said it was therefore, the collective responsibility of all to protect, grow and develop children and that the government was committed to the protection and development of children as well as the transformation of the Ghanaian society in this regard.
GNA