NDC In Sad Crisis (2) J.J's June 4 Speech Betrays Why He Is Anti-Mills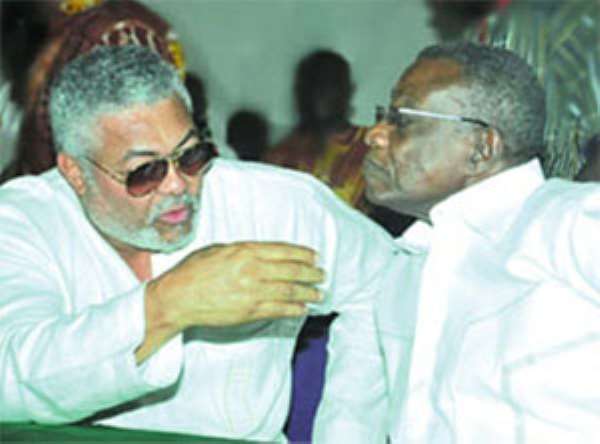 GOOD OLD DAYS! Jerry Rawlings and John Mills
Barely five months after President Atta Mills had begun ruling the nation, former President  J.J. Rawlings, who was initially very close to him, suddenly started to openly criticize him and his administration, condemning him for some supposed bad governance methods and for surrounding himself with 'greedy bastards'  who were not up to the standard in the execution of state policies. Such an open attack was very startling, as it was not expected of a close friend. And as days passed by, this open remonstration on Mills continued without the least qualms, thus gradually driving a wedge between the two 'Presidents' until both of them have now become stoutly opposed to each other, with Rawlings openly calling for electoral defeat of Atta Mills.
As a political scholar and analyst, I began writing on this messy relationship that was being created by Rawlings and warned Atta Mills about it in my 2009 write-ups, and have continued to caution him about it, whilst condemning Rawlings for such unnecessary open attacks and directing him for close-door criticisms and advice. Characteristic of him, Rawlings peevishly rejected this sound advice, and continued with his repugnant, rather abstruse open censures against Atta Mills without a let-up. Such moves of Rawlings definitely appear very queer, but there are two psychological causes which actuate him to do so. The first is - his SUPERIORITY COMPLEX trait, and the second: his SWEEPING EGOTISM which does not allow him to accept the glorification of such a person as Osagyefo Dr. Kwame Nkrumah whom Atta Mills considers as a hero who deserves state honour.
 
MILLS'S CPP-ISM DISLIKED.
President Atta Mills is a die-hard Nkrumaist who is a believer in Dr. Kwame Nkrumah's CPP ideals and administration just as his father in Cape Coast actively was!
Atta Mills entered the Kwame Nkrumah Ideological Institute (KNII) at Winneba in the mid-60s, then a college of the University of Ghana, formerly known as Institute of Political Science and Economics. It was there that Atta Mills deepened his knowledge of Political Science and Economics and Philosophy (with Nkrumaism as an element of it). All this knowledge strongly shaped the political life of Atta Mills, and he therefore takes Dr. Nkrumah as an African hero who must be honoured, even posthumously.
As an Nkrumaist, President Mills still remembers Dr. Kwame Nkrumah's development achievements and successes in African politics, and has caused the oil ship in Takoradi to be named after him as 'MV Kwame Nkrumah'. President Mills has also embossed the one Ghana cedi note with the effigy of Dr. Kwame Nkrumah. As an aside, the CPP embossed the 1961-66 cedi notes with Dr. Kwame Nkrumah's effigy, but when he (Nkrumah) was overthrown by Kotoka and Afrifa, the effigy was later removed on the advice of Dr. Kofi Abrefa Busia! What did such an action precisely mean, reader? … That Dr. Nkrumah did not deserve such honour? Or, he had been made far too popular in Ghana? The reader can draw his own conclusion. It is such honour that President Atta Mills has restored to the great African Dr. Kwame Nkrumah, right on Ghana's one cedi (old 10 cedis) currency note. And Dr. Nkrumah richly deserves this!
Furthermore, President Atta Mills has caused the whole of the 53 African nations to observe September 21, as a uniquely important day, which is kept as a holiday! Of course, President Atta Mills has proven himself to be an honest disciple of Dr. Kwame Nkrumah. And this is a feather in the cap of Fiifi Atta Mills, and may God bless him for all these. It is expected that the President will do even more for Dr. Nkrumah, by re-naming Kotoka Airport as KWAME NKRUMAH Airport, all to remove the stains of a military coup engendered by Kotoka, and to brilliantly re-echo the name of Dr. Nkrumah to all travellers at the airport. This is a very important step to take to, for the meantime, seal the Nkrumaist deal! After all, who built the airport?
 
JUNE 4 REVELATION
All these memorials which President Mills has placed on Dr. Kwame Nkrumah, to honour his name and still embellish his popularity, have definitely not gone down well with former President Rawlings, who has proclaimed that he is not an Nkrumaist. How can he be pleased, if an Nkrumaist 'game' is being now and then played, with the view to etching Nkrumah's name on things and events as singular mementoes in Ghana and Africa. Does he Rawlings deserve no honour? With all his 18 years of rulership, can't Atta Mills see anything good to orchestrate to memorialize his (Rawlings's) name? The simple logic is that if Atta Mills whom he 'brought up' as a politician and frontrunner of the NDC by his famous Swedru Declaration, by which he proclaimed him (Mills) as a fitting and unchallengeable flag-bearer from which he has become a President, is unable to remember him Rawlings, and only indulges in exclusively memorializing Dr. Kwame Nkrumah, then Mills is ungrateful to him, Rawlings! Therefore he must be replaced, by all means possible! That's Rawlings's ridiculous and quixotic thinking!   
The argumentation of Rawlings is that Atta Mills, by memorializing Dr. Kwame Nkrumah, all too exclusively, has taken or is taking the NDC into the CPP orbit, and such a person must be removed from the NDC leadership. Rawlings unwittingly mentioned this in his recent June 4 speech at Aflao, during which he plainly argued that the NDC has already been dragged into the CPP realms, and he shan't sit down to see this happening. To him, the NDC is not an appendage of CPP, and all efforts to retrieve 'our party' from the CPP purview should be made. It can therefore be seen that the frequent refrain of Rawlings and Nana Konadu (his wife) in their various speeches to the effect that 'we want our party back' refers to Atta Mills's memorialization bid in respect of Dr. Kwame Nkrumah, the one time leader of the CPP.      
But what is funny about Rawlings's argument (that the NDC is being 'CPP-ised' by Atta Mills) is that the NDC consists of about 87percent of Nkrumaists (or CPPists) who followed Dr. Limman's administration which was itself basically CPP. Rawlings should not think that by staging a coup against Dr. Limman, and deftly bringing his followers to form the NDC, their Nkrumaist ideology has been erased from their minds.
Ask the NDC Chairman, Dr. Kwabena Adjei, or NDC secretary, Asiedu Nketia, or the NDC executives, or most NDC followers, whether their Nkrumaism has been dislodged by Rawlings's condemnation of Dr. Kwame Nkrumah as a person who brought nothing to Ghana, except Ghana's flag! Since the 1966 coup which proscribed the CPP, nothing has been seen to have been able to kill the CPP. It still goes marching on. And Rawlings can't kill the CPP or Nkrumaism. If he doesn't like the Nkrumaists in the NDC, he must openly sack all of them and ask them to go to the CPP. I dare Rawlings to do this - to kick out all Nkrumaists from NDC to avoid the 'blemish' of the CPP in the NDC. Alternatively, Rawlings can form a new party and leave the NDC to the Nkrumaists, and that will be a safer political step. Otherwise, even if Atta Mills goes away after his first or second term, the next NDC flagbearer will be an Nkrumaist, and he will honour Dr. Kwame Nkrumah to bruise the ego of Rawlings.
In fact, all Rawlings's critical attacks on Atta Mills stem from his (Rawlings's) cryptic egotism, his self-centeredness which makes him envy the homage being paid to Dr. Kwame Nkrumah. He would have been quiet and would have loved Atta Mills if the oil ship had been named after him (Rawlings) or if his effigy had been etched on Ghana's currency. But the whole Ghana would have risen against Atta Mills if he had done that to perpetuate the name of coupist Rawlings, a hardcore murderer of several Ghanaians! Whilst Rawlings's egotism makes him frown upon Atta Mills and this creates critical problems in the NDC, his superiority complex continues to make him become annoyed with Atta Mills who has constantly refused to obey his secret advice or open calls that he should do all he can to imprison several NPP followers of Kufour. Atta Mills has refused to take such 'military' steps, and he has rejected the revenge politics of Rawlings. Rawlings considers himself to be superior to or more politically professorial than Professor Atta Mills and therefore Mills should obey him. But Mills has continued to show the world that he is his own man, and has thus downgraded the superiority stance of Rawlings. This has annoyed Rawlings, creating more tension in the NDC. (To be continued next week).
 By Apostle Kwamena Ahinful