Ghana Ahead in Child Labour Fight – ILO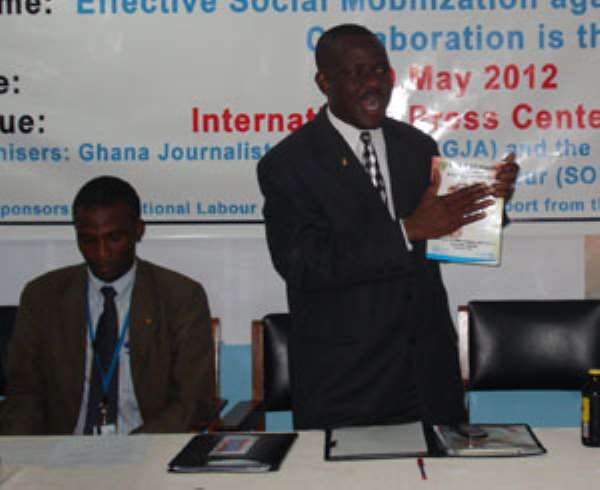 One of the resource persons speaking at the workshop
EMMANUEL KWAME Mensah, representative of the International Programme on the Elimination of Child Labour, (IPEC) at the International Labour Organization, Ghana Office, has commended the country for taking steps to eliminate the worst forms of child labour.
He said introduction of the National Plan of Action (NPA) on the elimination of child labour and the adoption of international conventions by the country is among the strides Ghana has made to eliminate the problem.
He gave this statement at a day's workshop on capacity building for Social Mobilization Partners against Child Labour (SOMOPAC).
The workshop organized in collaboration with the Ghana Journalist Association (GJA) is themed 'Effective social mobilization against child labour: collaboration is the key.'
Mr. Mensah however called for more to be done as there are still children who are engaged in activities that are harmful their development.
He said in Ghana, about 39 per cent of an estimated 6,361,111 children are engaged in some form of economic activity with 1,031,220 of those children under age 13.
'In Ghana about 57 per cent of working children are in agriculture, hunting and industry, 20 per cent in sales, 9.5 per cent in production and 11 per cent in other general works such as putters, trucks pushers and drivers' mates,' he said.
He also called for greater collaboration between agencies so there is no duplication of efforts and waste of resources in the achievement of a common goal.
Andrews Addoquaye Tagoe, Anglophone African Coordinator for Global March against Child Labour and Head of Program for the General Agriculture Workers Union also called for stronger institutional capacity in the protection of the rights of children.
He said nationwide sensitization on the national plan of action on the elimination of all forms of child labour coupled with extensive media coverage on such issue will place the country in a better position to achieve the goals of the NPA by 2015 which is laying strong social policy and institutional foundations for the elimination and prevention of all other forms of child labour in the long term.
Affail Monney, Vice President of the GJA, said the media has the statutory responsibility as the fourth estate of the realm to nip the canker in the bud.
'We don't have to wait for handouts on how to do it, we need to play more jingles that educate the public on child labour, we need to grant audience to more experts on child labour through our various media to educate the public on the dangers of child labour,' he said.
He however commended media practitioners for the role they have played over the years in mobilizing a large segment of society to change the perceptions of people who hitherto could not distinguish between decent work and worst forms of child labour.
By Jamila Akweley Okertchiri