'Strengthen Door-To-Door Drive'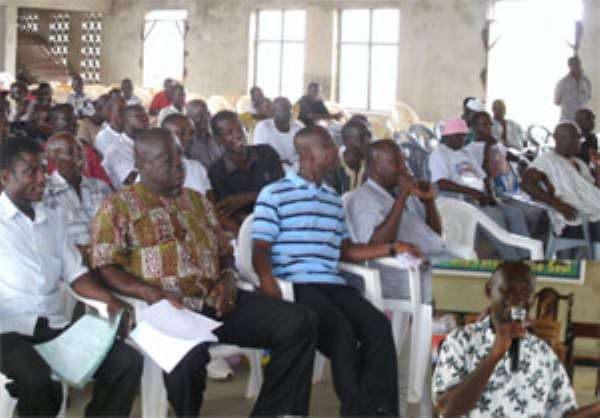 Participant at the programme with the Parliamentary Candidate Robert Amoah in traditional wear (front row). Inset: Dr Opoku-Amankwa
A SENIOR lecturer at the Faculty of Arts, KNUST, Dr Kwasi Opoku-Amankwa has challenged polling station campaign officers of the New Patriotic Party (NPP) to strengthen their door to door campaign strategy to enhance their chances of winning the forthcoming general elections.
He indicated that elections everywhere are won in the localities and households so all efforts must be put in place to get in touch with voters in their homes.
Dr Opoku-Amankwa threw this challenge during a one-day campaign training programme organised by the Centre for Liberal Youth Networking (CELYNET) - a liberal-oriented youth empowerment and leadership project, for 100 NPP Akim Swedru constituency polling stations campaign officers at Akim Awisa.
The programme with the theme 'Enhancing the Capacities of Local Campaigners for Vote Winning,' was meant to train key agents of the party on how to get in touch with voters to enhance the party's chances in the 2012 elections.
Speaking on the topic 'Doing Effective Door to Door Campaign,' the senior lecturer noted the era of grand-style campaigns is gone for good and that a party worth its salt will concentrate on transferring its activities to the localities and households where elections are won and lost.
'Door to door campaigns have stood the test of time and continue to be the best method to carry out political messages to the people. Aside its cost effectiveness, it also enhances acceptability by the local people as they see that as a sign of respecting their involvement in the political decision making process.'
Dr Opoku-Amankwa however stressed the need for those leading this year's campaign to be well informed on the issues and the messages they want to give to voters by doing research, targeting messages appropriately and planning effectively.
Speaking on the topic 'Leadership and Campaigning Strategies,' Vice President (Management) of Jayee University College, Stephen N. Bemile tasked participants to concentrate on issues of interest and relate them to voters in plain and straightforward terms.
Seth Nketiah, lecturer at Regent University College and the Project Coordinator of CELYNET speaking on 'Understanding the NPP's philosophy, core values and objectives' asked participants to focus their campaign efforts on the individuals in the localities since the individual's well-being formed the core ideals of the party.
He also admonished them to stay away from negative campaigning as it has the tendency to cause fear and uncertainty.
'Negative campaigning can best get your supporters committed and excited but turns away swing (floating) voters from associating with your cause and hence depresses your ultimate chances, so the earlier it is avoided the better,' he explained.
Other speakers included Eastern Regional NPP Assistant Secretary, Seth Antwi-Bosiako, Regional Organiser, Seth Otchere (Osonoba) and Constituency Chairman, Kofi Ahenkorah Marfo who tasked party members in the constituency to bury their differences and work   with one purpose to secure the interest of the party.