I'M READY TO DIE…Kennedy Agyapong tells the party faithful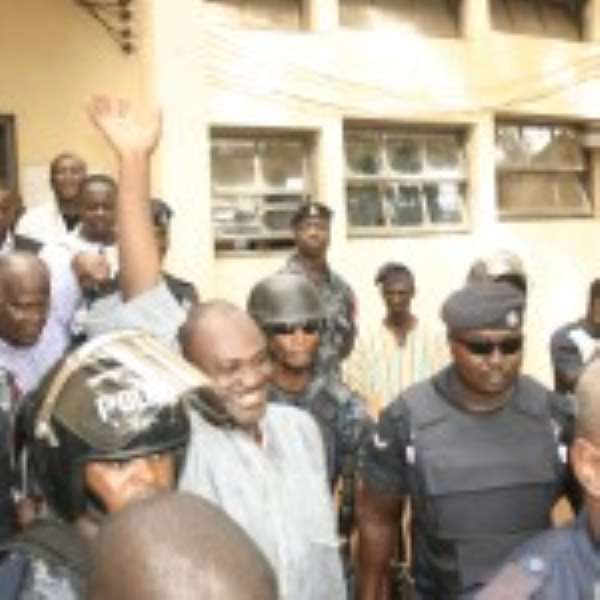 Kennedy Agyapong (with hands raised) acknowledge cheers from his supporters
By Chronicle Reporter
Kennedy Agyapong (with hands raised) acknowledge cheers from his supporters
An exasperated Member of Parliament for Assin North, Mr. Kennedy Agyapong stepped out of the police van that took him to court at the Circuit Court at Adjabeng in Accra, and greeted a large crowd of New Patriotic Party faithful who have massed up in solidarity with him.
'I'm ready to die, he screamed. I'll not say anything. 'I will die,' he said, as he was cheered on by the party faithful.
On his way from the court, which declined to hear the case, citing difficulties with jurisdiction, Mr. Agyapong saluted the party faithful with a clenched fist, as they cheered wildly in admiration of his ability to have survived the dreaded BNI custody so far.
With Mr. K.T. Hammond, NPP Member of Parliament for Adansi Asokwa, a trusted colleague and one of his defence team counsel following closely, Mr Agyapong was whisked into the police van that sped away in the direction of the Accra High Court, in search of a judge who would hear the two charges of treason and genocide, that has been preferred against him.
Hundreds of members of the NPP, including top office holders and Members of Parliament, as well as supporters and well-wishers had virtually kept vigil at the various courts where there was suspicion that the Member of Parliament for Assin North would be sent.
Earlier, supporters of the party and officials stormed the Fast Track High Court and the police had to barricade the main entrance to prevent them from breaking the gates leading to the court premises.
The embattled lawmaker has been in the custody of the Bureau of National Investigations (BNI) over the last 48 hours.