NANA OTUO BARIMA II JOINS PLEA FOR PEACEFUL REGISTRATION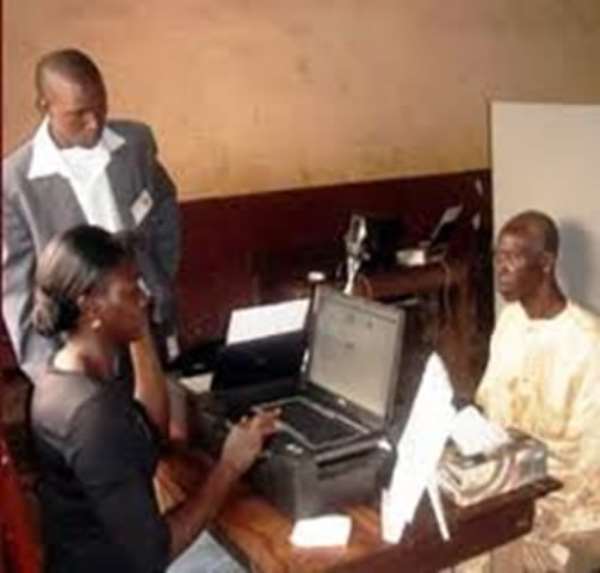 NANA OTUO BARIMA II
A prominent resident of Tema and a Traditional ruler, Nana Otuo Barima II has added his caution to previously made ones emanating from varied quarters of the Ghanaian society to make the on-going Biometric Registration Exercise one devoid of hitches.
He asked eligible voters to desist from attempting to double-register adding that the law will spare no one found to be engaged in such infraction of the electoral rules.
"The system will find you out… so don't think you can play smart" he said in an interview over the week-end.
Nana cited instances in the past involving double registration but cautioned that with the current Biometric Voter Registration mechanism, one's personal information gathered goes into a single data base and it is capable of comparing all finger prints as captured during the initial registration.
He called on all eligible voters to come out in their numbers to register under the new registration mechanism since the Biometric Voter's Registration will render null and void previous voter ID, hence the need to take the exercise serious.
Nana Otuo Barima called on political, traditional, religious, opinion and other leaders to use their positions to encourage eligible voters in their communities to go out to register while the exercise lasts and ensure a violent free registration exercise.
He said in the past the voters register faced such challenges as the double registration and under-age voters among others which in some cases affected the validity of election results.
He added that, the ongoing registration exercise is meant to address those anomalies in the system thereby strengthening the validity of the voting process and the process results.
Nana Otuo Barima debunked claims that the processes involved in the biometric registration have the potential to cause cancer adding that, such misinformation could only come from elements who seek to discredit the exercise adding that the same technology was used in Ghana during the national Identification Exercise by the National Identification Authority and did not cause cancer nor has there been any reported case of contracting of cancer by virtue of the application of the technology.
Nana urged government and other political parties to support the exercise and maintain enough security presence as to ensure orderliness and the peaceful execution of the exercise as the first few days since its commencement has reflected.
By Rowland Phillips-Addo