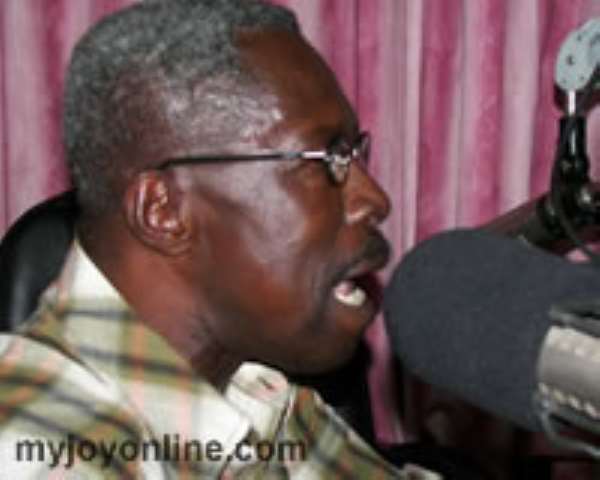 Who is Tony Aidoo? Tony Aidoo and most NDC persons are intellectually handicapped. Most of them think that being boisterous in their submissions and inventing stories that will only catch up with the uninformed. Arresting people for your perceived hate does not change anything. A thinking of this kind is usually manifested in the way you see and understand. E very human being has the animalistic tendency and traits you are portraying. Understand that we all have the same animalistic "Spirit" which is utilized for only self-gratification. Your foul-mouth won't threaten a fowl. What a heck do you mean?
My Father was an absolute die-hard CPP. He was among the first to be sent Britain to pursue further education for the advancement of the country when Kwame Nkrumah became the Head of the Colonial Business. My father was the one tasked by Kwame Nkrumah set up the defunct State Footwear Corporation. He started as the Manager, General Manager and Managing Director. My Father and Mother were known activist of the CPP nation-wide including his entire family but I grew up not to like the CPP for the same reasons that you and most NDC persons are saying today.
But I do not carry the hate campaign as you are demonstrating. You experienced only one sordid situation. Mine was many. I saw people eyes gored, saw people stabbed and butchered. I saw people taken from their homes for no apparent reasons to return home maimed; because it were perceived of them as opposing Kwame Nkrumah.
What you are driving at. If it was of the incident you witnessed that is what has made you to hate, then it has no merit to live yourself. It is a known fact about you that you were involved with the erstwhile PNDC. There was a gory incident where a nursing mother was picked from her home, killed and set ablaze. Have ever thought of it? Should you be hated for having such antecedent with the P/NDC?
Know that the animal spirit within each one of us has both cognitive and affective components; i.e., intellect and emotion. In as much as all animal behavior is self-centered motivated by the urge for self-gratification, the drives of the human animal spirit are primarily self-centered. Each has the same capacity and the same instinct, capable to act in the manner been demonstrated by the NDC.
However, in contrast to other living things whose animalistic drives cannot be re-directed, a human being has the capacity to redirect and channel one's drives toward goals other than self-gratification. Thus, anger can be channeled to anger at injustice; envy can be channeled toward envy of wisdom and good deeds, etc. However you and most NDC persons seem to be at not being able to re-direct.
Do you think you can incite people to help you cover up the crimes you and your ilk are committing?
Please rethink! Your hate pronouncement over the years has been a dent on your persona. I find it extremely difficult understanding most Ghanaian seeing and following so-called knowledgeable people like you. It is really a truism, "for lack of knowledge my people perish. By and large you only think of your self-centeredness and its fructuous self-gratification intent. Relating to your thought and the characteristics of the mental makeup of your person, referring to you Tony Aidoo and your ilk, it is apparent that your psychological needs and problems are due to your faulty thought; i.e., an erroneous perception of reality. This is so, because relating to your thought process, it is the influence of the emotional impact you claim to have witnessed when you were Six (6) years that had greatly influenced your hate for NPP.
Given that you are justified in all your thinking, let me state a scenario. When a judged is bribed he cannot be objective and will be blinded by the bribe; i.e., unable see the facts before him, and will see those that favor the litigant that bribed him. Such is your situation. You are able to see only that aspect of life and inclinations that suits your situation but blind to those that does not conform to your seeing. Therefore relating to your thought and the characteristics of the mental makeup of your person and your kind, your concern for the acquisition of knowledge and mental power are "blinded", as it were in the bribed "Judge scenario". You are suffering idioglossia and at the height of schizophrenia.
Arresting the NPP persons does not mean that you win a case. Your threat has no substance. They claim they are not honoring the invitation. Arrest them.
However, have you followed the Arab Spring? Have you ever thought of the predicament that had befallen Head of States and their henchmen? Then Think!!!!