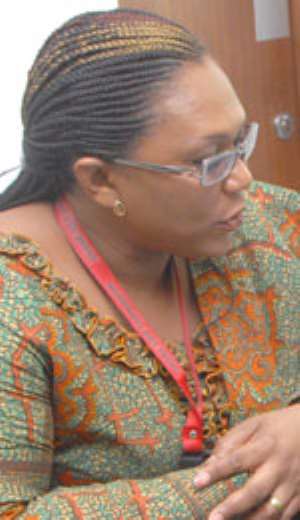 Dr. Angela El Adas, Ghana AIDS Commission
The Northern Regional Coordinator of Partners for Africa Communities Development (PACE), Mr. Anani Ben Mawusi, has called for the campaign against the spread of the deadly HIV/AIDS to be moved down to school children in the country, to serve as ambassadors.  
According to him, Ghana could easily overcome the spread of the disease in the near future, if children and the youth are well sensitised and equipped with the requisite information about HIV/AIDS and its negative effects on individuals, families and the nation.
Speaking at this year's World AIDS Day celebration at Nanton in the Savelugu-Nanton District of the Northern Region, organised by the Partners for Africa Communities Development (PACE), in collaboration with the Ghana Health Service, Mr. Ben Mawusi encouraged the government and its local and international partners to commit more resources to schools for the procurement of adequate learning materials, to enable the children have access to the needed information on HIV/AIDS.
The celebration, which was preceded by a well-attended road march, was under the theme: 'Zero Stigmatization and Discrimination'. Hundreds of students, drawn from the various schools in the district, took part in the march.
The PACE Regional Coordinator hinted that Ghana, in the last decades, had striven hard to overcome the spread of the HIV/AIDS, which continues to turn out so many orphans, widows and widowers, and also affecting the socio-economic development of the nation, but the desired result was yet to be achieved.
Even though the prevalence rate of the disease has seen some drastic decline in the last few years, he believed it was not yet a victory for Ghana.
The Savalugu-Nanton District Director of Health, Mrs. Joana Quarcoo, decried the devastating effects of HIV/AIDS, especially, among the energetic youth of this country.
She, therefore, called for a change in the sexual behaviours of the youth, and also warned against the practice of multiple sex partners.
She noted that the Ghana Health Service had over the years used diverse ways to combat the spread of HIV/AIDS, and assured the nation of new approaches in the coming years.
Mrs. Quarcoo observed that the spread of the disease would reduce, if people and communities show compassion, love and care, and also desist from discrimination and stigmatisation against people living with the disease.
She said HIV/AIDS patients would have very prolonged lives if they were treated with respect and love.
The ceremony was graced by the District Chief Executive for Savelugu-Nanton, Mohammed Askia, who also pledged the government's commitment to assist AIDS patients with the needed support, especially in providing Anti-retroviral drugs.