Ghana hosts First Pan-Africa Biotechnology stewardship conference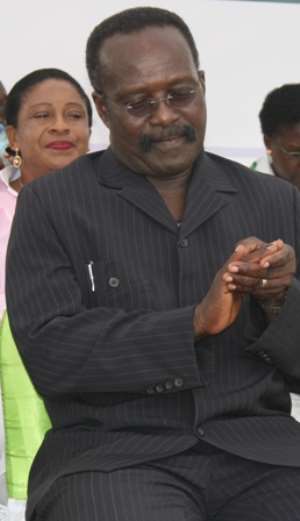 Accra, Nov 30, GNA - Ghana' Agriculture Minister Mr. Kwesi Ahwoi on Tuesday said the country would pay attention to all areas where biotechnology would be useful to improve productivity.
Ghana would therefore liaise with the Biotechnology and Nuclear Agriculture Research Institute (BNARI) and other biotechnology based research institutions within and outside the country, to help reap the benefit of biotechnology in our quest for accelerated modernization and commercialization of Ghanaian agriculture without sacrificing bio-safety issues.
In a speech read on his behalf at the First Pan–African Biotechnology Stewardship Conference in a Accra, he said modern biotechnology tools held considerable promise to develop crop varieties and livestock breeds to withstand the stresses.
It was on the theme: "Africa Managing Safe and High-Quality Biotech Crops."
Biotechnology is the use of biological materials to produce or modify products or processes in agriculture or industrial production.
Early examples of biotechnology include the making of cheese, wine, and beer, while later development includes vaccines, insulin tissues culture and transgenic products (Genetically Modified Organism or GMOs).
Using biotech tools, scientists can identify genes that carry resistance to plants diseases or that which have tolerance for drought, or can resist insect pest. Plant breeder can incorporate these genes into seeds of important food crops, thus proving poor farmers with healthier, more bountiful crops.
Mr Ahwoi said in Ghana, where crop production was mainly under rain fed condition within increasing land degradation and low levels of irrigation, climate change could significantly reverse the little progress that had been made towards poverty eradication and food security unless Ghana increased the application of science and technology including biotechnology to improve agriculture productivity.
"Our aim at the ministry of food and Agriculture is to significantly increase crop yields and general agric production through science and technology"
The Agriculture Minister said, "the challenge for Ghana is how to increase yields by increasing fertilizer application, move from rain fed to irrigated agriculture, from one tractor per 1,500 farmers to 500 farmers in medium term and move from head loading of farm produce to the use of mechanized transportation in addition susceptibility of crop varieties to pest and diseases and limited availability of drought tolerant planting material"
Professor Gordon Conway, Professor of International Development at the Imperial College of London said, agriculture was high on the political agenda, as more leaders were recognizing the key role that it could play in addressing many of the world's most pressing challenges.
The problem in Africa, he said, was to meet the demand for food and live stock, improving the soil, producing good seed, variety of crops that matured quickly and make them torrent and good market for farmers to sell their product.
Dr. Ramadjita Tabo, Executive Director of the Forum for Agriculture Research in Africa (FARA), said their goal was for Africa to use the tools of modern biotechnology on a need basis to address the problem of hunger and malnutrition whilst ensuring environmental sustainability.
"In this regard, we support the mainstreaming of stewardship, the responsibility management of technologies in agric into the conduct of research and deployment of the technology" he said.
He said in spite of the 15 years of successful commercialization of GM crops, progress in the adoption of the technology, had been slow in Africa despite the political will, which now existed in many African countries.
"What has been missing so far is the training in the conduct of the business of biotechnology and where the Strengthening Capacity for Safe Biotechnology Management Sub-Saharan Africa (SABIMA) project with emphasis of stewardship comes in"
Prof. Walter Alhassan Coordinator, Project of SABIMA, said the conference would review the three-year SABIMA project, which ended this year and allow the six countries (Ghana, Nigeria, Uganda, Burkina Faso, Malawi and Kenya) to tell the rest of the world their successes and challenges and how they had applied the principles of stewardship in Agriculture biotechnology.
He said a special meeting with project countries would be held after the conference to present milestones that were achieved and gaps to be filled, adding that the outcome of the conference would determine the next phase of the project.
GNA