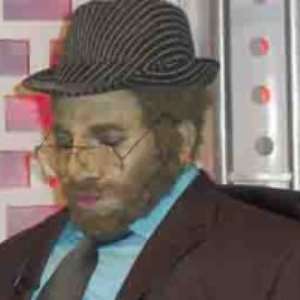 When I turned off the radio and TV set at 7pm tonight, I sat down with the stark realization that my icon of investigation and "magic" was not all that. Really! Anas Aremeyaw Anas and Tiger Eye, Limited have taken money from Government to go undercover to report on corruption at the Customs, Excise and Prevention. Until now, Anas' sleuthing was "magic" in Ghana. The first question always after an Anas report, "how does he do it?".
At least on this one report we understand the financial support.
But is Anas a Government plant? Was the Cocoa investigation and the Osu Children's Home also part of President Mills' grand scheme to clandestinely investigate Government officers and create a "ghost over your shoulder" mentality in the country?
This smacks of two things. First, that the "big brother is watching, but you do not know syndrome" is covert espionage. This is the stuff you do when you want to create fear of the overlord in a society. When America says it has a space satellite that can see your inner bedroom from out there and read a newspaper in the hands of a pedestrian on the streets of New York, it creates fear of the impossible. Same way, that the USA uses a drone to track insurgents and fire missiles into Pakistan, remotely from Fort Worth Texas. Bringing it home as a parallel, when you have Young Pioneers, Worker Brigades and CDR's reporting on your every move to the powers that be at the Flag Staff House and Castle, we have a deep canker resurrecting from the not too distant past. This is CPP and PNDC stuff of yore.
When someone is picked up at night either through excellent police investigation or some other method, we applaud and relish the superiority or otherwise of our protectors. For me and I suspect many other Ghanaians, Anas has come to represent this. Even Barrack Obama was awed by Anas, how much more the rest of us? And Anas acquired that aura because Barrack said so before we all knew how important he had become.
Now, since neither Kweku Baako nor Anas uncharacteristically, or in character, the Government is not prepared to tell us which institution paid Anas to do this, my concern deepens. Were the boot on the other foot, Alhaji Abdul Malik would be all over this one, insisting on our right to know and be informed. And both he and Anas know who their contractors were in this assignment. I wonder whether this went to the Procurement Board as all such "open" contracts should be done.
Deputy Minister Fiifi Kwetey is categorical that it was not the Finance Ministry. However, Deputy Information Minister Mr. Ablakwah knows which Ministry engaged Tiger Eye Limited but declines to say.
This is not healthy democracy. As long as the public is now in the know about the fact that this was paid by Government, we have earned the right to be told how our tax cedis came to be allocated to Anas and Tiger Eye.
As a contractor, when you engage someone on an assignment, you bring them in as insiders and let them into some of the most intimate secrets, point them in the right direction and help them get to the bottom of the issue. Usually, the contractor appoints a lead person to make available all required information and opens gates to information not easily available. Simply put, Anas must have had a lot of help from Government to do this, ergo, not so that anymore.
Now suddenly the cloak and dagger potions that Anas used to mix for his stories are no longer a mystery. To the extent that this report was done in mystery and clever sleuthing, it has lost its romance. My love affair with Anas' investigative reports has ended.
Because, I ask myself a few simple questions. Now that I know that Anas was paid to do this, can I read or watch any other report and not think that Government has paid him to do this? Which translates into another issue; that Anas might not have full control over what he investigates all the time. Now I think President Mills is looking at the Tiger Eye team and pointing them in his direction, which means he can also point them away from his direction.
How much money was involved in this deal? Was it so much that Tiger Eye did not see that this could be a trap? I hope not, but now that the story has come out this way, I think it is valid to interrogate the issue thoroughly, and documents have to be brought out to clear this matter up.
The bigger question is, has Government paid? Most contractors have been waiting for about 2 years for their payments. Or did they pay up front, in cash?
It is a shame to say this, but I think Democracy in Ghana has suffered a major setback today. Anas is compromised with a very clever move by the NDC Government. After trying to discredit him after the Osu Children's Home case, this is a more subtle way to drive a wedge into future investigations, says my cynical self.