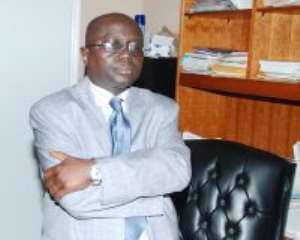 EN-GB X-NONE X-NONE
Ghanaweb's frequent columnist, Nana Kofi Amankwah of the Bronx has certainly caught the attention of many. The problem is that instead of getting the credit or discredit for his work, many are those that are crediting a Ghanaian lawyer, Kofi O. Amankwaa, for the laborious work of his name sake. Another source of confusion is that lawyer Kofi O. Amankwaa has been working in the Bronx since 1985 and is widely known in the African community.
The columnist Nana Kofi Amankwah, on the other hand is widely known amongst Ghanaweb readers. The two people are different. Nana Kofi Amankwah operates under what I characterize as "web veil" which is really tantamount to anyone that has an axe to grind with you reaching for his computer and slaming your reputation anonymously! Yes, because they provide no addresses in the articles except, "Bronx, New York," or "New York, N.Y."
To all those who are frequently crediting or discrediting Attorney Kofi O. Amankwaa of the Bronx, NY with all the writings and opinions of columnist Nana Kofi Amankwah,  
He remarked: 
"Please be advised that I do not deserve such credit or discredit because I am NOT the author of these articles.
Please be advised that I have never been known as Nana Kofi Amankwah.
Be further advised that I am unable to claim monopoly over the name Kofi Amankwaa. Indeed in the New York/New Jersey metropolis, I know of at least six individuals who are known as Kofi Amankwaa, and at least three who go by the name of Kofi Owusu Amankwaa, the same name like mine.
I HAVE NEVER written any articles or discussed my political opinions on Ghanaweb.
KWADWO POKU, the alleged issuer of an ultimatum directed to me is advised to put out a disclaimer to clarify that he is NOT Attorney Kwadwo Opoku, a highly respected lawyer in New York City.
In conclusion, please let me remark that it is sheer arrogance and intimidation when someone who claims to know me so well does not seem to know that George has not worked with me since 2005. If Kwadwo Poku needs any further discussion of this issue, he knows where to reach me. My office is open six (6) days a week and you do not need an appointment. By the way I have no desire whatsoever to be a journalist."
Source:   www.3gmediaonline.com http://www.3gmediaonline.com/