NDC Won't See Power For 30 Years - AG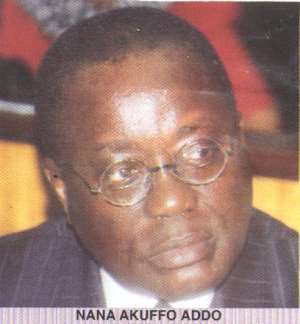 A suggestion has been made that in order for the country's largest opposition party, the National Democratic Congress (NDC) to imbibe and assimilate democratic values, it is imperative for it to stay in opposition for a very long time.
The Minister of Justice and Attorney-General (A-G), Nana Akufo Addo has therefore urged the NDC to be prepared to stay in opposition for at least 30 more years, if the party want to come back to power. The Minister, who is also the Member of Parliament for Abuakwa Constituency gave the advice at a rally organised by the ruling New Patriotic Party (NPP) AT Koforidua Jackson Park last Saturday to mark the 10th anniversary of the party. He spoke in apparent reference to a recent media report that quoted the chairman of the NDC, Dr. Obed Asamoah as having called on the NDC members to take a cue from the NPP's organisational abilities that enabled it to wrest power from incumbent NDC in the 2000 general elections.
Nana Akufo Addo intoned, "If Obed now refers to the NPP's organisational power, then they should be prepared to stay in opposition for 30 years". He noted that, there has not been any government that has a greater respect for rule of law than the NPP Administration. He paid glowing tribute to the singular efforts of the party's forebears which brought tolerance of dissent and respect for democratic principles in the United Party (UP) as championed by personalities such as Dr. J.B. Danquah and Dr. (Prof) Kofi Abrefa Busia of blessed memories and Prof. Emeritus Albert Adu Boahen.
He said these leaders championed the cause of democracy built on transparency as reflected in the election of people to occupy top positions in the party. Nana Akufo Addo, who is speculated to be eyeing the NPP's Presidential primaries for 2004, took the opportunity to announce that the re-election of President Agyekum Kufour alias JAK for the flagbearership of the party is a foregone conclusion.
He expressed the hope that Ghanaians would give the party another four-year term to serve them due to the positive changes they would see by the end of the NPP's first term in office. He said this is the only way out for Ghana's economic revival. Unlike the NDC, the NPP according to Nana Akufo Addo is not built around a personality cult adding that, "this is the reason why the NPP does not hold secret meetings to make such declarations like the "Swedru Declaration" to endorse a Presidential candidate without going through democratic elections".