Nkrumah Centenary Committee presents report to Veep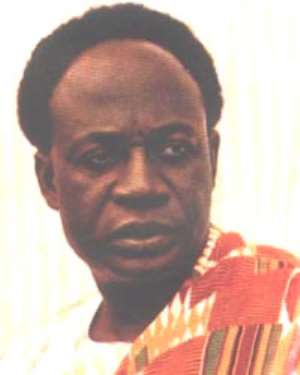 The committee set up to plan the centenary celebration of Ghana's first President, Dr. Kwame Nkrumah, has recommended that the celebrations should be truly national in character, devoid of partisan politics.
"Dr. Nkrumah stood not only for the Convention People's Party but for Ghana, Africa and the rest of the world and, as such, the anniversary should not be politicised in any way," Professor Akilagkpa Sawyerr, chairman of the com¬mittee said.
Professor Sawyerr stated this Wenesday when the committee presented a pro¬visional report, including budget estimates, detailing recommendations for the celebration, to Vice-President John Mahama at the Castle, Osu.
When the Vice-President inaugurated the committee on June 2, this year, he tasked it to submit proposals on the celebrations, including budgetary estimates, to the government for consideration and approval.
Prof. Sawyerr, who said the committee had decided to work without any honorarium, proposed that the celebrations should be used to tell the true story of Ghana's indepen¬dence vis-a-vis Nkrumah's role in it.
The celebrations, which would last from September this year to May next year, should also be used to promote Dr. Nkrumah's life and legacy, he said.
"In that regard, the committee proposes a rehabilitation of his monuments including the mausoleum."
Prof. Sawyerr, who declined to mention the budget estimate for the celebration to the press, said the programme of activities for the celebration would be based on three clusters - Dr. Nkrumah's birthday, the Independence period (March 6) and African Liberation Day (May, 26).
Other proposals in the report included a dawn broadcast by President J.A. Mills to Ghanaians on the celebrations, grand durbar of Ghanaian and other African chiefs at the Independence Square, and "Positive Action Day."
Vice-President Mahama said he would present the report to the President for study and would respond to it in a few days to enable the committee to carry on with its work.
He expressed the hope that by the time the country finished the celebrations, Nkrumah would have taken his rightful place as the true founder of the nation, add¬ing that it would also afford the young the opportunity to know what the late President meant to Ghana, Africa and the entire world.
He commended the committee for its diligence, noting especially, its decision to discharge its duties without any pay, which he said, demonstrated their sense of nationalism.