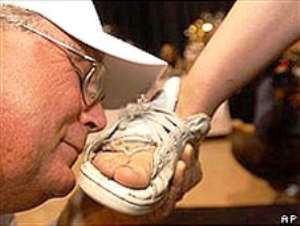 Something is rotten in the state of... Vermont.
A seven-year-old US boy has smelt his first whiff of success - for owning America's most malodorous trainers.
Joshua Boothe wafted off competition from six other stinky shoe-owners in the 34th annual National Odor-Eaters Rotten Sneaker Contest in Vermont.
As well as winning a golden trophy, an all-expenses trip to New York and a year's supply of Odor-Eaters, Joshua took home a cheque for $2,500 (£1,700).
The Utah-born boy did not say whether the money would be used to replace his old trainers.
Those will now be enshrined for posterity in the Odor-Eater Hall of Fumes in Montpelier, Vermont, which has been labelled the "Rotten Sneaker Capital of the World".
Olfactory Adjudicators
The competition brought together the seven regional champions of plimsoll pong - aged between seven and 15 - to stink it out.
They paraded their filthiest footwear in front of a panel of judges that included a Nasa chemical specialist and a Brown University professor of smell.
The olfactory adjudicators were looking out for the conditions of the trainers' sole, tongue, toe and laces, but it was the cheesy smell of the shoes that took the biscuit.
The competition was sponsored by Odor-Eaters, a manufacturer of deodorant products for shoes and feet.