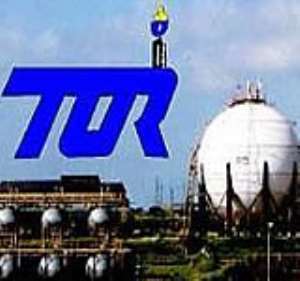 Management of Tema Oil Refinery (TOR) has assured the public of uninterrupted fuel supply through-out the country.
Speaking to GNA on telephone on Tuesday concerning the alleged fuel shortage at some filling stations in Accra Metropolis, Mrs Aba Lokko, Public Affairs Manager of TOR said "as far as TOR is concerned we have not stopped working because we are supplying to the market".
She said by Tuesday afternoon, TOR had supplied 1.5 million litres of gasoline adding on the average between 2.8 and three million litres of gasoline was supplied daily.
Mrs Lokko said 2.8 million litres of gasoline was supplied to the market on Monday, saying to meet public concern "we have added an hour to our normal working hours".
She therefore could not explain the fuel shortage at some of the filling stations as being reported.
Meanwhile, a visit to some filling stations by Ghana News Agency in Tema showed that they have not stopped working because of the shortage.
Mr Prosper Senyo, Assistant Quality Marshall of Tema Community One filling station, said they had in stock all the products and were serving vehicles adding that the station was not experiencing shortages.
Mr Edward Baah, Vice Chairman of Tema Industrial Area taxi rank and Mr Solomon Tei-Yemetey Porter of Biakoye Corporative Society trotro station said they had a smooth run of business by drivers and had not been hit by fuel shortages.
However, Kwaku Sarpong a trotro driver complained bitterly about how he had to drive through the city after he had been refused petrol supply by Tema Community Seven Shell filling station.
Ms Yaa Afriyie, a retailer at a filling station refuted claims that fuel had run out of supply at the station.
Some believed the Oil Marketing Companies could be the problem.
GNA