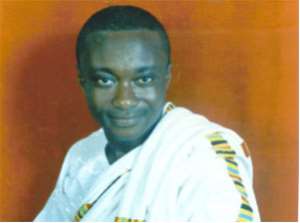 "Osagyefo Dr" Kwame Appiah Boateng, popularly known by Ghanaians around the World as (Kwame Mayor)
Citing his hardwork on behalf of Ghanaians living abroad and the naked fact that many of his ideas have become Monumental in Ghana, the Leader of Ghanaians Abroad Coalition has publicly petitioned the ruling government to consider him for "Ex-Gratia" that includes 3 Suvs, 12 Body-Guards, $500,000 seed money to establish a Foundation to help the poor, $300,000 to build a Library to house his famous Ghanaweb.Com and ModernGhana.Com "Super Articles" for historians to digest his brain power, and in what can be described as a political (irony), the Charismatic and "Playboy" Politician also asked for a gorgeous "Miss Ghana" for a "State Wife".
In another development, the principled and fearless Politician who has described former President John Agyekum Kufuor as the "Great Satan", has urged the ruling President John Atta Mills' government to establish National Reconciliation [Part II] to expose the evils of Kufuor's past, especially the evil deeds former President Kufuor personally committed against him, "Osagyefo Dr". Kwame Mayor --- (out of sheer cowardice, ignorance, insecurity and absolute lack of self confidence and lack of self esteem on the part of (former President, John Agyekum Kufuor !!!).
Cautioning that ideas cannot be copied or immitated without permission, the Politician publicly asked Ghana to consider building Presidential Libraries for [all] former Presidents to enable Ghanaians to judge their works.
Meanwhile, as he prepares to officially join the ranks of the National Democratic Congress (NDC), "Osagyefo Dr" Kwame Presidente' is quickly learning the "Wahala Tactics" of NDC and has publicly predicted that a "Future Peaceful and Non-Violent Revolution" will teach Kufuor and Rawlings a lesson - describing former President Kuffuor as a traitor who caused the defeat of the NPP through his "State-Sponsored Opulence" and who exploited Asantes and brought shame on the powerful Asante Kingdom due to his extraordinary and abnormal greediness, selfishness, arrogance and wickedness and to add insult to injury, he (Kuffuor) cowardly tried to honor Rawlings and Kwadwo Tsikata for their roles in killing their [own] Ghanaian or African brothers.
The "People's Mayor" once again threatened to invoke Antoa Shrine Deity curse on former President John Agyekum Kuffuor and explained that his strong Catholic background is (preventing him) from going ahead to invoke Antoa Nsuo Nyamaa on Kufuor who wickedly and satanically persecuted him - after his (Kuffuor's Government) had stolen his ideas.
"If I finally decide to invoke Antoa Nsuo Nyamaa on Kuffuor, I may be tempted to ask the Mysterious River Oda which flows through the Farming and Kente weaving Village of Bamang, near Bonwire to reverse the curse invoked on him only if he (Kuffuor) repents of his sins !!!, said the Politician.
IN ANOTHER DEVELOPMENT, "Osagyefo Dr" Kwame Mayor has publicly asked Ghana to conduct a Referandum to determine whether His Excellency, President John Evans Atta Mills should appoint former President Rawlings as his Co-President --- reminding Ghanaians that the late Guinean Pan-Africanist Leader, Sekou Toure did Ghana's first President, Osagyefo Dr. Kwame Nkrumah a great honor by appointing Dr. Nkrumah as Co-President of Guinea.
The fierce critic of Rawlings and Kuffuor cautioned however that his benevolent suggestion does [not] mean that he has halted his "Moral, Intellectual and Constructive Criticisms " against Rawlings and Kuffuor, as he unleashed another political attack by calling Rawlings a (coward) and describing Major (Retired) Boakye Djan as (less than a coward) for the "satanic executions of former Heads of State and Army Generals, especially the Brave Okatakyie Akwasi Amankwah Afrifa and the Beloved Rear Joy Amedume of Blessed Memory".
The Great Grandson of Asante Adonteng Puduo Royals from Bamang --- whose very biological Great Grand-Fathers such as Nana Kwarteng Pete, Nana Adonteng Boateng, Nana Kofi Aboasu, alias Nana Kofi Adonteng and Crown Prince Nana Agyemang Badu, etc, (in their capacity as Asanteman Adontenghene or Kumasi Adonteng Chiefs led Asante wars against "Our White British Brothers and Sisters", the Colonialists and Imperialists --- turned on former President John Agyekum Kuffuor, describing his greediness, selfishness, arrogance, wickedness and above all, his extraordinary cowardice as a big disgrace to the powerful Asante Kingdom.
The "Larger than Life" Politician reflected on how former President Kuffuor's government stole several of his ideas which have become Monumental in Ghana, such as the idea of "Importing" South Africa's Model of Truth and Reconciliation Commission to Ghana; - (It should be noted that "Osagyefo Dr" Kwame Mayor gave Kuffuor and Kwadwo Mpiani his platform calling for "Truth and Reconciliation Commission in Ghana" in 2000 in Los Angeles in the presence of several eye witnesses, before he (Mr. Kuffuor) became President of Ghana ; the idea of building "State of the Art" Presidential Palace in Ghana similar to the White House to attract tourism (see Ghanaweb 2005 News on the "Black House"); the idea of reviving Ghana's President, Osagyefo Dr. Kwame Nkrumah's call for a Continental African Union Government which prompted Kuffuor to call for an assembly of African Heads of State in Accra; (It should be noted that "Osagyefo Dr" Kwame Mayor sent [Registered Letters] to former President Kuffuor and Libya's Leader Muammar Gaddafi urging them to revive a Continental African Union Government to be called United African States, UAS); the idea of allowing Ghanaians living abroad to be registered to vote; the idea of building Statutes for the Martyred Judges; the idea of honoring Ghana's Heroes and Heroines, etc, etc.
Cautioning Kuffuor and Rawlings that he is capable of turning their fates into "Charles Taylor before United Nations' Tribunal" or "Saddam Hussein in the hands of U.S. led Allied Forces", the Politician said there is no power on earth that can prevent him from exercising his Freedom of Speech and his promotion of the noble ideals and ideas of Democracy, Freedom and Liberty.
IN YET ANOTHER DEVELOPMENT, the Politician, who as a matter of courtesy to the newly elected government has not publicly criticised President John Evans Atta Mills government gave another 72 hours "Diplomatic Ultimatum" to Mills government to include him in a Unity Government, warning that the marginalization of any Tribal or Ethnic Group in Ghana is un-acceptable.
" No government in Ghana can afford to Marginalise Asantes or marginalize our friends; brothers and sisters who are Ewes or Gas or Dagombas or Sisalas or Akyems, or Kwahus, or Frafras or Mamprusis, or any Ghanaian, period !!!".
"[If] His Excellency President John Evans Atta Mills does not want to include me in a Government of National Unity, just because of my Constructive Criticisms of Rawlings, then he wants to turn into another Kuffuor and turning into another Kuffuor would be a dangerous path because I am vehemently opposed to any President who acts wickedly, viciously, satanically, greedily, selfishly and arrogantly like former President John Agyekum Kuffuor".
Asked whether he will ever forgive Kuffuor and Rawlings, "Osagyefo Dr" Kwame Mayor replied :
"The question is, has Rawlings forgiven [himself] for his evil deeds and has Kuffuor also forgiven [himself] for torturing my life and for his bizarre arrogance; State-Sponsored Opulence and callousness towards Ghanaians ?".
"Yes I will forgive Kuffuor and Rawlings, if they forgive themselves first by repenting for their sins !!!"
The Politician paused for a while and said that in the meantime, he is (considering) invoking the Greatest and the Most Sacred Asante Oath - NTAMKESE MIENSA on former President John Agyekum Kuffuor, due to the fact that Kufuor's government stole several of his ideas and instead of rewarding him, he (Kuffuor) persecuted him.
"Kuffuor is a Traitor to the kindness, humanity, fairness and bravery of Asante Kingdom where Otumfuo is more than a "Super Chief" but a powerful King !!!"
" I respect all Kings in Ghana, whether the King of Dagombas, the King of Gas, the King of Ewes, the King of Frafras, the King of Sisalas, to mention but a few".
" Now, If the King of Zulus is a powerful King throughout South Africa and the Queen of England is a powerful Queen throughout United Kingdom, Africans in (Ghana) dare not ask "who is Otumfuo ?" --- the Politician said, in an obvious irony of the question posed by the Vetting Committee to the newly appointed Ashanti Regional Minister.
"Otumfuo is King and his power extends to even the Akan areas of Ivory Coast who historically and traditionally should swear allegiance to the Golden Stool !!!"
"The Golden Stool was made by Okomfo Anokye who was not an Asante and whose origin was Akuapem".
" Therefore, [every] Ghanaian, regardless of their Ethnic Group or Tribe has the [right] to call Otumfuo King !!!".
"You have the [freedom] to call Otumfuo a King whose power stretches far in Ghana and even further in the Akan areas of Ivory Coast and Akans in Ivory Coast have the right to start paying allegiance to the Golden Stool !!!", said the Pan-Africanist who also threw a bombshell --- that it is time for Ghana to elect a Ga to become President of Ghana since we have used their Land for the Nation's Capital for too long, yet none of our Ga Friends, brothers and sisters has ever become an [elected] President.
"The (Black Man in Ghana) who recognises the Queen of England and the King of Zulus should not have any problem recognizing Otumfuo as King !!!, the Pan-Africanist Politician said.
"Sir, are you still thinking about invoking the Great Asante Oath "Ntamkese Miensa" on former President Kuffuor ?", Uhuru Times Reporter asked "Osagyefo Dr" Kwame Mayor.
" You read my lips".
"Next Question. Right now, I am thinking about dragging former President John Agyekum Kufuor to National Reconciliation Part II, an idea I am publicly pleading with His Excellency, President John Atta Mills to implement right away to expose the evil deeds of the damn hypocrite Kufuor against me and other people !!!", he said.
"By the way, I ask all Ghanaians to (sincerely) forgive Rawlings and Kuffuor since as I have said before, an Eye for an Eye would make all of us blind and a Tooth for a Tooth, would leave all of us toothless", "Osagyefo Dr" Kwame Mayor pleaded with Ghanaians
"However, I will continue to blast Rawlings and Kufuor anyway and that is the beauty of Politics !!!", said the "People's Mayor" known for his American style political antics who became an instant Political Celebrity in Ghana's Political Arena for his fearlessness that has become legendary in the "Political Waters" of United States of America and Ghana".
As this Journalist again tried to get an answer from his previous question, the Maverick Politician, who acts like the legendary Boxing Great, Mohammad Ali and whose pretty face has often been compared to the same pretty face that heralded Ali's boxing career, shot back in his somewhat American accent :
"The question you Journalist[s] should be asking is : when are the former Ministers who are still possessing State Vehicles going to return them"?.
"If they don't return the State Vehicles, then they should be labelled as Political Armed Robbers"
"And those [Slick] former Ministers, whether NPP or NDC who purchased State Vehicles at cheap prices ought to pay the balance to the State", said the well educated version of "Rawlings to the Power 3 !!!"
"Leave me alone Dude !!!", the Politician told this interviewer
" I mean, Punk !!!".

Source : UHURU TIMES -
By Che Guevara and Tsitsi Mashinini