Can President Kufour Provide Some Answers?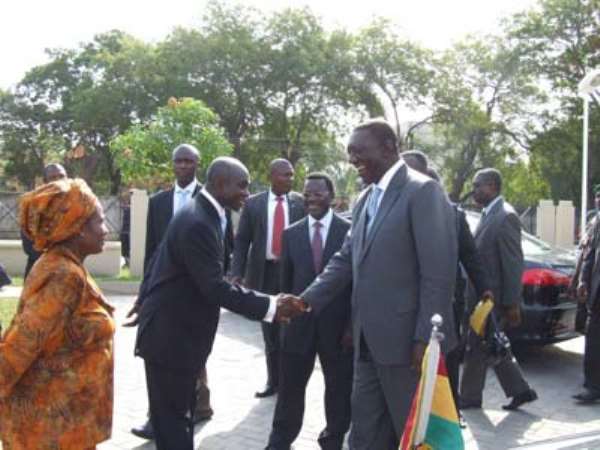 I have received tons of emails from Ghanaians living in Ghana, Europe, North and South America, Asia and as far as the Falkland Islands. While most of the emails were urging me on to take the fight to the NPP and help in freeing Ghanaians from the economic rape, cronyism, tribalism, corruption, failed promises, drug menace, arrogance, kickbacks and wanton selling of government lands and property, others have sent me emails to ask President Kufour to provide some answers to some nagging questions that have been bothering them within the past 8 years. These Ghanaians believe this is the best opportunity for President Kufour to set the records straight by providing answers to all these questions before Ghanaians go back to the polls on December 28, to elect the next president of our mother Ghana.
Now here are some of the questions that they would like President Kufour to provide answers to because they think he would insulate himself after the elections and refuse to comment on them. I think with President Kufour going round the country begging for the economic rape and mass corruption of his government, Ghanaians may want him to be forthright in answering the questions that I am going to ask on their behalf.
1. Will President Kufour let Ghanaians know why the Ayensu Starch project, which was initiated by Mr. Alan Kyeremanteng, then minister of Trade and Industry tanked and he got away without any reprimand? (Remember billions of the old Ghana cedi was invested in that project). Did that amount to financial loss to the state? Or because Alan is your friend, Mr. President do you believe he is free from blame?
2. Why were the three NPP women organizers who were arrested at the Kotoka International Airport for attempting to smuggle drugs let go? Were they doing it on behalf of the party or certain individuals in government? Or had they been successful, would they have shared the spoils with the party or certain individuals in the party, hence the decision to let them go without even the opening of a docket on the case?
3. Why has President Kufour who has made so much noise on the killing of the three high court judges and a retired army officer been stoned deaf to pleas from Ghanaians to at least say something about the brutal murder of 42 (I repeat 42) members of the Andani family? Did President Kufour know the perpetrators and is therefore having them covered, or he does not care about the Andani family? President Kufour, if I were you I would either say something or do something. Don't you think your credibility is at stake?
4. If you cause financial loss to the state, to jail you will go. Therefore, Ghanaians are wondering why Mr. Amoako-Tufour, the former boss of the School Feeding Program who was found to have been involved in fraudulent deals by forming non-existent companies and given contracts to those companies under the feeding program is walking a free man with his chest out. Mr. President, is this selective justice or you are afraid to put Amoako-Tufour before the courts for fear that certain things he may say would incriminate some people in government or possibly you?
5. During the Ghana @ 50 celebrations, the government bought several cars. From where, Ghanaians would want to know? We are reliably informed the cars were bought from a company owed by Kojo Mpiani, Chief of Staff. It's Mokyendi. But at the end of the celebrations which took barely two weeks, these cars were sold at 30% the cost to NPP functionaries. Is it any wonder why the government is still not able to pay contractors who performed various contracts towards the Ghana @ 50 celebrations. Mr. President, Ghanaians would want to know why you supervised over this serious waste of government revenue. Does this amount to anything or because Mpiani is involved, there is no cause for alarm?
6. The National Security Council (NSC) benefited from 120 billion old cedis during the current elections. Why that huge amount given to the NSC for the elections when Railway Workers still have some salary arrears yet to be paid? Is it any wonder that the NSC has so much money which they have no use for hence their decision to conduct polls that supposedly favoured Akufo-Addo? Mr. President, any insight as to why you did that?
7. National Awards. Yes, Ghanaians who have done invaluable services to the nation deserve to be awarded just like it is done everywhere. But I cannot fathom even beleaguered President Mugabe awarding himself, when in fact he can wait for somebody to award him if indeed he deserves to be awarded after he leaves office or dies. But Mr. President, you rushed to award yourself and every member of your cabinet. Even the disgraced Richard Anane who fathered twins during an AIDS conference was honored for performing that feat. And to add insult to injury, your personal driver also got his share. People would want to know if you have any conscience at all. Or do you think Ghanaians would care less about some of the serious mistakes and abuses that you commit, which is why you do anything that you think would make you and your family happy? We need answers, please.
8. The seat of government is in Accra, therefore, if the Gas are furious with the NPP, then it's a serious matter that should be swept under the carpet. Reports have it that the building that houses the Ga Traditional Council was sold by the Kufour administration without the knowledge of the traditional rulers. Then one night the new property owner sent bulldozers when everybody including President Kufour were asleep and razed the building down destroying tons of documents, artifacts and other stool property. Is it any wonder why the Gas turned out and voted in droves for the NDC? Oh before I forget, what about the government building that you want to give to Obetsebi-Lamptey? Does this man who claims he is a self-made man not have a place to live before he entered government? These people are sweeping the country clean not with their mouths and hands but even with their legs. Any reason why this should happen, Mr. President?
9. Enter VALCO. About a month ago the Kufour administration with help from his rubber-stamp NPP parliamentarians rushed to inform Ghanaians that they have sold VALCO to an outside company for a certain amount. Later developments proved that the supposed sale was a sham. There were no sale. No company has bought VALCO. Kufour has taken Ghanaians for granted, for what reason he is the only one who would be best to provide answers.
10. Now we move on to arrogance. Arrogance according to the English dictionary means superiority, overconfidence, self-importance, pride, egotism, conceit, haughtiness or superciliousness.. Mr. President, does anything rings a bell? I am of course referring to so many instances that your government officials feel they are not accountable to Ghanaians. Just take for instance the impunity with which Mpiani refused to account to parliament on the budget of the Ghana @ 50 and you just kept mute. Did Mpiani have anything to hide? Did he benefit from any goodies that he did not want Ghanaians to know? You tell me, Mr. President.
There are many more questions, but since I do not want to bore my readers, I would settle for only these 10. Mr. President, please do your best to answer them. Your response would help me and many Ghanaians to determine if you are indeed the saviour of the country or the one who presided over the massive economic rape of the country.
If you fail to answer these questions, it would no doubt sow a seed of doubt as to the genuineness of the tears that you have been shedding during campaigns events lately. I want to pause so that you can start with your answers. Thanks and may the Lord help you to provide very salient answers.