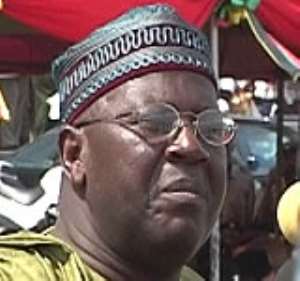 Vice President Alhaji Aliu Mahama has re-emphasized his call for greater discipline in Ghanaian society saying it was the only way by which the country could attain economic development.
He expressed the displeasure that indiscipline was still on the ascendancy in the Ghanaian society and called for consented effort from all loving Ghanaians to help address the situation.
In a speech read for him at the second speech and prize giving day and 30th anniversary celebration of the Holy Mount Sinai Senior High School at Akropong Akuapem, the Vice President attributed the high rate of indiscipline to sheer selfishness and attitudinal problems, broken homes, and lack of parental guidance over children.
"Indiscipline is fast becoming a norm and great hindrance to socio-economic development of Ghana and the earlier it is eradicated the better it will be for this country," he said.
Alhaji Aliu Mahama said the New Patriotic Party (NPP) administration, realising the importance of education to national development made human resource development one of the three cardinal themes of the development agenda.
He said increasing access to and participation in education had been central to the policy on human resource development with a focus on Information Communication Technology (ICT) education to serve as a spring board that would propel the economic development of the nation and thereby lead to poverty reduction.
The vice president said for all those efforts to bear fruit, there must be discipline in society, because it was only in a disciplined environment that people, especially children could find the peace of mind to identify, develop and use their talents for the benefit of themselves, their families and society.
He urged parents to play their role effectively to ensure that there was peace, harmony and discipline in their homes so that their children could grow up in a disciplined environment.
Alhaji Aliu Mahama also charged teachers and school authorities to endeavour to lead exemplary lives and discipline their children in love but firmly.
Osabarima Offei Kwasi Agyemang, Krontihene of Akuapem, who chaired the function, urged the students to bear in mind that, discipline is a tool for academic excellence and national development.
Mr Ato Essuman, Chief Director at the Ministry of Education, Science and Sports, announced that the ministry would present two buses to the school before the end of November.