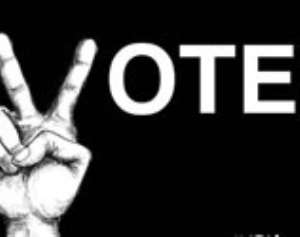 I recommend that you merely wink and grin to yourself with subdued mirth and not take what I write too seriously all the time, although I must concede too, that on those few occasions when I manage to hit the bull's eye on any matter, it could pack quite an irritating sting.
Sometimes I like to parade my ignorance for sheer plain old sport, which far from being a bad thing in itself, is actually the comic fad in communication these days, Jomo. A grand exhibition of my ignorance about the difference between a movie and a television camera, will certainly hurt no one apart from myself.
Campaign reports on television are getting more and more intriguing as Election Day keeps hurtling towards us with increasing momentum:
Several television stations telecast a report on the same campaign rally: In one telecast, the camera pans across the crowd in such a way that you think you are seeing all of humanity in one single sweep of the lens.
You watch a telecast of the same rally by another station and the camera pans at very strange angles and for only short distances across the crowd! One campaign rally, two sharply contrasting images. Intriguing, Jomo. Absolutely intriguing.
I went to the George Padmore Library to research an African anthropologist called V. Y. Mudimbe last week. The library is not exactly like a ran-down hen coop on the outskirts of Ndjamena, but then it is not a replica of the New York Library either:
Many of the titles belong to the age of hieroglyphics and there is not a single computer in the place safe for an apparently virus-infested PC sitting on the librarian's desk.
Whatever recent arrivals there were, had come from the American Embassy. Yet this is supposed to be a resource center for African studies researchers from across Africa! A research library without a computer! 0, Mama Africa!
Anyhow, I was telling you about this Mudimbe guy, wasn't I? Mudimbe is the author of a book titled The invention of Africa: Gnosis, philosophy and the order of knowledge.
He describes his book as "an archaeology of African gnosis as a system of knowledge in which major philosophical questions have arisen concerning the form, content and style of Africanising knowledge."
The man has got me confused there and my poor skull is finding this nut hard to crack Jomo, because I am not aware that our philosophers and thinkers have began "Africanising" any body of (universal) knowledge yet.
Every concept, every precept, every body of knowledge we Africans have, has been imported wholesale: Law, journalism, medicine, engineering, philosophy, anthropology, politics. None has been "Africanised."
Very little if any, of what we adopt, is ever adapted to suit the peculiarity of our circumstances. Worse still, we cannot in all honesty claim to have had great thinkers who have made significant contributions to universal knowledge. (I warned you, didn't I?).
In his book, Mudimbe wants us to ask two critical questions in our pursuit of true independence and progress: "What is the meaning of Africa and being African?" and "What is the philosophy part of Africanness? "
Chapter one is titled "Discourse of power and knowledge of otherness" and dwel1s on the famous "scramble for Africa" which marked the beginning of our subjugation and total dependence on the West to date.
We are hopelessly dependent on others for everything from development aid to al1 the the practical knowledge necessary for human knowledge, enlightenment and socio-economic progress.
We even import used underwear, used handkerchiefs, used sanitary pads, used cutlery, used clothes and used computers. Don't you think we should give serious thought to Mudirnbe's gnosis?
The authorities this week inaugurated our nation's first ever presidential palace. It is more of a sprawling executive facility than the type reaching out to the skies, but no less elegant in layout and design.
Many people think having the seat of our government in the old slave castle at Osu is weird. They acknowledge the need for a presidential palace. All the same, many folks outside the ruling party think a palace for the president is not top of the list of our priorities at this time:
Not with the problems of poor water supply, housing, low remuneration for workers, poor waste disposal, high prevalence of malaria and other diseases and one of the most appalling road safety records in the world all screaming for attention.
Mr Kwadwo Mpianim, the President's Chief of Staff, told us point blank that we would not be told how much had been spent on the project until other structural features had been completed. Some folks began asking annoying questions:
Don't we the citizens have a right to know? What additional costs and possible variations of the project are likely to occur such that the total cost would be significantly different from the present calculations?
Mr Mpianim invited us to take note that all the grumbling was coming from people who see nothing good and everything bad in everything the government does.
Some of these opposition elements in town are indeed a stubborn lot, Jomo. They have refused to be part of this folks-be-patient-and-tarry-awhile business, insisting the project cost is more than US$ 70 million. It was initially estimated to cost less than US$ 40 million.
Funny that President Kufuor won't be staying in the place himself. The man who will be referred to as former president in less than two months, will head for the bush to grow some cassava for us to eat and be strong, healthy and wise.
A group of farmers made him a gift of a farm tractor last week and the president confirmed he will be tilling the life for a living soon? It will be Akufo-Addo or Mills who gets to live in the mansion.
Mills was up in the Volta Region this week canvassing for every available vote with Efo's mark on it. I ran into Nana Akufo-Addo's campaign convoy between Teshie and Nungua the other day and boy, what a campaign convoy it was!
Pick-ups, cruisers, more pickups, salon cars and young supporters in party T-shirts jogging in the fiercely blazing sun along with the convoy to the rhythm of campaign music.
Giant loudspeakers mounted on a carrier vehicle belted out the music at a thousand decibels. In the convoy were trucks carrying some of the best dressed policemen in uniform in town, toting guns.
Then came candidate Akufo- Addo himself clad in black and waving to all and sundry in the blazing sun. Jomo, what do you make of the citizen-activist called Joe the Plumber who gave Obama hell on the campaign trail and now says he will be a watchdog over Obama?
Don't you think we need such a bloke on the campaign trail here to ask the candidates questions yelling out for answers? In Ghana where the wheels of many campaign promises often end up on flat tires, he would appropriately be called Ananse the vulcaniser!
Credit: George Sydney Abugri, Daily Graphic; Email: [email protected] Website: www.sydlleyabugri.com