State-of-the-art Accident and Emergency Centre for KATH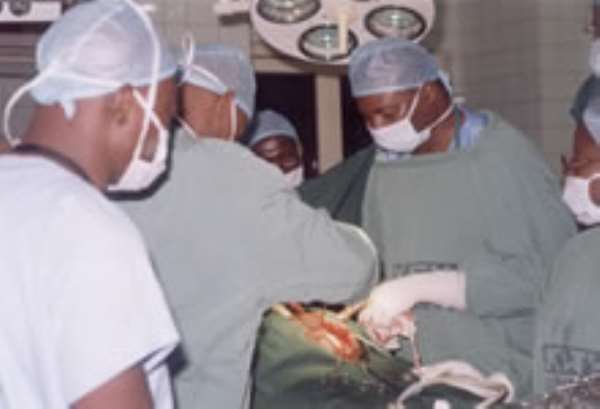 President John Agyekum Kufuor has inaugurated a state-of-the-art National Accident and Emergency Centre at the Komfo Anokye Teaching Hospital (KATH) in Kumasi, to serve as the nation's main referral facility for accidents management.
The Centre with a helipad on the roof, has four other components including a modern pathology with laboratories, a 280-individual-cubicle mortuary, comprehensive expansion and refurbishment of the Specialist Out-Patients-Department (OPD) and installation of modern equipment and spare parts for its maintenance, were funded wholly by the Government at a total cost of about 75 million euro.
This was done through proceeds from the HIPC initiative and the National Health Insurance Fund (NHIF).
About two million euro, which would otherwise have been paid as consultation fees to consultants, was saved as a result of it being managed by the in-house technical team of the Health Ministry.
German contractors, "GerTech", undertook the job and it took less than three years to complete.
President Kufuor urged the Ministry of Health, the Ghana College of Physicians and Surgeons and the KATH Management to ensure that the facility was used to train specialists in trauma and orthopaedic surgery, intensive care and emergency medicine, which were its major pre-occupation.
His expectation, he said, was that in the next few years, it would become the sub-region's leading centre for training of health professionals in those specialties to justify the huge investment put into its construction.
He noted that an emergency centre was worthwhile only when victims got there in good time and said that was why prior to its establishment, the Government put a National Ambulance Service in operation to manage pre-hospital care of accident victims.
Currently, the service has 24 stations, covering all regional capitals.
President Kufuor said he was confident that with the facility, accident victims would now have much better chances of survival.
He however pointed out that building world class facilities alone was not enough and that there was also the need for effective public education on accidents and their prevention.
He directed the police, Driver Vehicle Licensing Authority (DVLA) and the Ghana Road Transport Union (GPRTU) to step up their educational, monitoring and enforcement activities.
They should check impunity on the part of motorists, who showed blatant disregard for traffic signs and warnings as well as other road users.
Such offenders should be put before the courts and the appropriate punishment exacted.
"Let us all agree to do all in our power to avoid preventable accidents, which make such heavy investments in the society unprofitable."
Health Minister Courage E.K. Quashigah said the centre was part of the strategy of reducing the high number of death and disability due to accidents.
"Our vision is to develop this edifice into a Regional centre of excellence for managing accident victims and patients needing emergency care. We also intend that in the very near future it will be a centre of training for health personnel in the management of accidents."
Dr Anthony Nsiah-Asare, Chief Executive of KATH, said they had rolled out a programme to ensure optimal use of the facility in order to get maximum benefits from the investment.
He said the hospital had sought best practices in the management of accident and emergency centre from countries like Israel, Germany, United Kingdom, the United States and Italy, with a view to instituting functional management structures for its effective running right from the onset.
Already, KATH had entered into a number of agreements with some international voluntary medical organizations and institutions to turn the project into a major centre for specialist training for health professional in the West African sub-region.
Dr Nsiah-Asare conveyed his appreciation to President Kufuor for the vision, personal conviction and courage that made the construction of the facility, possible.