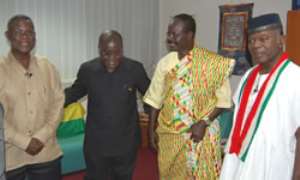 Kwaku Sakyi-Addo, a Fellow at the Africa Leadership Initiative and former BBC correspondent, has reminded supporters of the various political parties, particularly the youth, on the needlessness of allowing themselves to be misled into engaging in any acts of violence in the run-up to the December 2008 Presidential and Parliamentary elections, or the elections day itself, or even after the results have been announced.
He gave the advice when he spoke with Ghanaian Observer on his impression on the lEA Presidential Debate that took place last Wednesday at the Kofi Annan ICT Centre in Accra.
Mr. Sakyi-Addo recounted the warm relations that coloured the interactions of the four Presidential candidates on and off stage last Wednesday, saying in his view that is the greatest lesson that he personally learnt, and which he would love to share with all Ghanaians in the light of concerns that the December 2008 elections could be marred by violence.
He would, however, not comment on issues of how Nana Akufo-Addo of the New Patriotic Party; Professor Mills of the National Democratic Congress; Dr. Edward Mahama of the Convention People's Party or Dr. Paa Kwesi Nduom fared in the debate in terms of content, delivery and vision, since he felt that belonged to the larger electorate out there, who will be voting in the December 2008 Elections.
"Here, we had candidates sitting with one another, sharing compliments and shaking hands. You had Nana Akufo-Addo, for instance, going round to shake the hands of all the candidates and calling Professor Evans Atta Mills by his pet name Fiifi ... That should send lessons to us that Mills will not clobber Nana nor Nana's children clobber Mills' children in the name of politics. If Presidents will not do to each other what their children will not do to each other in terms of intimidation or violence, why should we poor supporters, activists, party sympathisers or the electorate clobber our brothers and sisters or neighbours, and draw blood over matters of mere opinion, which is what politics is all about?"
According to him, the lessons therefore lay in the symbolism of civility, tolerance and maturity, which all the Presidential candidates exhibited at the forum, and which should inform all politicians, leading members of political parties and their supporters.
"That forum presented a platform to establish a maturing democracy in which Presidential candidates relate to each other in a civil manner. In my view, that defeats any argument about tension anywhere, which is why anybody caught creating or contriving tension situations should be deemed as acting in a contemptuous manner. In like manner, anybody caught exacerbating any perceived situation of violence ought to be deemed as personally responsible for such acts of contempt. And when that happens, regardless of which quarter those acts of contempt generate from, the law should take its course."
The debate featured the four Presidential candidates with representation in Parliament
In all, there were eleven major questions, which focused on job creation, education, health, security, law' and children's rights, foreign direct investment, food security and intra¬regional trade.
The moderators of the programme were Cyril Acolatse, formerly of the GBC and Professor Kwame Karikari, Dean of the Faculty of Communications of the University of Ghana, Legon.
The next lEA debate will be held in Tamale in the Northern Region in two weeks time.
Source: Ghanaian Observer