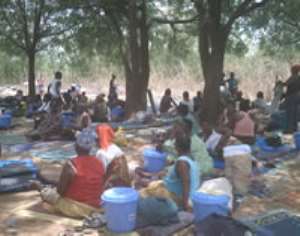 The Buduburam Refugees Camp which accommodated Liberian refugees in Ghana after the Liberian Civil War, will be closed down at the end of March, next year.
This will be after a voluntary repatriation of those who are willing to return home to Liberia.
Those who refuse repatriation will be resettled elsewhere in Ghana and accorded status in accordance with national and sub-regional instrument in force in Ghana.
This was made known when the Tripartite Committee working on the voluntary repatriation of Liberians back home, met with the Minister of the Interior, Dr. Kwame Addo Kufuor, on Tuesday.
The Tripartite Committee is made up of representatives of the Ghana and the Liberian governments, and the United Nations High Commission for Refugees (UNHCR).
According to a communiqué issued after the meeting, the three parties committed themselves to continue to support organised voluntary repatriation of the refugees from Ghana to Liberia until March 31, 2009.
It said in order to allow refugees to take home more of their belongings, the Tripartite Committee would identify a sea-worthy vessel for them in addition to other modes of transport being used.
The communiqué said the Liberian government would continue to make efforts towards creating an enabling environment to receive returnees through development initiatives as part of the Poverty Reduction Strategy.
Appending their signatures to the communiqué, were Dr. Kwame Addo Kufuor, his Liberian opposite number, Mr. Ambulai Johnson, Ms Aida Haile Mariam UNHCR in Ghana and Ms Renata Dubini UNHCR in Liberia.
Mr. Addo Kufuor said Ghana planned to relocate refugees from the camp to other parts of the country upon the completion of the organised voluntary repatriation, and revert the land to the status of a Ghanaian settlement.
The minister said by the voluntary repatriation, the government wanted to create the opportunity for Liberians to be resettled back home to contribute their quota to the development of their country.
Since the resumption of organised voluntary repatriation in April this year, over 8.000 Liberian refugees have been assisted to return, with 15.000 earmarked for the next phase of the repatriation exercise.
The refugees at Buduburam, some of whom have been here since the Civil War in Liberia in 1989 embarked on a sit-in on February 19, this year, to back their demands for improved repatriation package from the UNHCR.
They were demanding 1000 dollars per adult and resettlement in a western country.
Following weeks of unrest, security agencies moved in to maintain law and order.
Representatives of the Liberian government later flew in to hold discussions, with their Ghanaian counterparts and UNCHR officials, leading to the formation of the Tripartite Committee to draw up modalities for their repatriation.