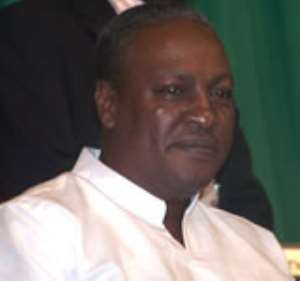 Mr John Dramani Mahama, National Democratic Congress (NDC) vice presidential candidate on Thursday said the law preventing foreigners from getting into the retail trade should be enforced.
He said that was the surest way of protecting Ghanaian traders from the infiltration of foreigners of the retail trade.
Mr. Mahama, who was interacting with the executives of Ghana Union of Traders Association (GUTA) in Accra agreed with the Association that there was the need for a further review of the Ghana Investment Code.
The interaction which was at the instance of the NDC was to meet the traders to brainstorm with them how best they could promote their businesses when NDC comes to power.
He said there was a huge capital flight from the country since foreign investors have to repatriate their profit to their countries of origin and this has created trade deficit for Ghana once the country was importing more than exporting.
It is in this case that there was the need for the country to produce and consume its local products within the framework of government's supporting the productive base of the country.
Mr Mahama said there was the need also for Ghanaian business to continue to grow even after the death of the proprietor.
This would lead to the expansion of the business and be able to give employment to many others.
He said the NDC government would ensure that Ghanaians patronise their own products and should be possible that a Ghanaian shoe manufacturing company should be able to produce for the military, police and customs personnel.
This should also go for textiles industries to produce school uniforms for all schools that would ensure employment avenues for "our tailors and seamstresses."
The vice president candidate said there was the need to discuss and take appropriate action on Economic Partnership Agreements (EPA) for preferential tariff regimes for Ghana's young industries.
Mr Mahama encouraged the traders to examine critically their areas of operations that are inimical to them so that they could find solution to them.
He said production was never complete until the product was found on the table of the consumer and therein lied the importance of the distributor.
Source: GNA