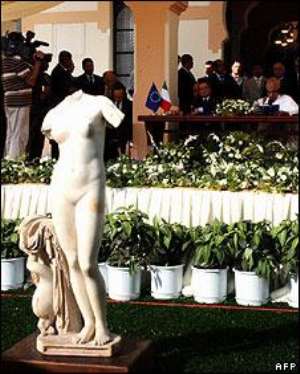 Venus of Cyrene, Libya.
At a seminar on Edo Culture organized by the Edo Community in Vienna on Friday 29 August 2008 where I spoke on the restitution of the Benin bronzes to well-informed and enthusiastic participants, the question was asked whether there was any hope of the British ever returning the Benin bronzes they stole in 1897. My answer was that even though we are no where near the season of restitution of the thousands of cultural objects stolen from Africa by the European powers - Great Britain, France, Germany, Italy, Netherlands, Spain and Portugal - there has never been a more favourable climate for restitution than now. There are factors which should encourage the intensification of a search for solutions to this shameful phenomenon in international relations:
1 The return of several looted objects recently to Italy.
2 The return of the Axum obelisk by Italy to Ethiopia.
3 The adoption of more rigorous rules by American museums with regard to the acquisition of antiquities without proper history.
4. The return of several looted cultural objects recently to Egypt
5. The return of many antiquities to Greece.
6 The overwhelming objection to the ideas of James Cuno that oppose restitution.
7 The expressed willingness and readiness of the Art Institute of Chicago and the Field Museum, Chicago, to consider requests for restitution of Benin bronzes.
8. The willingness of the Germans to return Namibian human remains.
These factors surely indicate a change in climate and we should try to increase pressure on those countries that have so far not shown any desire to do what is considered the right thing even by their own citizens.
Italy has once again shown the way to the rest of the Western world by
returning to Libya the Venus statute which Italian soldiers stole from Libya in 1913. Are we likely to see Great Britain, France and Germany take similar steps by returning some of the thousands of African cultural objects which they do not need and keep hidden in the depots of museums? Will Great Britain make amends for its persistent insult to Nigeria and Africa by finally returning the hip-mask of Queen-Mother Idia which is the mascot of the African Festival, FESTAC? Will the Germans finally return Nefertiti to Cairo? How many European Governments are willing and ready to render apologies for the colonial injustice and crimes? As has been often stated, the colonial atrocities will not be forgotten and it is no use hoping that time would heal the deep wounds that have left their visible and negative traces in every aspect of African life.
Italy has followed a principled path in seeking to secure its own antiquities that have found their way into museums in other countries. As they seek the return of their own objects, they seem prepared to return objects belonging to others. Will other countries also adopt this ethical posture? Or will they claim from others but refuse to return what belongs to others?
The payment of compensation by Italy to Libya for the colonial occupation will surely not go unnoticed by former colonies as well as former colonial masters but the precedent has been set. Whether this is regarded as a good precedent or not, I believe that the essential point is to start seriously discussing the issue
The Italians must be congratulated in taking the necessary steps to return the Venus of .We hope their good example will be followed by others.

Kwame Opoku 1 September, 2008
Italy apologises to Libya for colonial era damage
by Imed Lamloum Sat Aug 30, 3:23 PM ET
BENGHAZI, Libya (AFP) - Italian Prime Minister Silvio Berlusconi on Saturday apologised to Libya for damage inflicted by Italy during the colonial era and signed a five-billion-dollar investment deal by way of compensation.
Berlusconi made the apology during a visit to the Mediterranean city of Benghazi for a meeting with Libyan leader Moamer Kadhafi to seal a cooperation accord with the oil-rich north African nation.
"It is my duty, as a head of government, to express to you in the name of the Italian people our regret and apologies for the deep wounds that we have caused you," said Berlusconi, whose comments were translated into Arabic.
He and Kadhafi then signed a "friendship and cooperation agreement" aimed at recompensing Libya for damage incurred during the colonial era.
"The accord will provide for 200 million dollars a year over the next 25 years through investments in infrastructure projects in Libya," Berlusconi said.
"This agreement should put an end to 40 years of discord. It is a concrete and moral acknowledgement of the damage inflicted on Libya by Italy during the colonial era," he earlier told reporters.
The signing ceremony took place in the garden of a palace occupied by the Italian governor in colonial times.
Berlusconi then bowed before the son of the hero of Libyan resistance against the Italian occupiers, Omar Mokhtar, in a symbolic gesture.
"This is an historic moment when two brave men acknowledge the defeat of colonialism," Kadhafi said, raising his arms in a sign of victory.
"The Libyan people endured injustice and were attacked in their homes and they deserve an apology and compensation," he added before a crowd which included diplomats and the children and grandchildren of Libyan resistance heroes.
Formerly part of the Ottoman Empire, Libya was occupied by Italy in 1911 before becoming a colony in the 1930s. The country gained its independence in 1951 after a brief period under a UN-mandated Franco-British administration.
Italy and Libya have spent years negotiating a wide-ranging treaty to cover compensation for Rome's military occupation and colonisation.
An association representing Italians expelled from Libya in 1970 denounced Rome in a statement on Saturday for compensating Libya and not repatriated Italians.
It said Berlusconi should have "a sudden burst of dignity, humanity and respect so as to finally give satisfaction... to the 20,000 Italian citizens who are still waiting for fair compensation from their government."
US Secretary of State Condoleezza Rice is set to follow in Berlusconi's footsteps next week, for the first visit by such a high-ranking US official to Libya since 1953.
Berlusconi, on his second trip to Libya since June, said that among the major projects to be financed by Italy will be a coastal motorway from the Tunisian border to Egypt.
Rome will also fund house construction, scholarships for Libyan students to study in Italy and pensions for those mutilated by landmines laid by the Italian military.
The agreement will also cover cooperation on the fight against illegal immigration, which Berlusconi termed a battle "against slave traders."
Funding for the coastal highway -- previously estimated to cost three billion euros (4.65 billion dollars) -- was promised by Berlusconi on a visit to Tripoli in 2004, when he headed a previous administration.
When the two leaders met in June, Berlusconi was pushing for the rapid implementation of a December 2007 accord on joint maritime patrols to curtail the flow of thousands of illegal immigrants from Africa to Europe.
Italian shores, especially the small island of Lampedusa south of Sicily, are a favourite destination for those making the crossing from North Africa in the hope of a new life in Europe, despite the perilous journey.
Also on Saturday Italy returned a Roman statue of the goddess Venus dating back to the second century which was found in 1913 by Italian troops near the ruins of the Greek and Roman settlement of Cyrene, on the Libyan coast.
Berlusconi's visit to Benghazi 1,000 kilometres (650 miles) east of Tripoli coincides with the anniversary of the coup that brought Kadhafi to power on September 1, 1969.