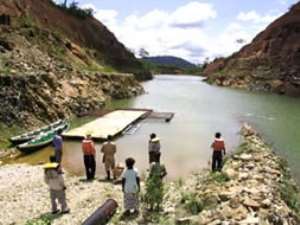 A development expert at the Integrated Social Development Centre (ISODEC), Mr. Steve Mante, has described as a mirage notions that Africa's mining sector has contributed enormously to its development.
He said mining in Africa, has rather led to grave environmental problems and health risks that have destroyed the "traditional and economic foundations" of local communities.
Speaking to Joy News, Mr Mante made references to World Bank reports on the activities of mining companies in Africa between 1993 and 2002, and condemned the performance of the companies saying they have not done enough.
"Those who actually contend that mining is the best thing to ever happen to Africa overlook the fact that when you are actually doing such assessment you need to look at the revenue and also the cost, otherwise you'll not get the right picture," he stated.
Countries' participation
Apart from concerns that mining companies on the continent are consistently destroying the environment with reckless abandon, there is also the issue of how active the countries themselves are in the industry.
According to him, Ghana's pursuit of World Bank suggestions to pull off from the sector and remain a regulator makes her a "mere observer" and a "rent collector."
Supporting his argument even more, Mr Mante drew allusion to countries that went HIPC in 2004, most of whom, according to the records, are mineral-dependent.
"If mining has been that beneficial, why would these countries go HIPC," he asked rather rhetorically.
He described tax incentives, which he said have almost always been associated with concessions from governments of Africa, as loss of revenue to the states on the continent.
He said countries like Ghana that depend on mining are still hooked up to the minimum 3% royalties even though gold, for example, now rakes a record $900 per ounce on the world market.
Mining constitutes about one-third of Ghana's exports, five percent of its GDP and did contributed some $1.8 billion in the 1997 alone.
For Mr Mante, the way forward lies in Africa revising its mining laws to favour its economies.
Meanwhile the Chief Executive Officer of the Ghana Chamber of Mines says even though perceptions that the continent deserves more from mining are rife, "there still is the need to look at production cost."
He said society may be tempted to push for more royalties from mining companies upon the least feeling hardship but stated that "there may be seemingly intangible factors that go into the calculation of the numbers."
"A lot of the development projects we undertake are not actually factored into the direct contribution mining makes to the economy," she stated.
She, however described as healthy agitations for higher royalties from mining companies, saying they contribute to the development drive.
Author: Fiifi Koomson