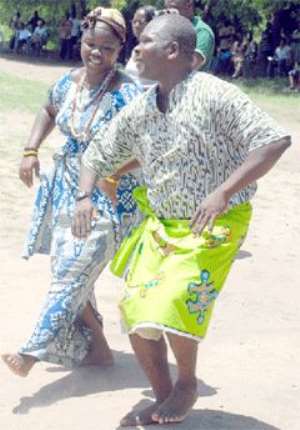 What usually passes as regular assessment for students of the Basic Education department of University of Education, Winneba, last Thursday turned out as a spectacular show of the rich traditional dances of the country.
With determination, joy and commitment written all over their faces, the Level 200 students entertained judges, lecturers, the general public to dances ranging from Baamaya, Takai, Bawaa to Apatampa and Adowa. Also on display were performances of Kpanlogo, Agbadza and Borborbo.
For the Adowa dance the performers stood in a horse-shoe formation with singers standing beside the instrumentalists. Amidst a lot of applause, the audience admired the movements and gestures of the dancers.

Borborbor was also beautifully performed by the students to the great admiration of the audience.

When it was the turn of the Agbadza dancers, they stepped onto the arena wearing jumpers and pairs of shorts to allow vigorous body movements during the dance. One of the judges was so moved that he had no choice but to join the dancers.

The Baamaya dancers emerged wearing jingles around their ankles and the movement in circles of the drummers in the middle and the dancers on the fringe was splendid, particularly with a lot of waist and body shaking.

The Apantampa performers added a bit of drama to the dance. Through their performance they told the story of how three women who were married to one man asked for specific favours from him. Two asked for material things while one requested for children.
 
Takai was usually performed in past times by youngmen and the role women played was to praise the dancers or give them appellations, but that was not to be by the performance put up by the students.

The women performed to perfection alongside their male counterparts.

The Kpanlogo performers did well to keep pace with the fast tempo of the music associated with it. The messages they carried related to lovemaking, courting and relationship frustrations.
With the women in skirt or wrapper and a T-shirt and the men similarly dressed or bare-chested, the Bawaa dancers bounced unto the scene led by a male dancer.

The xylophonist played with so much passion and was a spectacle to behold.
Through all these performances, the students may have had their eyes on what scores they were going to receive from the judges towards their examination grading but for the audience, it turned out to be one huge entertainment session.

Story by Hilda Owusu