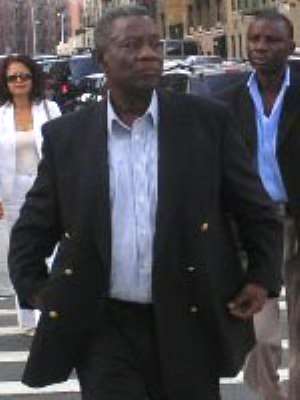 Dear Editor,
The NDC flag bearer, Prof. John Evans Atta Mills has been battling the notion that he is not his own man ever since he declared publicly that when he becomes President of Ghana, he will consult his boss, Mr. Rawlings, who is also the founder and owner of the NDC 24 hours a day. Prof. Mills and the top brass NDC gurus have consistently insisted that the good Professor is his own man.
On the contrary, the former First Lady has confirmed the feeling among the general public that indeed the Professor is a poodle. In an interview on an Accra based radio station, Mrs Rawlings said that, "he (Prof. Mills) was treated with kids gloves and they allow him to have his way but this is a crucial election and we have to do things right." According to the former Fist Lady, she doesn't understand why the Professor "should go where he wants to go." What this means is that, Prof. Mills as a flag bearer or President on the ticket of NDC can never go where he wants to go. She also insinuated that Prof. Mills cannot do things right on his own.
Mrs Rawlings said it was they who allowed Prof. Mills to have his way. She also said that "the council of elders let go and allowed Prof. Mills because my husband said so." She added that "my husband has not agreed that yes, go and choose John Mahama as running mate; last year he was saying John but this year no." Good people of Ghana, can we vote for Prof. Mills who until Mr Rawlings and his wife have said so, he cannot on his own do anything? This is what Mrs Rawlings said, "I know for a fact that my husband has not agreed" to John Mahama. What business is it for a former First Lady to threaten Prof. Mills that "if he likes he should go ahead with John Mahama and we (surely referring to the Rawlingses) will tell him our mind."? What makes it worse, attacking the credibility of Prof. Mills as being his own man, was when the wife of the former President said they (including herself) treated a whole Professor, a Law Lecturer, former Vice President and the current leader of the NDC with kids gloves.
That is to say, we treated him like a kid, with soft touches and pampered him to do what he liked. This is too below the belt and doesn't show reverence for the Professor within the NDC party. Fellow countrymen and women, can you imagine having a President who is considered as a kid by his own party?
What aggravates the issue was when Rawlings' wife said that, when they allowed Prof. Mills to have his way "look at where it landed us" (that is opposition). It means when the Rawlingses and the rest allowed the Professor to make his own decision, he made a wrong decision. Are the Rawlingses questioning the ability of Prof. Mills to make productive and good decisions on his own? How can Ghanaians vote for Prof. Mills as President while his own party and his 24 hour consultants (Mr. and Mrs. Rawlings) do not believe in his ability to take results-yielding decisions on his own without being guided?
It will also be recalled that, Mr. Rawlings said if Ghanaians want him to come back to power, then they should vote for Prof. Atta Mills. He said "a vote for Prof. Mills is a vote for Rawlings." What the NDC should know is that, Ghanaians will never vote for Prof. Atta Mills for Rawlings and his wife to start shaving our brothers and sisters with broken bottles.
The country is tired of the horrible and atrocious human rights abuse suffered under the Rawlingses era. Mr. Rawlings and his wife can go on and control Prof. Mills how they want but they should forget completely about coming back to power through Prof. Mills, because we will not vote for him.