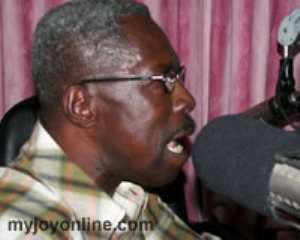 Dr. Tony Aidoo, a senior member of the National Democratic Congress (NDC) and former defense minister says the national tabloid Daily Graphic goofed over reports of the party's choice of a running mate.
Dr Aidoo claimed the national daily had, over the years, consistently published stories that misled its readers describing the paper as a "gutter newspaper".
Dr Aidoo who was co-hosting Joy FM's News File programme with Ibrahim Adjei of the NPP, had been commenting on a story published in the Monday 1 April edition of the Daily Graphic that Prof John Evans Atta Mills, flag bearer of National Democratic Congress (NDC) had finally picked John Dramani Mahama, the four-time Member of Parliament (MP) for Bole-Bamboi as running mate.
The panel discussed a veritable alphabet soup of issues including the Tuesday press conference by the Committee for Joint Action (CJA) and allegations of government officials taking advantage of the School Feeding Programme to amass wealth but what, perhaps, generated the most heated debate was the Daily Graphic's publications on Prof Mills' running mate choice.
"Here is a national newspaper that has since the year 2001 increasingly shown itself to have departed from being a formal objective newspaper; yesterday was a day of disgrace for the Daily Graphic," Dr Aidoo said.
What could have most likely pushed the "gutter newspaper" phrase up the throat of Dr Aidoo was a brief interruption by Mr Stephen Amoah of the NPP when the obviously fuming former defense minister was on the floor adding expression to his views on the matter.