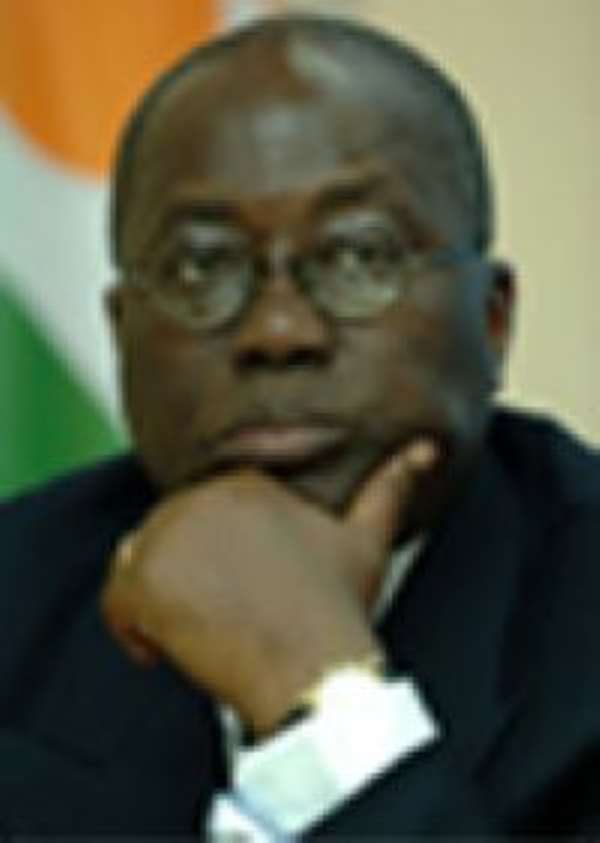 The Presidential Candidate of the New Patriotic Party has predicted that the December 2008 general elections will be fought and won on the "right history, right message, right programme, and right leadership."
Speaking to The Statesman Sunday after a party programme in the United Kingdom held by the NPP UK & Eire branch, Nana Akufo-Addo said the NPP does not intend to allow the National Democratic Congress "to define what is relevant to the majority of Ghanaians" if, going by the barrage of mudslinging coming from the NDC publicity stables, the "opposition intends to make false personal attacks the bread and butter of their campaign. The politics of insults and lies cannot be a winnable alternative to the NPP. This is the electoral message that Ghanaian voters will continue sending to the NDC until they take heed, hopefully."
The NPP presidential candidate noted to loud applause from his audience, "We hear, for example, the complaint that macro-economic gains have not put money in people's pockets. But we also know that without macro-economic stability you can't have money of any value in your pockets."
He said, "President Kufuor's government has been the most successful that this country has had. A solid foundation of good governance, infrastructural development, social programmes and economic stability has been established. The task now is to build the kind of all-accommodating storey building of which our founding fathers dreamed and toiled."
Nana Akufo-Addo who had called on the NPP members in the UK to thank them for his nomination and hint them of his vision for the party and country declared, "the days of the Guggisberg economic model are over."
He said, under his presidency, Ghanaians can expect a bold but practical rearrangement that will see to a shift from the order which has over 70% of Ghana's exports driven by cocoa, gold and timber in their raw forms.
He spelt out his Ghanaian Economic Empowerment policy which he promises will serve as the economic driving force of his government, focusing on how the economic can-do spirit of the Ghanaian will be fully ignited by deepening the policy of improving the skills of the Ghanaian and opening up the country, from north to south, for greater economic opportunities.
He threw a challenge to Ghanaians abroad to feed his campaign with ideas on how the country can make that crucial economic leap from third world to first world.
He said the NDC leaders and activists are free to continue telling lies about the NPP, and leave the NPP with the necessary task of thinking, planning and acting for the good of the greatest number of Ghanaians.
At the special NPP meeting at Tottenham, Nana Akufo-Addo answered questions from party members and journalists.
Ernest Owusu Bempah, the host of a popular political programme on Hot FM, London, asked the NPP presidential candidate to comment on allegations from NDC General Secretary Asiedu Nketia that Nana Akufo-Addo was not a properly qualified lawyer.
The presenter also asked the presidential candidate to comment on another accusation, though undisclosed, made recently against him by former First Lady Nana Konadu Agyemang Rawlings on the London station.
Nana Akufo-Addo, reminded Mr Owusu-Bempah and his station of how in September 2007 they were used by false propagandists to publicise a totally baseless propaganda story that the former Foreign Minister had impregnated a teenager who later lost her life due to an illegal abortion.
On Sunday, Nana Akufo-Addo told the radio host, "It is up to you to make that responsible call whether or not to give publicity to such false stories."
On the question about his law qualification, Nana Akufo-Addo refused to be drawn into it except to say if a former Attorney-General and former President of the Greater Accra Bar Association, who has been the lead counsel in several landmark cases is not a properly qualified lawyer "then I have nothing to say to that."
But, Nana Akufo-Addo said Ghanaians, both at home and abroad, must stay focused on the task ahead, which is "to make Ghana the black star of the world. An example of a successful country ran by black people."
Nana Akufo-Addo left Accra for London with his wife, Rebecca, on January 20, after the Ghana vrs Guinea match.
Whilst on holiday in the UK, the couple spent time with their five UK-based daughters. The couple return to Accra this evening.
By The Statesman