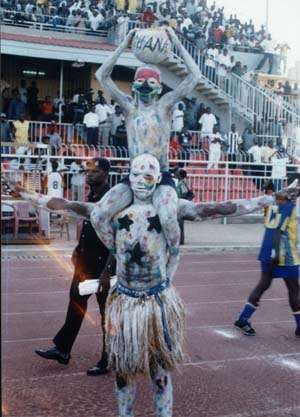 Does juju play football? Does it help to win matches? These are some of the hair-splitting questions ever asked in football by the game's followers.
A mixed-bag of submissions have been showered on this intriguing subject – some, mind-boggling.
But what is juju and why do footballers, coaches, administrators and supporters continue to repose their trust and confidence in it despite having been disappointed on many occasions?
A Dictionary of African-American Slang says juju, as it spells it, is from the Bantu word 'njiu', which means both 'danger' and a 'fetish against harm'. The Bantu languages are spoken in the central and southern Africa.
Another Dictionary of Folklore, Mythology, and Legend, says juju is "the spirit dwelling within a made object or fetish", in the belief of the Ibo in the lower Niger. The term is said to be applied to the ghosts and evil spirits of southern Nigeria.
Indeed, a good number of Africans generally see juju as any object that is worshipped superstitiously and used as an amulet or fetish.
So, how effective is juju?
VOODOO
King of Voodoo in neighbouring Togo, Anthony Kodjo Djifan, who says voodoo and juju share similar traits, believes juju plays football.
He said that: "Many clubs and national teams have often come into my shrine to enlist the help of Amegatetele-glikpo and Torgbui Ativinikpin (both deities) and testified to their wondrous works.
EFFORTS
"But let me state categorically here that much as juju is powerful, the team also will have to complement its work by putting in a lot of efforts on the field of play," the 48-year-old karate-do specialist who is popularly known in Lome as Maitre Polo, asserted.
Maitre Polo is an international referee and professor of judo and karate-do. The former national trainer of Togo's martial teams at the Abuja 2003 All Africa Games, own the Plaisir Judo Club.
"Malawi-based renowned local herbalist, Dr Moffat Moyo, also says he has been supplying juju to both local and foreign clubs but quickly points out that hard work and training are the best medicine.
"I can confirm that teams from within and neighbouring countries and regions come to seek help but I cannot give their details. However, what I can advise is that hard work is the best medicine. The [concoctions] that we give only boost performance. I provide farmers with 'medicine' that boosts crop yields but if a farmer doesn't work hard, he won't realize bumper yields.
"If I provide 'medicine' to somebody who has never practiced boxing, will that work against an experienced boxer? That's why I am saying one needs to put in extra effort other than waiting for juju to do everything," said Moffat in an interview.
Former Technical Driector of Nigeria Football Association (NFA), Kashimowo Laloko, once told the BBC World Service programme that he believes juju can change the course of a football match.
BELIEF
"I believe it does exist (juju). As an African, we have our customs and tradition."
Laloko was sent off before the start of the 2000 African Cup of Nations quarter-final between Nigeria and Senegal for removing what he believed to be a talisman that was near Senegal's goal.
"I had to pick whatever I found there and I left," he said. Although Laloko was sent off after being reported to Botswana's Ashford Mamelodi, who was the match commissioner, he has no regrets for his controversial action five years on.
"Before the match [the Senegalese] came onto the pitch and started performing some rituals.
"An executive member of CAF then asked me if I was going to allow what was happening.
"If I had not done what I did and we had lost, journalists would have written all sorts of nonsense," Laloko told the BBC.
Perhaps, Laloko knows where he is coming from. Not too long ago, the BBC also reported that the Ivorian government settled a 10-year dispute with disgruntled witch doctors (juju men) who claimed to have had a hand in the country's Nations Cup victory in Senegal 1992. They had threatened mayhem to befall Ivorian football if not compensated.
The witch doctors, from a suburb of the capital Yamous-soukro, were said to have been hired by the then sports Minister before the Nations Cup finale with Ghana.
The Elephants of Ivory Cost (Cote d'Ivoire) won the trophy after out-muscling Ghana's Black Stars in a historic and dramatic penalty shoot-outs (11-10) after extra time.
As a matter of fact, the belief in the use of juju and other forms of charms and incantations is not exclusive to West Africans.
Former trainer of the South African senior national team, Jomo Sono, is a self-confessed believer in the power of charms to change his fortunes on the pitch.
SECRECY
In Ghana, the use of juju in matches is a common place, but the practice is deeply steeped in secrecy.
Clubs like Accra Hearts of Oak and Kumasi Asante Kotoko, Gullivers of the Ghanaian game, have occasionally used undesignated entry points to the stadium and got punished for the offence.
The two clubs might have been told by whoever they consulted that using the approved entry points signified a calamitous result. And, they dared not disobey.
A comical incident was recorded in Zimbabwean football a couple of seasons back when the Highlanders played Arcadia FC in an epic league match. It was reported by a Zimbabwean website that handlers of Arcadia, probably convinced their opponents had 'jujued' the approved entry points, decided to use a long ladder to get the players onto the filed via one of the stands.
According to former goalie of the Zimbabwean national team, Muzondiwa Mugadza, juju or muti as they call it there is a commonplace but as to whether it works is another story."
"At Zimbabwean Saints, we were regularly given juju as a team or made to do certain rituals, but at the end of the day we had to battle relegation",Mugadza told the New-Zimbabwe.com.
From the various assertions gathered, it seems juju in football is all but a mind game – a kind of psychological warfare.
In the words of former Ghana coach, Burkhard Ziese: "Club officials in Ghana draw a lot of money from teams under the pretext of paying a juju man but end up pocketing it ".
Perhaps, that explains why owner of Ghanaian premiership side, Tema Real Sportive, Y.A. Ibrahim, recently called on the Professional League Board (PLB) and the Ghana football Association (GFA) to, as a matter of urgency deal severely with juju men in the premiership.
"Football games are supposed to be won on merit on the field and not by evil spirits," he said, adding that when the situation was not controlled, a time would come when the results of matches in the country's football will be determined by soothsayers.
MONEY
Much as one believes, money showered on juju men could be used to motivate the players to excel; one is completely at a loss as to how they (juju men) could be dealt with as suggested by the former board member of the GFA.
Indeed, the farthest we can go to bring down the practice is education – nothing else, especially when stakeholders in the game, despite their string of reverses with juju, believe the charm could still help salvage their situation.
Source: The Ghanaian Times