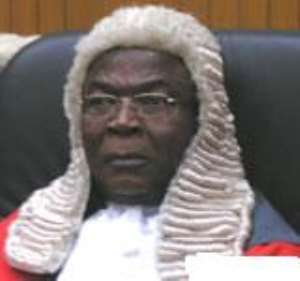 Members of the Judiciary have paid their last respect to the late Chief Justice, Mr George Kingsley Acquah at a memorial service held in Accra.
Justices of the Supreme Court, Appeal Court and the High Court judges attended the service, which was held at the Chief Justice's Court.
Also present at the service were very senior members of the legal fraternity.
The Acting Chief Justice, K. Y. Kpegah paid tribute to the late Chief Justice. Several of the mourners in the packed Chief Justice's court wept uncontrollably as the casket containing the mortal remains of Justice Acquah was opened.
Justice Acquah died at the 37 Military Hospital in Accra about one month ago. He had been in Washington in the United States undergoing treatment for cancer and was flown back to Ghana a day before his death.
The late chief justice was called to the Bar in 1972 and practiced privately until his appointment as a High Court Judge in 1989.
He became an Appeals Court Judge in 1994 and Supreme Court Judge one year after. Justice Acquah was appointed Chief Justice in June 2003 amidst some controversy.
But he quickly became famous for his fight against corruption in the judiciary and saw to the dismissal of some judges said to be corrupt. He toured the nation sacking judicial staff found to have embezzled funds or for misconduct.
There were a few though who did not believe in his crusade and described it as a deception and victimization of those who did not agree with him.
The body of the late chief Justice has been laid in state today Friday, 27th April 2007 at the fore court of the State House here in Accra.
A memorial service was held at the Ridge Church here in Accra.
Justice Acquah is survived by a wife and six children.