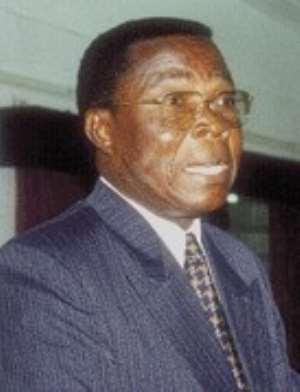 The Acting Chief Justice, Mr Justice Francis Y. Kpegah, on Wednesday opened a photo exhibition at the Supreme Court in Accra on the achievements of the late Chief Justice, Mr. Justice George Kingsley Acquah.
The public is also expected to sign a book of condolence until April 27 when the late Chief Justice would be buried. Due to the ill health of the Acting Chief Justice, Mr Justice W. Atugubah, a Supreme Court Judge, cut the tape on his behalf. Mr Justice Kpegah, described the late Chief Justice as a great reformer, who would always be remembered for the infrastructure development in the Judicial Service.
He said the event was to showcase Mr Justice Acquah's achievements throughout the country adding, "He has done a lot for the Service."
In her welcoming address, Mrs Regina Apotsi, Judicial Secretary, said the exhibition was to portray the vision that the late Chief Justice had for the Judicial Service.
Justices of the Supreme Court, Ms Sophia Akuffo, Mr. S.A. Brobbey, Dr Seth Twum, Mr. Dartey Baah and Mrs. Sophia Adinyirah took turns to sign the book of condolence. Justices of the Court of Appeal, Judges of the High Court, Magistrate and Circuit Courts also took turns to append their signatures.
Mr. Justice Acquah, 65, died at the 37 Military Hospital early on March 25. Justice Acquah had been receiving treatment in India and the United States for the ailment.