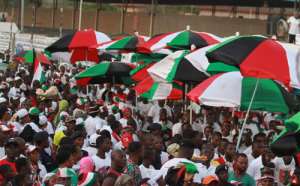 Asantehene Osei Tutu ll and about 500 entourage gallantly grace this year Hogbetsotso festival. The Ga Mantse Nii Tackie Tawiah Tsuru ll and the Kwahu Omanhene were present and fully participated in this year festival at Anloga in the Volta region.
This historic milestone opens an avenue for mutual cooperation between this great tribes, which eventually would dilute the rivalry between this great people.
Reflecting on the political impact of this festival is for the NDC to build bridges on this historic visit of the Asantehene Osei Tutu ll who joined the good people of the Volta region to celebrate this year Hogbetsotso festival.
The former president John Mahama has seen it all and must allowed the NDC to experiment an Asante/ Volta presidential ticket.
I heard Dr Duffuor said if he has the opportunity to lead the NDC his running mate would be a Voltarian or a Ga. Coincidentally the three tribes grace this year Hogbetsotso festival in the Volta region, which must attract the attention of the leadership of the NDC.
Ghana's predicament needs experienced technocrats to salvage this country from the misery that has bedeviled it. Despite the age of Dr Duffuor, he has the competence and skills to Ameliorate the suffering of Ghanaians better than former President John Mahama...
I don't know the political interest of Mr Senyo Hosi and he perfectly fit into Dr Duffuor 's preference being a Voltarian and a Ga above all very efficient and a dynamic person.
The fascination of this theory is blending old people with vast experience with competent, passionate, dynamic young people who are desirous of transforming our beloved country Ghana.
Blind loyalty must give way to pragmatism and nation building must be the priority not personal interest...
Mike Kalley,
Sociopolitical Analyst.