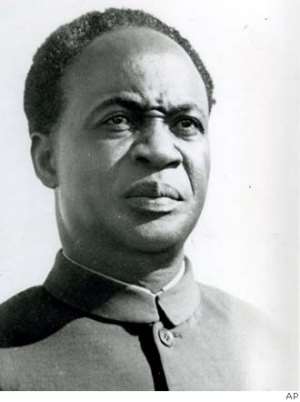 The purpose of this article is to let Ghanaians know of their founder and leader and as such to emolute his Godly or Jesusly behaviours which was evidently demonstrated in a lot of forms instead of the atheist or paganistic behaviours of another fellow (a similar traits shared by his movement members) that Ghanaians rather erroneously believe is the founder of Ghana since he became the first President by name Kwame Nkrumah. Ghana a country in West Africa was founded by a man by name J. B. Danquah who formed Ghana's first political party, the United Gold Coast Convention (UGCC).
The reason for J. B. Danquah inability to become Ghana's first President was that Kwame Nkrumah after being employed by J. B. Danquah in his party based on the recommendation of a friend, he Nkrumah projected himself above Danquah by 'Pulling-Him-Down' (P.H.D) and capitalizing on the benefits of all the works that have already been done by Danquah towards achievement of independence such as creation of a state of readiness for self-rule, adoption of the name Ghana after independence etc. This a typical case of monkey work for bamboo to enjoy. This devilish behaviour of Nkrumah did not end there as he exhibited gross disrespect for fundamental human rights of people such as his physical assault of my maternal grandfather Nana Kwasi Ansu (his once close friend who helped him to win his first election to enable him to be appointed by the colonial government as Leader of Government Business which was later changed to Prime Minister) in the company of police officers.
He even went on to illegally dethrone him as Chief/Mansenhene of Wamfie and Krontihene (second-in-command) of Dormaa Kingdom and imprison him on top of it. He was also responsible for the death of J. B. Danquah as he again imprison this man too, someone who founded Ghana causing him to die in prison.
This devilish behaviour that Nkrumah performed including others too like disrespect for superiors, disrespect for traditional rulers, violence, militancy, torturing of people, repression, instilling fear, making people unassertive, witchcraft tendencies, disregard for Ghanaian human resource stock, sheer wickedness, envy, hatred and jeolousy especially for the rich and those successful in life, ethnic animosity, murders, propaganda among others have being inculcated in Ghanaians everywhere they find themselves. This is so because as Ghanaians see him as their founder and leader, his behaviour has become the standard for all to emulate. What a pity !
Ghanaians especially those members of his movement known as Nkrumahist Movement spearheaded by our National Security Agency and ethnic tribes like Dormaa of my maternal grandfather and Berekum of my maternal grandmother have this Nkrumah defining character formed in their DNA. Ghanaians enjoy performing the Nkrumah behaviours and proudly as such.
Kwame Nkrumah has left as a legacy 'The Ghana Problem' which is a system of cognitive orientation or mental programming. A system of cognitive distortion and negative frame of mind/thinking inculcated in the population with prime object of making everyone to become like Nkrumah or share in his world's view.
Elements of the system includes the following:
a) Promoting the "Pull-Him-Down Phenomenon" (P. H. D)
b) Projecting oneself over others
c) Disregard for superiors
d) Projecting socially lower ranks over higher ones
e) Assigning negative meaning to human occurrence or activity or framing human actions in a negative way
f) Envying and scheming against those who are successful, talented and highly bless
g) Belief in placing stumbling block in the way of people
h) Envying the rich
i) Love for money
j) Having no value for human right (human dignity) and the Ghanaian human resource
k) Timidity and total lack of assertiveness
l) Having no belief in ourselves as there is absence of self confidence in our abilities
m) Not appreciative of the fellow Ghanaian and not loving each other but hating ourselves seeing ourselves as enemies
n) Promoting ethnic/tribal division with no value for ethnic/tribal diversity
o) A belief that there is nothing wrong in destroying or taking away human lives
p) Absence of can-do mentality
The followers of Kwame Nkrumah led by Ghana's National Security Agency by name Bureau of National Investigation (BNI) or National Intelligence Bureau (NIB) that was formed by the military regimes of Jerry Rawlings and use the 1992 constitution to continue its tyrannical operations in an Act of Parliament in 1996 are in a national conspiracy to create a sub-state in Ghana call 'Nkrumah State' with an 'Nkrumah System' that seeks to make Nkrumahism the operational context within which every elected government must operate in. They seek to continue Nkrumah's character by sabotaging every government that comes into power, pulling them down and projecting Nkrumah's reign over them thereby ensuring Nkrumah remains the best President Ghana has ever have and his regime unequal to any.
They do not work for any Nkrumahist Party to win governmental power or for them to unite to capture power in Ghana but rather they prefer to capture the Ghanaian state power via control of key institutions and sectors of state like the national security agency, military, police, media houses/journalists, the educational system, the two major political parties in Ghana etc. As Ghana stands now they control the Ghanaian state as only members of the Nkrumahist Movement framed the 1992 constitution currently in operation in Ghana and created Ghana's National Security Agency, the BNI or NIB. They moreso have a strong constituency in the current government of New Patriotic Party (NPP). The National Democratic Congress (NDC) party which has won four elections in Ghana is already their member.
As a trained Psychologist, Sociologist and Governance Expert, let me delve deeper into Nkrumah's negative political and social behaviours and how it has adversely affected the Ghanaian society. During the agitation for independence for Ghana, J.B. Danquah's educated elite of United Gold Coast Convention (UGCC, the first political party to be formed in Ghana by Danquah and one of the mother parties of the current ruling New Patriotic Party, the NPP. The other mother parties are K.A. Busia's Traditional Rulers/Governors parties of National Liberation Movement, NLM and United Party, UP together giving the Danquah-Busia Political Tradition in Ghana), were saying self-government in the shortest possible time i.e. as soon as possible, Nkrumah was rushing through using force and militant methods to demand self-government now thereby making this his method become the foundational pillar of the country. This character of the country is abundantly demonstrated by the behavior of the country's National Security Agency and their Nkrumahist Movement especially the political party call the National Democratic Congress (NDC).
As Nkrumah rushed and forced the colonial administrators to grant independence to the country quickly without the right arrangements, sufficient preparation and due diligence with regards to our sociological and political constitution, the resultant effect is what we are seeing now.
The most absurd logic I have ever come across which Nkrumah epitomized is the believe that being simply the first country in Sub-Saharan Africa to gain independence will automatically make the country the best in Africa. UGCC members were saying let us take our time and make proper arrangements, due diligence, proper consultation, detail study of our society and political systems, doing proper planning and preparation etc to see how best to run the country and the most effective system of governance to employ such as making the intelligentsia or politicians become head of government and traditional rulers/governors head the state in a kind of tradition meeting change. A kind of line of reasoning of Prof. Nukunya (my former lecturer in Sociology at University of Ghana, Legon) in his book "Tradition and Change". That would have modernized our traditional governance system to run the country successfully to yield greater dividend to the citizenry.
I used to monitor how Ghanaians on social media especially facebook were full of admiration for Rwanda, praising their President, his government and the citizens for making Rwanda a great country. Hello! Is Ghana normal? Have we forgotten so soon the country Rwanda? This is a country that was plunged into several years of civil war and even experience Genocide. And today, they have come out of it and doing so well on the governance and economic indicators such that the country that was first to gain independence in sub-Saharan Africa is envying and extolling. What a shame? I honestly believe Ghana as a country needs assistance of a Community Psychologist to diagnose the psychology of the country and prescribed appropriate treatment as Nkrumahism has destroyed the country. As a matter of fact, Nkrumahism is the cause of Ghana's under-development.
Nobody achieves anything positive with rushing and use of force like President Nkrumah did. And after rushing and forcing the country into independence when for instance we were not yet prepared by virtue of not being equipped with the requisite competencies to run a country, President Nkrumah with all the financial resources left under his care decided to use it to politically project himself over others in the country like the incident with my maternal grandfather which I have already narrated above. Once again the incident occurred exactly a year after forcing the country into independence i.e. in 1958 whereby he with support of police personnel mercilessly and ruthlessly physically assaulted my maternal grandfather by name Nana Kwesi Ansu-Gyeabour (ex-Krontihene: 2nd-In-Command King of Dormaa Kingdom, Head of the King Makers and Chief of Wamfie a.k.a. Mansenhene) at his palace in Wamfie. An abomination in the highest order! Not only did Nkrumah use the country's financial resources to politically project himself over others in the country but also politically projected himself over others in Africa in the name of Pan-Africanism and ended up putting Africa in a hot "Pan".
If you have a country especially its National Security Agency and Bono/Brong ethnic groups like Dormaa people of my mother's father and Berekum people of my mother's mother that its primary function is causing the degradation of its members and murdering them, then truly it deserve to have a founder not in J. B. Danquah but in Kwame Nkrumah who has a track record of violence, aggression and militancy himself. Those tribes can go ahead and make Nkrumah their founder.
No wonder my father by name Godwin Kwame Osei-Tutu of Ashanti-Agona royal family (who they murdered at the age of 43, which is my current age, in the year 2000 during my first year at the University causing me trauma as a result) in 1999, a year prior to my entry to University of Ghana, Legon told me my mother's people of Dormaa and Berekum are the most wicked group of human beings on Earth and that if I know who they are, I will NEVER EVER will want to associate myself with them in any form or shape. This was when I visited him in Ashanti-Agona and asked that he connect me with my mother and her family people of Dormaa and Berekum since my he sent me into refuge with his mother in Accra during my childhood .
Although, my mother's two families of Dormaa and Berekum have already secretly track my refuge base at University Staff Village, Legon right from when I was in Class 4 in 1990, they never informed my mother about it. My father died mysteriously a few months later as that was the last time I saw him alive. He was reported dead in 2000 during the first year, first semester of my entry to University of Ghana, Legon and when I was about to write my first mid-Semester exams in Sociology. Ghana's National Security Agency of the Nkrumahist Movement collaborated with my hate groups to kill him so as to balance the equation with the killing of the father of the current King of Dormaa Kingdom who is my third cousin by name Osagyefo Nana Agyeman Badu II. Ghana's National Security Agency is comfortable to balance the equation with the King of Dormaa and I in the negative way but will block that which is positive claiming that it will put me at parity with the King. What absolute Nkrumahism!
Further, I recall vividly in 1990 a statement made by the current King of Dormaa Kingdom by name Osagyefo Nana Agyemang Badu II (Once again he is my third cousin from my mother's side and best friends of Ghana's National Security Agency as they all belong to the Nkrumahist Movement. He is privately known as Kofi Mensah and was than being called "King of Dormaa in waiting". He used to call me "name" or "name sake" because we both call Kofi) that his Dormaa people are the most wicked group of people on Earth. He said this to me when he visited us at University Staff Village, Legon during his schooling days at University of Ghana, Legon. I was in Class 4 at University Staff Village Primary and Basic School, Legon by then. Ghana's National Security Agency has being on me since I was in Class 4 at University Staff Village School, Legon till date simply to neutralize me as the next force my grandfather boasted about in terms of me being first Wamfie's or Mansen people King of Dormaa Kingdom. Ghana's National Security Agency was ensuring I do not grow up to become anything my grandfather boasted about and to stop me from growing up and making claims to the Dormaa throne or my grandfather's assets he willed out to me hence their workings to make me an average person.
So in line with Ghana's National Security Agency in taming me as a force used the methods they use to change election results in favour of their preferred party the NDC like state secret artificial intelligence technology and partnership with officials, also changed my Basic School Results at University Staff Village Primary and Basic School, Legon in 1995 to make me have a good result and not an excellent one as they claimed even though they made me fatally sick through out the writing of the Basic exams, I still managed to score 10 ones out of 12 subjects but they changed it to 6 ones with aggregate score of 06. In my Secondary School Results at Presec, Legon in 1998 as again they made me have a good score instead of an excellent score. They claimed I scored 7 A's out of 7 subjects together with two other students making us have the best result in West Africa but they changed mine to 3 A's and made the remaining B's with an aggregate score of 09.
Finally, with my University Results at University of Ghana, Legon from 2000 to 2004 ensuring I do not get first class at graduation. In University of Ghana, they connized with my end of final year project work supervisor by name Dr. Atindabela of Psychology Department to score me "-B" for a 6 Credit Hours course hence dropping me from my comfortable first class to a very strong upper of GPA 3.51. They said since the Dormaa King had first class at University of Ghana they cannot allow me to achieve same. Ghana's National Security Agency even blocked me from pursuing Law program when I was entering University of Ghana, Legon in August 2000 after gaining direct admission to the Law program even with simply a good grade of 3 A's and 4 B's of aggregate score of 09. They made the University for the very first time in its establishment to change its policy on Law program and move it from an undergraduate course to a post graduate course. It was during the tenure of Prof. Mills that the decision was reversed.
Again, Ghana's National Security Agency claim if they had allowed me to pursue Law as I had planned from childhood and declared to my family especially my father, that will put me at parity with the Dormaa King since he also pursued Law during his undergraduate studies at the same university. That is why for the very first time I pursued my studies abroad and outside their control, I had my FIRST CLASS thereby incurring their displeasure and kindling their anger. Ghana's National Security Agency further claim enstoolment of Kings and Chiefs in Ghana is a national security issue as such pulling strings behind the scenes to cause trouble among traditional governors/rulers group in Ghana especially in my family of Dormaa. In selecting candidates for the throne by the Akans of Ghana tradition, both the Queen Mother and the Krontihene who is Second-In-Command after the King and also leader of the King Makers presents their candidates. In making arrangements for who will replace the then Dormaa King back then by name Osagyefo Nana Agyemang Badu I (my grandfather's cousin and my grand cousin), the Queen Mother who was also sister to the King and equally cousin to my grandfather selected her grandchild who is the current King call Osagyefo Nana Agyemang Badu II who is my third cousin.
My grandfather who was then the Krontihene also selected me his grandchild to balance the equation something Ghana's National Security Agency and the Nkrumahist Movement are not in agreement with because of their hatred for my grandfather as he and Nkrumah had a conflict. The statement made by the current King of Dormaa was in connection with what he told me earlier that he is looking for all the members behind those who killed his father.
My grandfather was someone who had helped fund great political parties like the Convention People's Party (CPP) of President Kwame Nkrumah, National Liberation Movement (NLM) and United Party (UP) of Ashanti King's Chief Linguist by name Baffuor Osei-Akoto, Progress Party (PP) of Prime Minister K.A. Busia and Popular Front Party (PFP) of Victor Owusu. My grandfather wanted to prove to President Nkrumah and his followers that if not for the fact that he is a traditional governor/ruler responsible to citizens of his Kingdom or tradtitional state, he would have stand for President and achieved similar results like Nkrumah did so Nkrumah should not have disrespected him to that extent besides the fact that he helped him become who he eventually became. That is why he also promoted his close friend Prime Minister Busia and helped him become Prime Minister of Ghana to neutralize Nkrumah and also nearly achieved same result with his other close friend and his personal lawyer, Victor Owusu.
The result of Ghanaians erroneously seeing someone who adopted force, militancy, rush, ego centrism and violence as the country's founder is what we are having today. In what respect? Let consider the following few behaviours of people in addition to the Nkrumahist Movement led by Ghana's Natonal Security Agency which I have abundantly discussed above although I will still give space to them again:
1. The war behaviour being performed on me by my mother's mother's hate people of Berekum. Their war on me is led by maj (rtd) Kojo Larson (a former CEO of one of African's most successful clubs call Kumasi Asante Kotoko owned by the King of Ashanti. He is father of London-Based super rich cousin of mine call Akua Larson and my aunty call Elizabeth Ofori/Ansu). These people are also led by Akua Larson and her husband. Also included are Warrant Officer Class 1 Anthony Ofori (who is the former trainer of President Rawlings at the Military Academy, Co-Founder of Panter Securities at Accra and husband of the same aunty call Elizabeth Ofori/Ansu). Lastly, there is maj (rtd) Kumi Yeboah (married to my mother's first counsin from Wamfie royal family and key member of the current NPP government in Ghana).
2. The war behaviour being performed on me by family and associates of an Ashanti-Agona woman my father had two sons with especially the woman's sister call Mavies ; Kofi Amponsah and the wife call Elizabeth Yankey (now based in London, UK). The Ashanti-Agona woman (now deceased) is the lady the Nkrumahist Movement, Dormaa people and Berekum people use to kill my father through food poisoning. Kofi Amponsah who was not in talking terms with my father up till he mysteriously died is my father's maternal cousin of Akyem paternity. This hate group issue with me is that I was over loved by my father and my paternal grandmother (my father's mother) who gave me refuge and raise me up. They also claimed I refused to carry the two sons of the woman to come and stay with me in Netherlands at a time I was on studies. Ghana's National Security Agency has since helped them to have permenent stay in US.
3. The war behaviour against me by Nkrumahist cum NDC journalists of Akwasi Nti-Osei or Akwasi Osei-Nti or Akwasi Nti/Osei. He work with ardent Nkrumahist Kwaku Baako Jnr and Anas Aremeyaw Anas Tiger Eye PI. He was former Personal Assistant of another ardent Nkrumahist by name Dr. Joyce Aryee (former minister under the military regime of Rawlings). He attended Ghana Secondary School (a school established by Kwame Nkrumah). He was made to become my classmate in the Netherlands to enable them operate on me. He is now based in Czech Republic and used to reside in Sweden and Netherlands. He is also a member of Ghana's National Security Agency. He is the guy that gave me the open threat in Netherlands about what he and his people are about to unlease on me that will cause global news.
4. The war behaviour against me by family and associates of Nana Akua Priscilla Kingsley. She is from the family of Kweku Baako Jnr (the ardent Nkrumahist and political Journalist. He is also the mentor of the globally renowned undercover journalists call Anas Aremeyaw Anas of Tiger Eye PI fame). Specifically, she is the niece of the wife of Kwaku Baako Jnr. Her father is the inspector of Cantonment Police Headquarters in Accra. She was arranged by Kwaku Baako to become my girlfriend in Netherlands to allow the Nkrumahist Movement operate on me very well.
5. Is only in Ghana that claim to be practicing democracy but its opposition party, the NDC after losing election came out publicly to say "the government should not underrate our capacity to destabilize this country". And the official who said that goes about freely and actually gets commended.
6. Is only in Ghana that two well known prostitutes will be fighting in public over a former President and flag bearer of the country's main opposition party, the NDC. And the country's media carriers it for the citizenry to consume and consequently being positively discuss all over in the public domain like it is the norm. Are we not aware as a country that the international image of the country is equated to that of the President?
7. Is only in Ghana that we can have journalists aligning themselves with political parties or actually openly declaring to work for political parties as political party journalists like the recruit they made to become my class mate at Webster University in Holland call Akwesi Nti/Osei of the NDC party and yet publicly presenting information for public consumption and expecting the people to accept it as an objective journalistic piece and separate it from their political association. What absolute madness! Some say they call themselves Kwaku Baako Jnr, Kwesi Prat, others Akwesi Nti/Osei, Alhaji Fuseini etc. In fact they are all over the place in patches and hot spots trying to form Nkrumahism in every Ghanaian.
8. Is only in Ghana that we can have a civil society also aligning with a political party and again claiming to be doing an objective work for which the citizenry must patronize.
9. Is only in Ghana that Pull-Him-Down (PHD) has become embedded in our culture of which every new born is socialized, internalized and indoctrinated into as well as politically projected in the country such that we prefer to see all of us down than to see a single person up. Or we use elimination by rough tactics of Nkrumahism to bring a person down from a high social placement and substituting in his or her place. Thereby destroying and eliminating from the earth key human resource base of the country that can help accelerate development of the people.
10. Is only in Ghana that the citizenry values and advances non citizens over themselves. Regardless of ones country of origin as long as you are not a fellow Ghanaian, Ghanaians will value you over another Ghanaian. It is embedded in Nkrumah's leading behaviour.
11. Ghana is the only country where a group of Gaddafi cum Russia Communist trained terrorists, mafia, revolutionary soldiers and cadres of Provisional National Defence Council (PNDC) of President Rawlings 1982 regime and National Democratic Congress (NDC) calling itself Ghana's National Security Agency have organized themselves into a security unit secretly controlling the country and claiming to be the country's primary security agency and secret service. They control almost 2/3 of the country's resources and have the power to alter the sovereign will of the electorate via numerous tactics to ensure the person that meets their interest at any point in time becomes the President of the country. They dominate any voters register with 90 % made up of their members. They have members in all political parties as camouflage and have no interest of the country at heart but only acts like it. Nobody's cares is their concern except their own. They are a group of hit squad that if any person from the President to the ordinary man on the street is considered to be a threat to their interest is eliminated via clandestine methods like usage of varied weapons. These include weapons such as biological weapons (food and drinks poisoning etc), chemical weapons (spraying any toxic substance, inhalation of toxic substances etc), working through accidents, sickness, techniques such as biological and chemical weaponry to induce heart attacks, cancer, kidney failure and other organ failure. Ghana's National Security Agency has global reach and influence enabling them spread their Nkrumahism wickedness behavior everywhere in the international system especially in African countries.
12. One should asked Ghana's National Security Agency what they know about the killing of women prior to the year 2000 elections to make it appear is the then opposition, the NPP? What they know about the induced death of President Mills and Komla Dumor of BBC to make it appear it was their sickness? What they know about the killing of Ahmed of Tiger Eye PI of Anas Aremeyaw Anas to make it appear is the Member of Parliament call Hon. Ken Agyepong? And lastly, what they know about the 32 seat gain of the NDC party in the recently ended elections in Ghana?
13. In line with Communist cadres, Ghana's National Security Agency want to crush any pre-existing or new powerful group/organization in Ghana even making themselves more powerful than their fellow security organization, the Ghana Army. They are always looking for people to do their bidding for them and will make it appear is for the good of the country or is because they care for the betterment of the country but in reality they are simply advancing their parochial interest of Nkrumahism over the country and citizens.
14. Ghana is the only country where the main opposition party is the one controlling the country's Security Forces and the country's money via a so-called Ghana's National Security Agency.
15. Ghana is the only country whereby its Security Forces especially the so-called Ghana's National Security Agency instead of waging a war on narcotics trading have become the country's primary participants in the narcotics trade. I recall vividly something the Ghanaian lady Ghana's National Security Agency and Nkrumahist journalist Akwesi Nti-Osei people recruited by name Nana Akua Priscilla Kingsley back in Netherlands in July 2011 told me. This lady was brought in for me refusing to do their bidding in the course of their plot to destroy my life. Getting a target a girl is in line with Ghana's National Security Agency tactic of infiltration, invasion, takeover and destruction. Now this lady told me that although his father is a Police Inspector at Cantonment in Accra, she knows for a fact that the Security Forces especially Ghana's National Security Agency provides escorts to narcotics traders whether Ghanaians or non Ghanaians that arrive in the country via its International Airport to their transaction centers and back to the airport to successfully leave the country thereby avoiding being checked and arrested.
The content of the character of many people in this country is akin to its violent and militant first president who erroneously is seen as the founder. Nkrumah's negative behaviours is politically and sociologically driven in our DNA. If Ghanaians can understand the facts of the matter and begin to shift their focus on the actual founder, J. B. Danquah then things will change in Ghana. Things will change because everybody will emulate his Godly behaviours as 'Father of Ghanaians' and a new Ghanaian will begin to appear. Ghana will begin to smile and development will be our portion. With this we can proudly say to each other that 'like founder like country'. Situation of the Ghanaian and this country Ghana will even become more glorious if we strive to return governmental power to traditional governors/rulers and create bicephalous system of rulership or sharing of governmental power between elected politicians and traditional rulers. Many also believe the country needs a new beginning or restart constitutionally to totally treat the country historically, politically, sociologically and psychologically. This is also an additional prescribed measure as I have already mentioned the fact that Ghana's operating 1992 constitution was framed by only members of the Nkrumahist Movement like the following ardent Nkrumahists : Kojo Tsikata, Osagyefo Agyeman Badu I (former King of Dormaa Kingdom and my grand cousin), Dr. Tony Aidoo (Ghana's former Ambassador to Netherlands of the former NDC government).
By: Kennedy Osei-Tutu, scapegoat grandson of Nana Kwasi Ansu: Ghana Founding Member, ex-Chief or Mansenhene of Wamfie and Krontihene (2nd-In-Command) of Dormaa Kingdom
(I am that one year boy with birth name Nana Kofi Ansu-Gyeabour that was made Mansen People of Wamfie first Dormaa King by maternal grandfather Nana Kwasi Ansu, a Ghana Founding Member of NLM, UP, Busia etc and ex-Mansenhene of Wamfie and Krontihene/2nd-In-Command of Dormaa Kingdom. Plus willing him all his assets that the PNDC government confiscated to form Wamfie Rural Bank)
Born: 4th February, 1979 (Age 43: The age my father was when he was murdered)
Current Address: Internally Displaced Person (IDP) receiving refuge and philanthropic care from a church in Koforidua in Eastern Region of Ghana known as Reigning Power Gospel Church International around the Cultural Center.
Phone Number and Whatsapp: +233504970260
Email Addresses: [email protected]/ [email protected]
Ghana Card Number: GHA-727504436-4
Education: M.A., Webster University, Leiden Campus, Netherlands, 2011 (International NGOs)
B.A., University of Ghana, Legon, Accra-Ghana, 2004 (Psychology with Sociology)
S.S.S.C.E., Presec-Legon, Accra-Ghana, 1998
B.E.C.E., University Staff Village Primary & Basic, Legon, Accra-Ghana, 1995
Social Media Accounts: Facebook/Twitter/LinkedIn: Kofi Ken-Nedy Osei-Tutu